NFL National Anthem 2018: Rules, Punishments For Kneeling During 'The Star-Spangled Banner'
The NFL announced a new policy Wednesday afternoon that will penalize teams and players for protesting on the field during the playing of the national anthem. A statement released by the league highlights six rules that will be enacted for the 2018 season.
"We want people to be respectful to the national anthem," NFL Commissioner Roger Goodell said in a news conference. "We want people to stand. That's all personnel, and make sure they treat this moment in a respectful fashion. That's something we think we owe. We have been very sensitive in making sure we give players choices, but we do believe that that moment is important and one we are going to focus on."
The controversy began in August 2016 when former San Francisco 49ers quarterback Colin Kaepernick refused to stand for the anthem during a preseason game. Various players have either sat down or kneeled during the anthem as a form of protest over the last two seasons.
There were no official rules regarding how players and team personnel had to behave during the playing of the anthem last year. Reports Tuesday said that the league was considering issuing a 15-yard penalty to teams that had players who didn't stand for the anthem.
No in-game penalties were agreed upon, but a meeting of the league's owners in Atlanta did establish a set of six rules.
In summation, the NFL's new policy states that:
Players no longer have to be on the field when the anthem is being played. They can stay inside the locker room.
Players that are on the field during the playing of the national anthem must stand. Teams will be fined by the NFL if any of their players kneel.
Teams can create their own rules for players that don't stand during the anthem. Goodell will discipline players that don't stand, though no specific punishment has been established.
The NFL Players Association quickly responded to the news, announcing the NFLPA was not consulted before the policy was made.
The NBA also has rules declaring that team members must stand for the national anthem, but there is no set discipline if players don't comply. Oakland Athletics catcher Bruce Maxwell knelt during the national anthem in a game last year, though no players have protested this season.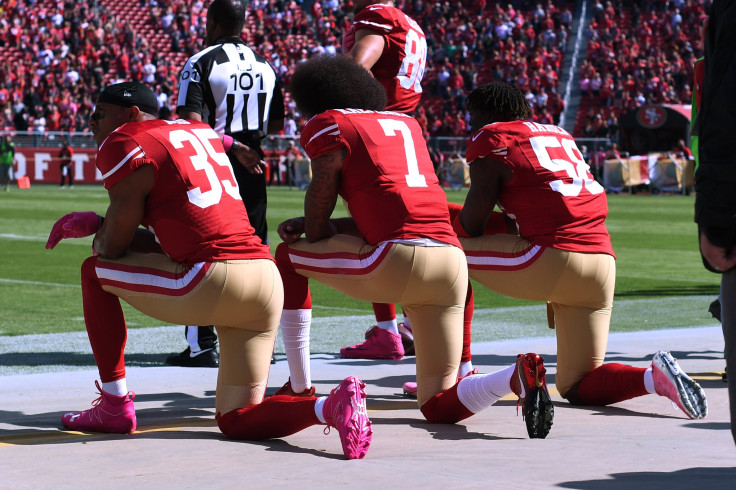 © Copyright IBTimes 2022. All rights reserved.
FOLLOW MORE IBT NEWS ON THE BELOW CHANNELS