NFL News: Tagovailoa Break Justified By Coach; Fitzpatrick Left Brokenhearted
KEY POINTS
Tua Tagovailoa gets his baptism of fire for the Miami Dolphins against the Los Angeles Rams
Ryan Fitzpatrick was caught off guard with the Dolphins move to start Tagovailoa
Dolphins coach is confident that Tagovailoa is ready for NFL starting QB role
The Miami Dolphins knew that, at some point, they would need to break in freshman Tua Taovailoa. Now, after careful deliberation, this will happen on Nov. 1 when they face the Los Angeles Rams.
The 22-year-old quarterback takes over from Ryan Fitzpatrick, who admitted that he knew it was bound to happen.
Dolphins coach Brian Flores justified the decision, something that came during their bye week. Tagovailoa takes over from Fitzpatrick who did a pretty decent job up to this point.
In fact, completed 70.1 percent of his passes so far this season for 1,535 yards and had a 95.0 passer rating. Moreover, he also had 10 touchdowns and seven interceptions to his credit.
But the reality of it all is that Fitzpatrick cannot do this forever. He is already 37 and the passing of the torch needs to happen. He knew that he was only a "placeholder" for Tagovailoa and he will eventually end up playing back-up to the young player.
Regardless, he admitted that the move caught him by surprise per a report from The Miami Herald.
"I was shocked by it," Fitzpatrick said during a Zoom session. "Definitely caught me off guard and it was a hard thing for me to hear yesterday, digesting the news. My heart just hurt all day. It was heartbreaking for me."
It would be also good to note that Fitzpatrick's contract with the Dolphins will expire at the end of the season. However, he is not entirely closing the door on his football career.
As for Tagovailoa, his debut as the Dolphins' starting quarterback appears to be ripe. Coach Brian Flores is confident that the young quarterback has proven he is ready for the NFL through practices. Part of that was his debut in their last game against the New York Jets.
"[Ryan Fitzpatrick] has done a great job. He's been productive. His leadership has been great. It's not an easy decision for me or us as an organization, but we felt like for the team now and moving forward, this is the move we needed to make," Flores said via ESPN.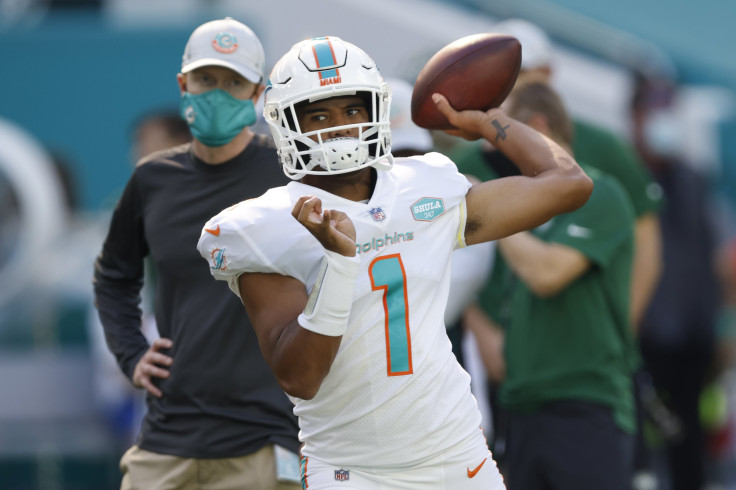 © Copyright IBTimes 2023. All rights reserved.
FOLLOW MORE IBT NEWS ON THE BELOW CHANNELS