NFL Rumors 2017: Will The Patriots Trade Jimmy Garoppolo? Johnny Manziel, Colin Kaepernick Could Draw Interest In Free Agency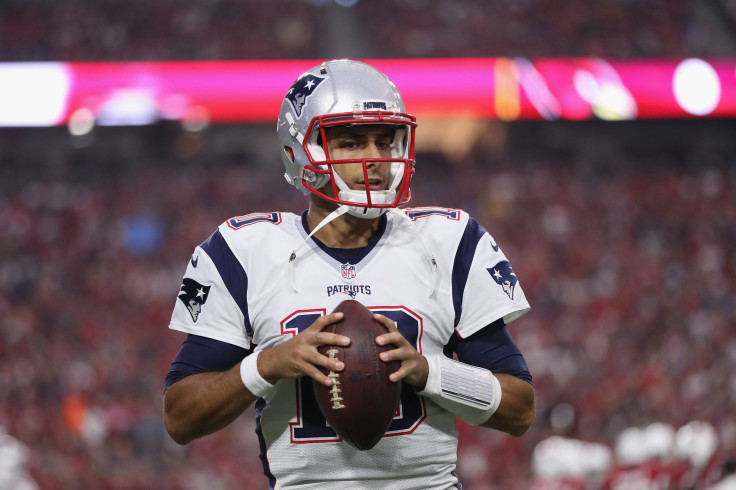 With NFL free agency quickly approaching, the market for quarterbacks doesn't appear to be very strong. A few teams are in desperate need of a signal caller, but the number of available starters is dwindling by the day.
Kirk Cousins is no longer an option after being hit with the franchise tag by the Washington Redskins Tuesday. Unless an above-average quarterback unexpectedly becomes available, no player that was a competent starter in 2016 will switch teams anytime soon.
After the New England Patriots won the Super Bowl, it looked like Jimmy Garoppolo might be the best option for teams in need of help at the position. With Tom Brady winning his fourth Super Bowl MVP award, the Patriots have no need for him in the 2017 NFL season. However, that doesn't mean they're going to let him go.
ESPN's Adam Schefter reported Wednesday that New England intends to keep their backup quarterback. Playing just six quarters during Brady's suspension, Garoppolo looked like the real deal, completing more than 70 percent of his 59 pass attempts for 496 yards, four touchdowns and no interceptions.
Not everyone believes that the Patriots are serious about keeping Garoppolo, and they simply could be looking to drive up the price on their No. 2 quarterback. If Brady can continue his level of play, they'll have no need for Garoppolo in the next few seasons. Brady is still the league's best quarterback at 39 years old, and he's stated his intention of playing for the foreseeable future.
But the Patriots might have an eye on the future, knowing that Brady's demise could come at a moment's notice. It would be unprecedented for Brady to continue this level of success into his 40s. Recent greats like Peyton Manning and Brett Favre saw their skills dramatically decline in their later years, immediately after having All-Pro seasons.
Tony Romo is almost certain to be traded, though he arguably comes with almost as many question marks as Garoppolo. A great quarterback when healthy and in his prime, Romo has barely played the last two seasons. Having suffered a few major injuries, he played just five total games in 2015 and 2016, and he'll be 37 years old before this year's draft.
With Dak Prescott penciled in as their starting quarterback of the future, the Dallas Cowboys plan to meet with Romo soon. Dallas could try to accommodate the veteran, sending him to the destination of his choosing. The Houston Texans, Denver Broncos and the Kansas City Chiefs are thought to be his most likely landing spots.
Teams will have a few former starting quarterbacks to choose from in free agency, though none that have sustained any recent success. Colin Kaepernick is expected to opt out of his contract with the San Francisco 49ers, according to NFL Network, officially becoming a free agent on March 9.
Kaepernick led the 49ers to the Super Bowl in the 2012 season, but his last few years have been underwhelming, to say the least. He lost his starting job to Blaine Gabbert after posting a 78.5 passer rating in 2015. Kaepernick reclaimed his spot last season, but he went just 1-10 as a starter.
Former first-round draft pick Johnny Manziel is hoping to make an NFL comeback. Manziel, who hasn't been in the league since he played nine games for the Cleveland Browns in 2015, is drawing interest from NFL teams, according to NFL Network's Ian Rapoport.
Former Tampa Bay Buccaneers quarterback Mike Glennon could be one of the most coveted signal callers on the market. Before backing up Jameis Winston for two seasons, Glennon threw 29 touchdown passes and 15 interceptions in 19 games.
© Copyright IBTimes 2023. All rights reserved.