NFL Rumors: Burrow Dodges Draft Day Talk, May Listen To Bengals First
KEY POINTS
Burrow dodges questions about Bengals
Burrow keeping things as blunt as possible
NFL trade for Joe Burrow remains in the air
Joe Burrow of LSU has unsurprisingly someone that reporters want to get hold off with the 2020 NFL Draft happening in a couple of months. Though the 23-year-old quarterback made it clear that he would want to be selected at no. 1, the team holding the privilege may not align with his pro football career outlook.
Burrow wants to join a team that is dedicated to winning, a club who has the Super Bowl in sight. For most, the Bengals are not that kind of team and such has led to speculation of a potential trade involving the 2019 National Champion. An NFL trade could happen before, during or after draft day. In fact, some are predicting something similar to what Eli Manning did back in 2004. After getting selected by the San Diego Chargers, Manning ended up getting traded to the New York Giants.
The former LSU quarterback sat down with Mac Engel and Drew Davison of the Fort Worth Star-Telegram recently and discussed several things. That included trying to get Burrow's thoughts on possibly getting selected by the Bengals in April.
"They have their process that they have to go through, and so I am blessed to be in the position I'm in. If they select me, they select me. I'm going to do everything in my power to be the best football player I can be," Burrow said.
When asked if his response was meant to say he was fine joining Cincinnati, Burrow just answered bluntly. He is aware of the murmurs going around but is trying to keep an open mind. It won't come as a surprise if he has sought advice and taught how to answer delicate questions related to his football career.
In a previous post, it was mentioned how at least one person believes that Burrow will happily play for the Bengals. Kansas City Chiefs safety Tyrann Mathieu sees Burrow stepping up to "be the guy" and lead the franchise. But of course, Burrow cannot do it alone. He needs help, probably something that the Heisman Trophy winner hopes Cincinnati management will plan next. For now, all that is up in the air.
Several teams seem to be willing to trade up for Burrow. It could happen at some point, with teams like the Miami Dolphins direly in need of a talented quarterback to back their NFL campaign.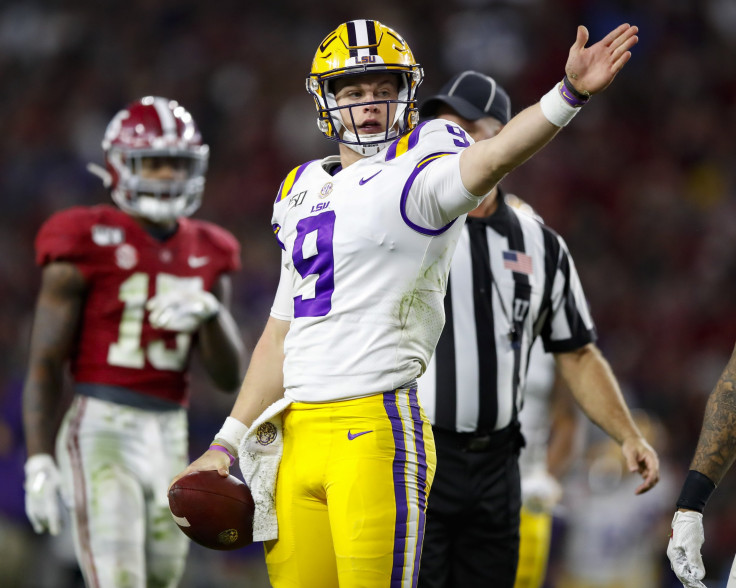 © Copyright IBTimes 2023. All rights reserved.