NFL Trade Rumors: Cowboys Ready To Mix It Up And Move Up At 2020 Draft
KEY POINTS
Cowboys could trade up in the 2020 NFL Draft
Cowboys have yet to resolve Prescott, Cooper contracts
Cowboys could target a defensive end at the NFL Draft
The Dallas Cowboys have been quiet so far with most awaiting how they will deal with Dak Prescott and Amari Cooper. Team owner Jerry Jones likely has some plans in mind although he has not forgotten about the 2020 NFL Draft. Owners of the 17th overall pick, Dallas could be cooking up something to move up.
According to Tony Pauline of the Pro Football Network, Jones is planning to make a big splash on draft day. While that could mean anything, it immediately hints that the Cowboys may be planning to go several notches higher. With some Cowboys players scheduled to become free agents, Jones could be looking at the draft to infuse new and younger players. But as far as how high they can go would depend.
There are several names to consider in the 2020 NFL Draft. There is Joe Burrow and Tau Tagovailoa pegged to be the best quarterbacks available. Seeing how the Cowboys could do well by sticking to Prescott, Jones may have other targets in mind. Among the players he could consider include defensive end Chase Young or cornerback Jeffrey Okudah, Yardbarker suggested.
The chase for Young could prove futile. He is forecasted to be selected as high as no. 2, meaning the Cowboys would have to offer a massive haul to get to that spot. Hence, the plausible target could be Okudah. He is seen as someone who could be picked up at seventh per 2020 NFL Mock Drafts, although things could change depending on the teams picking in the top 10.
There is no telling what "big splash" means for Jones. But one thing is for sure, he has not forgotten the talent that is available in the 2020 NFL Draft. Though that is in the air, it remains that Dallas needs to address its impending free agent problem.
Prescott continued to wait on what kind of deal the Cowboys will offer him. He is looking for a long-term deal and something needs to be agreed upon before Mar. 10. If not, there is a possibility that Prescott ends up with a franchise tag, Ian Rapoport of the NFL Network reported.
There is also the case of Amari Cooper. He is another primetime player that Dallas needs to address. The main problem is that the 25-year-old wants big money on the table although he did say he wants to return to the Cowboys. But if the numbers crunch doesn't add up, the four-time Pro Bowler could be good as gone.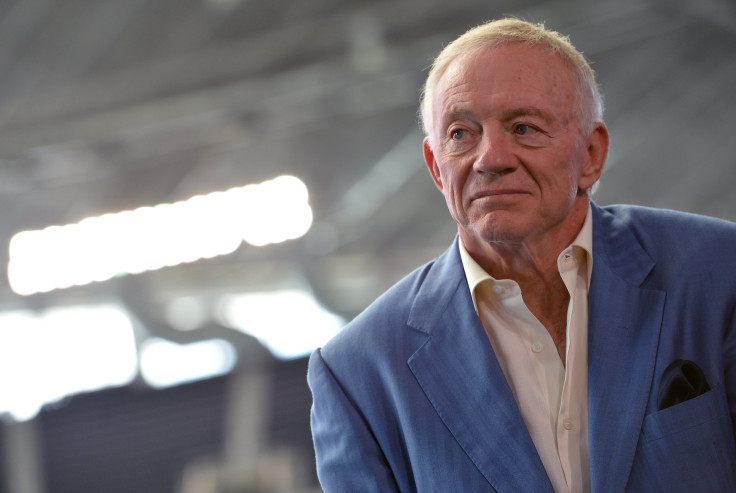 © Copyright IBTimes 2023. All rights reserved.