NFL Trade Rumors: QB Draft Day Deal Between Chargers And Titans For Philip Rivers, Marcus Mariota?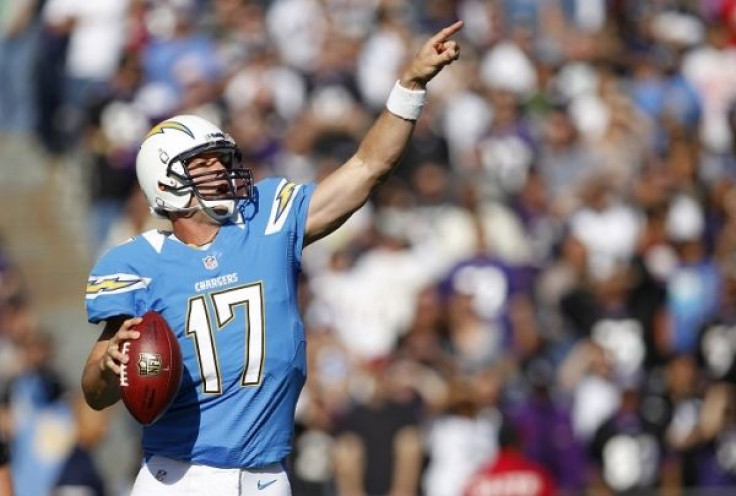 Marcus Mariota appears to be the most likely selection at No.2 overall in the 2015 NFL Draft, but he might not go to the Tennessee Titans, who currently have the pick. Tennessee has been involved in several trade rumors, including one that would send Mariota to the San Diego Chargers in exchange for Philip Rivers.
Multiple teams have had their eyes on moving up to the No.2 pick. Jameis Winston appears all but guaranteed to be taken by the Tampa Bay Buccaneers with the top selection, and teams looking to add a quarterback could look to get last year's Heisman Trophy winner. Tennessee reportedly likes quarterback Zach Mettenberger, who played in seven games for them last year, and they're open to trading the pick.
Trade rumors surrounding Rivers to Tennessee began because of the quarterback's contract situation. Rivers has one year left on his deal and is headed for free agency in 2016. According to Sports Illustrated's Peter King, Rivers currently doesn't want to sign an extension with the team, leading to speculation that San Diego would be open to moving him.
While King expects San Diego and Tennessee to talk about a potential deal, the likelihood of one happening doesn't seem too high. NFL Media's Alex Flanagan reports that the Chargers have yet to discuss trading Rivers with any team, and they hope to keep Rivers. The quarterback is coming off one of his best seasons in recent years, having thrown for 31 touchdowns and 4,286 yards.
A week ago, San Diego general manager Tom Telesco tried to dispel any rumors that the Chargers were looking to move Rivers.
"There really is no update," Telesco said Wednesday. "It's the same thing I've said for the last four months, Philip's our quarterback and it's our plan and intent that he's our quarterback well into the future."
Even if the Chargers were willing to deal Rivers to the Titans, Tennessee would want more in exchange. Rivers would give the team an upgrade at quarterback, but he was drafted 11 years ago and will turn 34 years old during next season. The Titans might be content with paying either Mettenberger or Mariota a lot less money to be their starter, with the potential that they could start for Tennessee for the next decade.
NFL Media's Ian Rapoport has listed the Chargers, St. Louis Rams and Cleveland Browns as the teams with the best chance of trading for the No.2 pick. The Rams and Browns would have trouble pulling off a deal because they don't have a quarterback that could be the centerpiece of a deal, like San Diego does.
© Copyright IBTimes 2023. All rights reserved.
FOLLOW MORE IBT NEWS ON THE BELOW CHANNELS