NHL News: Blackhawks' Patrick Kane Not Charged With Rape, Allegation 'Rife With Reasonable Doubt,' Prosecutors Say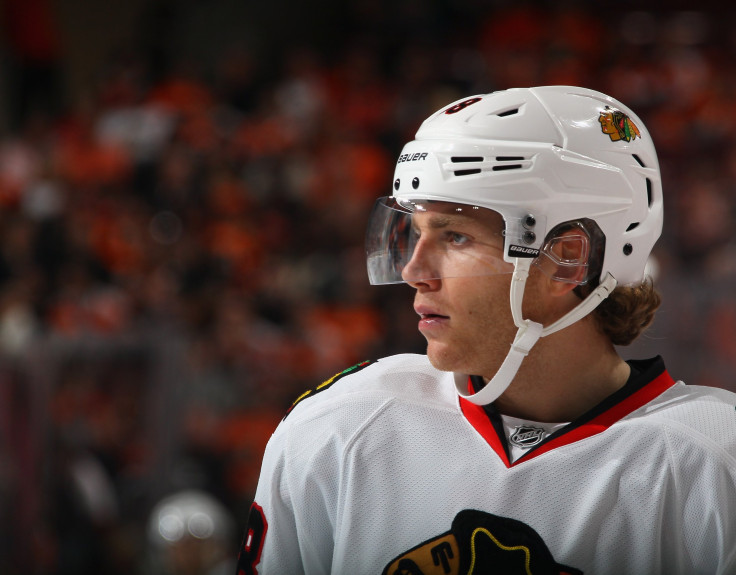 Patrick Kane, star right-winger for the NHL's Chicago Blackhawks, will not face rape charges following a three-month investigation into an allegation that western New York prosecutors concluded was "rife with reasonable doubt," according to a statement released Thursday. There were "significant material inconsistencies between the complainant's accounts and those of other witnesses," the Erie County District Attorney Frank A. Sedita, III announced in the statement.
"The totality of the credible evidence -- the proof -- does not sufficiently substantiate the complainant's allegation that she was raped by Patrick Kane and this so-called 'case' is rife with reasonable doubt," Sedita wrote in the statement. The prosecutor said he would not present the case to a grand jury for possible charges.
Investigators said that physical and forensic evidence "tend to contradict" the accuser's allegation that she was raped last Aug. 2 in Kane's bed at his Buffalo home, and that there was no proof she was penetrated, a required element of proof for a rape charge.
The move from the district attorney's office comes about a week after the player's accuser said she no longer desired to pursue a criminal case against Kane. The 21-year-old accuser signed a non-prosecution affidavit which read, in part, "That after fully discussing all the circumstances with my attorney, I have decided I do not wish to criminally prosecute the charges which stem out of this investigation. I do so of my own free will and without any promises or compensation," according to the district attorney.
The NHL star's attorney, Paul Cambria, said he was not surprised that Kane was not charged. "I agree that the case is rife with doubt," he told the Associated Press.
Kane has continued playing for the Blackhawks -- leading the team in goals this season -- and could still be suspended by the NHL if it deems his off-ice conduct as detrimental to the league, a move the Chicago Tribune called "unlikely."
The months long investigation routinely made headlines and took an odd turn in September with an apparent hoax over a supposedly found brown paper that bag that was thought to have held the 21-year-old accuser's rape kit. Prosecutors later said that all evidence, including the rape kit, was handled properly and in the custody of authorities and that the mother of the accuser had lied about finding the bag on her doorstep, calling the situation "an effort to create a hoax."
As the investigation unfolded, Kane was removed from the cover of a video game and was the subject of "She said no!" and "No means no!" chants at away games this season, the AP reported. The winger had become one of the top young stars of the NHL, winning three Stanley Cup championships in six years with Chicago, including last season.
© Copyright IBTimes 2023. All rights reserved.