North Korea Missile Tests 2022: From IRBM To Cruise Missiles Explained
North Korea fired two low-flying cruise missiles into the Yellow Sea on Wednesday. The launches come a week after North Korean leader Kim Jong Un lifted strict COVID-19 measures that were in effect since May, driving the regime's focus back on accomplishing the country's arsenal wishlist.
This includes tactical nuclear weapons, an intercontinental ballistic missile with a 15,000-kilometer range, hypersonic glide vehicles (HGVs) and solid-fuel intercontinental ballistic missiles, according to International Institute for Strategic Studies.
The U.S. and United Nations said Pyongyang could conduct its first nuclear test since 2017, and the country's seventh, at any time. The comments came on the heels of North Korea's amped-up missile launches this year, totaling 30 by June. Here we have explained the weapons it launched in 2022 and their impact.
January
Eleven short, medium and intermediate-range missiles were tested on seven occasions by North Korea in January, making it the busiest month in the history of missile testing in the country.
The tests conducted on Jan.5 and 11 involved the development of a hypersonic glide vehicle, a report by ONN said. These weapons can travel about one mile per second. The key difference between ballistic vehicles and HGVs is that the latter can change their course and maneuver their path after being released from their boosters, according to Congressional Research Service.
Some analysts laud HGVs' accuracy, speed and maneuverability but others say these weapons have nothing new to offer, and ballistic missiles have long been used to conduct successful attacks.
On Jan. 14 and 27, a rail-based missile regiment equipped with KN-23 ballistic missiles was launched to test the combat readiness and performance of an airburst warhead respectively.
KN-23 is a North Korean short-range ballistic missile (SRBM), which flies on a quasi-ballistic trajectory. It is estimated to carry a 500-gram warhead to 450 km and a reduced load to 690 km, the Center for Strategic & International Studies noted.
On Jan. 17, a launch was done to test the production quality of KN-24 ballistic missiles that fly on a quasi-ballistic trajectory. They have an estimated range of 410 km.
On Jan. 25, two improved cruise missiles were launched following earlier tests from September 2021. Cruise missiles fly toward their targets at lower altitudes, remaining within the Earth's atmosphere throughout their trajectory. Their low flight path makes it harder for most radar and sensor systems to detect them.
On Jan. 27, the country launched two KN-23 ballistic missiles and on Jan. 30, it launched a Hwasong-12 intermediate-range ballistic missile (IRBM), which has a range of 4,500 km. This was the country's first major weapon test after a four-year hiatus.
February
"At least one ballistic missile" was fired from the Sunan area of North Korea, confirmed South Korea's Joint Chiefs of Staff on Feb. 26. This marked North Korea's eighth missile test in 2022.
March
On March 5, a ballistic missile was fired days before presidential elections were held in neighboring South Korea. An attempt to launch another missile on March 16 failed after it exploded mid-air while flying at an altitude of 20 km.
On March 24, reports said Kim had ordered and guided the test of the Hwasong-17, the country's biggest intercontinental ballistic missile (ICBM), reported The Guardian.
Analysts have called it a "monster missile" and when fully fueled, it weighs anywhere between 80,000 to 110,000 kg, according to 38 North, a U.S.-based program that monitors North Korea.
State news agency KCNA reported that the missile flew for 67.5 minutes to a range of 1,090 km and attained a maximum altitude of 6,248.5 km before hitting a target in the sea. However, Seoul quashed these claims, saying the missile tested was the Hwasong-15, a less-advanced ICBM.
April
North Korea launched two short-range projectiles resembling the KN-23 on April 16. It was predicted that Kim might order an ICBM or a nuclear test to mark the 110th birth anniversary of his grandfather on April 15, but nothing to that effect took place.
May
In late May, Seoul said North Korea test-launched a suspected ICBM and two short-range weapons into the sea, hours after U.S. President Joe Biden's Asia trip concluded. Biden had reassured allies that the U.S. would stand beside them to defend them against the North's nuclear attack.
June
On June 5, the country fired eight short-range ballistic missiles toward the sea off its east coast, reported Reuters. These missiles traveled at 110 km to 600 km range, flying at altitudes between 25 km and 90 km. All of them were fired within a time frame of 35 minutes, according to GVS.
Pyongyang did not conduct any missile tests in July.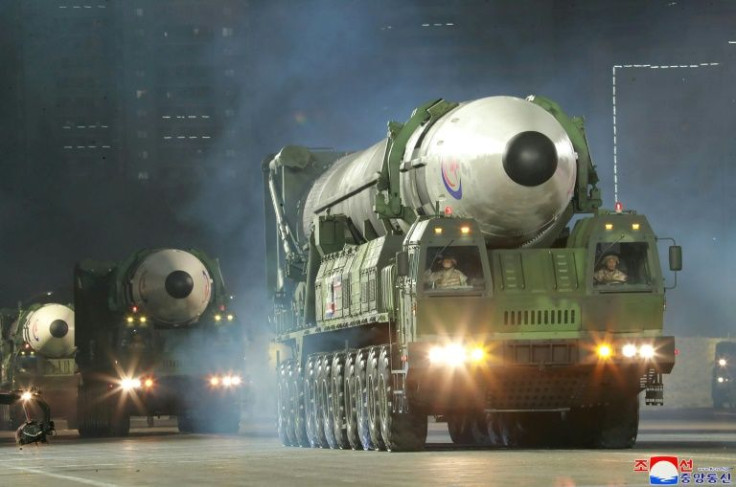 © Copyright IBTimes 2023. All rights reserved.
FOLLOW MORE IBT NEWS ON THE BELOW CHANNELS