Obama College Ratings System: White House Debuts Bare-Bones Framework For Public Comment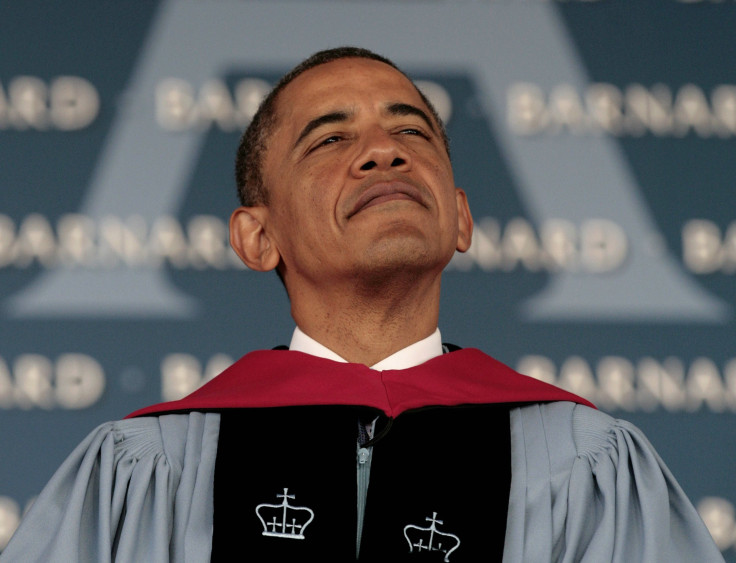 After 15 months of development, the White House released the framework and basic metrics for its college ratings system Friday. As expected, the controversial guidelines revolve around access, affordability and student outcomes. Specifically, the government is going to look at 11 factors, including how many students get Pell Grants, how many are the first in their families to go to college, the net price of attendance, completion rates, transfer rates and loan repayment.
"With the guidance of thousands of wise voices, we can develop a useful ratings system that will help more Americans realize the dream of a degree that unleashes their potential and opens doors to a better life," U.S. Secretary of Education Arne Duncan said in a press release.
The education department stressed it's creating a ratings system, not a rankings system. Schools won't be numbered in lists like in the Princeton Review and U.S. News and World Report. Instead, they'll be divided into three categories: high-, middle- and low-performing institutions. Two-year and four-year schools will be rated separately.
Colleges hoping the reveal would give them a chance to rig their data are likely disappointed by its bare-bones structure. "The things that they are measuring and how they weigh and trade off those measurements are not even included," said Thomas Weko, a postsecondary education managing researcher at the American Institutes for Research in Washington, D.C.
The idea of a national ratings system has previously drawn criticism from people who questioned its nature and data points. Some said there's no fair, accurate way to measure colleges against each other, and others simply said the government shouldn't be in the ranking business. "They're getting involved in something they have no business getting involved with," Rep. Virginia Foxx, R-N.C., told Politico this week.
President Barack Obama proposed the system last year as a way to hold colleges and universities receiving taxpayer money accountable for their students' success. The system is due to be in place for the 2015-2016 school year, but an actual policy tying that $150 billion in federal funding to college performance is years off, if ever. The White House plans to introduce legislature on the issue to Congress by 2018, according to a press release, but if the GOP retains control over the House and Senate, passage is unlikely.
"The idea that these ratings would actually be linked to federal financial aid as proposed is way down the road," George Washington University higher education finance professor Sandy Baum said Thursday. "I don't think anyone actually thinks that's actually going to happen."
Students may even ignore the ratings system, she said. High school seniors mostly choose colleges based on their reputations and graduates' abilities to get good jobs. Rankings were only "very important" to about 18 percent of students, according to The American Freshman: National Norms Fall 2013 report from the University of California, Los Angeles.
People should see the framework as a way to "learn where the department of education is prioritizing their efforts," said Jesse O'Connell, the National Association of Student Financial Aid Administrators assistant director for federal relations.
The White House is accepting feedback on the framework until Feb. 17. "We're working with everyone – students, parents, states, the higher education community, researchers and experts – to make sure we do this well," undersecretary Ted Mitchell said in the release.
© Copyright IBTimes 2022. All rights reserved.
FOLLOW MORE IBT NEWS ON THE BELOW CHANNELS