Occupational Burnout: Why Mental Health Benefits Are Important For Employees
Occupational burnout is a major health problem faced by the working population worldwide. Millions of employees are globally affected by this syndrome, which is caused due to chronic job stress.
Though this syndrome is not an illness or health condition, several studies have suggested that it can affect the overall wellness of an employee. This occupational phenomenon is proved to increase the risk of stress, anxiety, depression and even develop suicidal thoughts among employees.
In a study conducted by Jeff & Mike The Interview Guys last month, nearly 75% of people reported that they have experienced burnout. Some of the burnout-related symptoms experienced by the participants included irritation by customers, co-workers or clients, lack of motivation to go to work, lack of energy to be consistently productive and cynicism about company or job.
Meanwhile, Mark Hedstrom, the executive director of the organization Movember in the U.S.. said there is a rapid rise in suicide rates worldwide. According to him, occupational burnout can be a major cause for it and he believes men are mostly affected by this syndrome.
"About 800,000 individuals take their own lives globally and 500,000 of those are men. When we look at the trend in the U.S. context, about 75% of those suicides are men," Forbes quoted Hedstrom.
To a great extent, an employee-friendly workplace can play a vital role in managing this occupational phenomenon. This article discusses some of the best ways employers can focus on the wellbeing of their employees in terms of their physical and mental health.
Flexible working hours
A leading cause of stress among the working population is their struggle to maintain work/life balance. Flexibility in working hours can be very helpful for employees who struggle to manage their work-life balance.
In a Timewise survey conducted in 2017, around 60% of the working population in the U.K..said they are in need of flexible working hours in order to fit in their personal needs during the weekdays.
Special leave allowance
According to The Interview Guys' study, nearly 30% of people reported that they are unlikely to discuss mental health problems with their managers. While more than 22% of participants said they are slightly likely to discuss about burnout experience with their managers, 19% said they are somewhat likely to inform their bosses about the health problems.
Meanwhile, Mental Health Foundation reported that mental health problems are cited as the fourth most common reason for a sick day. But 45% of the working population in the U.K.. admitted that they come up with a different reason for their absence from the work.
The foundation recommended two days of mental health allowance for the employees a year. It can be beneficial for their health and wellness. By providing this allowance, the working population will be assured that their managers are taking their physical and mental health into consideration. It will also help the employees to discuss their health problems with the employers.
Fitness sessions
Dedicating an hour a day before or after the working hours for fitness sessions can help the employees manage their stress by unwinding from the desk for some time. It will also help the employees to plan their exercise routines without being worried about being late.
An article published in the Thrive Global reported that many of the employees struggle to schedule their fitness sessions before and after work. It is mainly because they get worried about being late for work.
'Grow a Mo, Save a Bro' campaign
Even in an employee-friendly atmosphere, men often find it difficult to discuss their problems with others. In a Movember study released last month, nearly 60% of men reported that they struggle to report their health problems to others.
According to the report, it is because society expects them to be emotionally strong and actively take up the responsibility of a family. So, they are less likely to seek treatment for their mental health problems despite experiencing them.
In 'Grow a Mo, Save a Bro campaign', men are encouraged to grow a mustache in the month of November for initiating conversations about their health and wellness.
"The fun is the mustache. We're taking a very masculine feature… some call it gamifying a man's face, and get them to be competitive with each other to all of those things and tie into a real authentic connection," Hedstrom told Forbes.
Seasonal changes at workplace
A move by the employer to cheer up their employees, like special allowance during festive season, a seasonal change in dress code and an occasional change in working hours, can be very beneficial for the health and wellness of an employee.
A Reed survey found that 40% of the U.K.. employees preferred a scoop of free ice cream in the summer instead of a cup of coffee or tea. The survey also found that employees preferred a more relaxed dress code during the summer season.
Meanwhile, a change in work time on Fridays encouraged the employees at Kellogg's office in Manchester to work 21% harder than earlier. The new scheme was introduced a year ago and significant changes were seen, the HR director of Kellogg's UK told Thrive Global.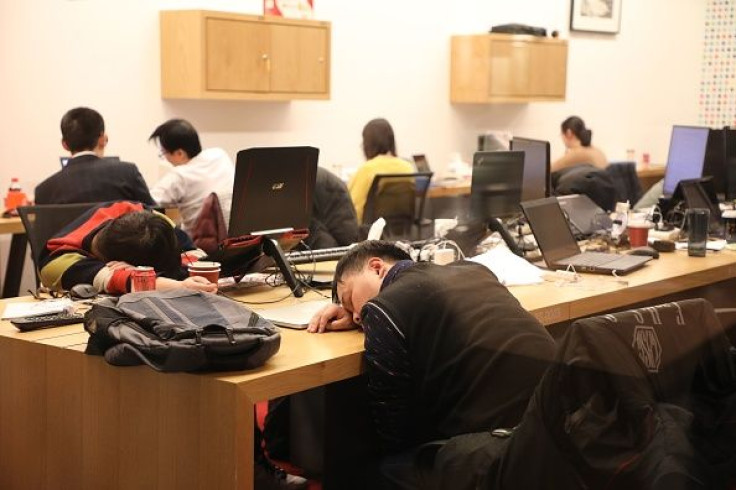 © Copyright IBTimes 2022. All rights reserved.
FOLLOW MORE IBT NEWS ON THE BELOW CHANNELS