OKC Thunder Once Again Proving They Are NBA Finals Contenders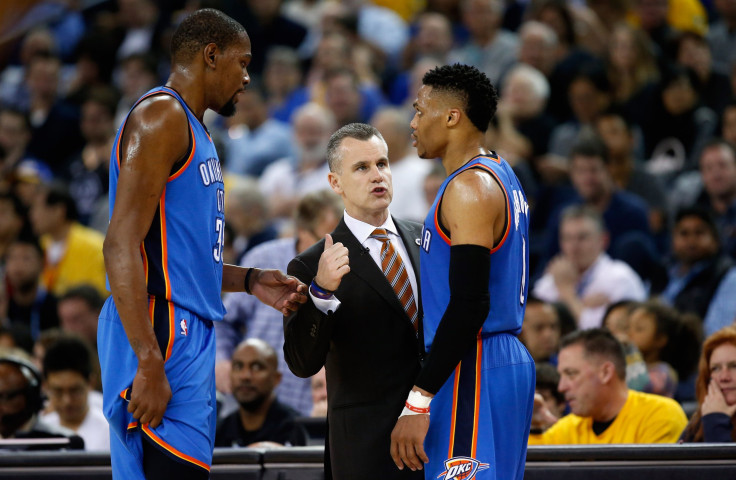 The Oklahoma City Thunder have a long way to go before winning a title, but the team continues to prove they have what it takes to make history. After winning Game 1 of the Western Conference finals against the Golden State Warriors, Oklahoma City is one step closer towards pulling off the most impressive NBA playoff run of all time.
The Thunder are pursuing yet another improbable series victory. Oklahoma City shocked the highly disciplined San Antonio Spurs in the Western Conference semifinals, winning in six games against a team that had 67-regular season victories. Entering the series, the Spurs had conceded just one home loss, but the Thunder were able to escape with two wins. The Warriors proved to be the best regular-season team ever with 73 wins, and their home loss on Monday was just their third defeat at Oracle Arena this season.
Oklahoma City has been one of the NBA's perennial contenders this decade, led by two of basketball's top stars. But the expiring contracts of Kevin Durant and Russell Westbrook might mean time is running out for this core to win a championship. Durant is expected to test the free-agent market this offseason, while Westbrook's deal ends in the summer of 2017 amid whispers both will leave the Sooner State.
In a season dominated by talk of the Warriors, Spurs and LeBron James, the Thunder have been the forgotten power. Since losing to the Miami Heat in the 2012 NBA Finals, the Thunder's absence from the title series has cast doubt on their resilience. For most clubs, a 55-win regular season would be cause for optimism, but the Thunder finished 12 games back of San Antonio, and 18 games behind Golden State, against whom they went 0-3 before Game 1.
With three straight road wins against teams that had been a combined 88-3 record at home, the Thunder have put the basketball world on notice. Finally, Durant and Westbrook might have enough to get over their frustrating setbacks.
"We've just had our ups and downs throughout the season, but we just stayed with it," Durant said on Monday. "We're a resilient group and we just keep fighting to the end. That's all we can do."
Oklahoma City Thunder NBA Players | PointAfter
Durant remains a player unlike any other in the league. A tall and lanky sharpshooter, the 27-year-old nearly put together another 50/40/90 season (field-goal, three-point and free-throw percentages), averaging 28.2 points and 8.2 rebounds per game. His 26-point effort in Game 1 was below his season average, as Westbrook seemed to carry the Thunder for most stretches. Yet Durant's 19 third-quarter points and seven steals overall were an important catalyst for Oklahoma City's comeback, having the kind of impact that only MVP Stephen Curry has been able to provide this season.
For the past few years, Oklahoma City has come up short for reasons some would attest were due to a weak supporting cast and uninspired coaching. Those two issues seem to have been corrected this season, even if that didn't appear to be the case for much of the year.
Billy Donovan is looking to follow in Steve Kerr's footsteps from last year and win a title in his first season as an NBA head coach. The 50-year-old who led the University of Florida to two national championships in his 19 seasons with the program wasn't overly impressive when he first made the leap to the pros, agreeing to be the Orlando Magic head coach before changing his mind days later to return to the Gators.
But he's looked more than capable in the playoffs, outmaneuvering some of the league's best coaches and in spite of the longstanding theory that college coaches have trouble adjusting to the pro game. Donovan helped assemble an eclectic group of experienced assistant coaches. Former New Orleans Pelicans head coach Monty Williams was joined by Anthony Grant, a former assistant under Donovan, who, like Donovan had no previous NBA coaching experience. Meanwhile, former head coach Maurice Cheeks, along with longtime assistants Mark Bryant and Darko Rajakovic, were retained. Mark Daigneault, another former Florida assistant coach, is also on the staff.
"I want to be in a place where I'm with good people, and I can build new relationships. This has been phenomenal because of that," Donovan told USA Today in April. "The people here are incredible. [Owner Clay Bennett] and [general manager Sam Presti] have done an unbelievable job of identifying people who are not only competent in their job but they're good, solid people.
"I enjoy coming to work every day. I really enjoy the players here. We've got great guys. I like the basketball piece of it and finding ways to get better."
As much of the NBA—led by the Warriors—is utilizing smaller lineups, Donovan has given the Thunder new life by going big. Gregg Popovich didn't have an answer for Oklahoma City's pairing of Steven Adams and Enes Kanter, and the Thunder were able to counter Golden State's "death lineup" by playing three big men at a time.
The Warriors usually put other teams away when Draymond Green plays at center, and it appeared that would be the case again when the five-man unit went on a 14-7 run in the final four minutes of the first half. But whereas Donovan replaced Adams with guard Andre Roberson at the end of the first half, he allowed Adams, Serge Ibaka and Durant to finish regulation and outscore Golden State's smaller lineup.
Adams, a native of New Zealand, has emerged as a force this postseason. The 22-year-old averaged 11.0 points and 11.8 rebounds per game in the second-round series against the Spurs, and his 16 points, 12 rebounds and physical play were essential in giving the Thunder the Game 1 victory.
Kanter remains a liability on defense, but he makes the most of his time on the floor, ranking 21st in the NBA with 21.7 points per 36 minutes. Oklahoma City received plenty of criticism for giving the center a four-year, $70 million contract this offseason, but the move could play a key role in capturing the club's first title since they were the Seattle SuperSonics, and won it all in 1979.
Perhaps what's most impressive about Oklahoma City's Game 1 win is that they didn't play their "A" game. Durant had a poor shooting night, going 10-for-30 from the field and missing key fourth quarter shots before his dagger with 30 seconds left all but sealed the victory. Westbrook was terrific in the second half, but he missed 14 of his 21 total shot attempts.
Western Conference Finals - Game 1: Thunder at Warriors Player Game Stats | PointAfter
The Thunder still have a long way to go before they can give the franchise its first title since leaving Seattle. Golden State remains the favorite to win the series, and Curry is capable of puting on shooting clinic at any moment. Even if Oklahoma City can somehow get by the Warriors, they'd likely have to deal with a well-rested Cleveland Cavaliers team that's led by LeBron James and a group of red-hot three-point shooters.
But it's growing clear that the Thunder won't be an easy out, and one of the NBA's all-time great teams are in for a war if they want to reach the finals.
Oklahoma City has come a long way since they last faced Golden State. On March 3, the Warriors defeated the Thunder by 15 points at Oracle Arena in a record-setting victory. They tied the 1996 Chicago Bulls with a 44th straight win at home, and only the Spurs were given much of a chance to stop the defending champions. The loss marked the Thunder's sixth defeat in eight games since the All-Star break.
"They needed to go through a difficult time to find out what they had to do and what we had to do to become and try to pursue reaching our fullest potential," Donovan said after Game 1. "It took time. It was really up and down. It was rocky.
"I think going through some of that stuff after the All-Star break probably has helped us grow and become more resilient and tougher. I think when you get in those competitive situations you get scarred up and wounded, and you build some resolve. It's not always easy. When it gets hard, you have to understand how to push through it. And those guys, I think, have done a really good job with that."
A few months ago, the idea of the Warriors snatching Durant away from the Thunder this offseason dominated basketball headlines. Now, it's the very real possibility of Durant and Oklahoma City playing spoiler to Golden State's historic season.
© Copyright IBTimes 2023. All rights reserved.