Oscar Pistorius Case: 5 Important Facts Ahead Of Closing Arguments Of Murder Trial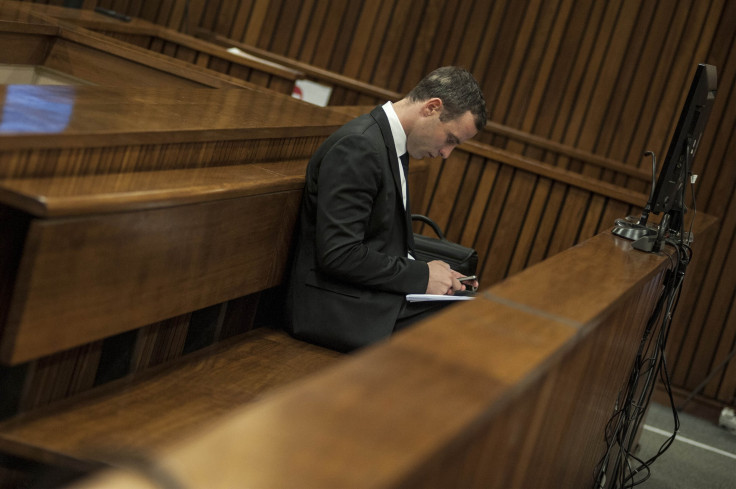 The closing arguments for South African sprinter Oscar Pistorius's murder trial are scheduled for Thursday in Pretoria, with the fate of the Olympic hero, nicknamed "Blade Runner" due to his prosthetics legs, in the hands of Judge Thokozile Masipa. Since the trial began in March, Pistorius has admitted to fatally shooting model girlfriend Reeva Steenkamp through a locked bathroom door at about 3:17 a.m. on Valentine's Day 2013, mistakenly believing she was an intruder. Pistorius has pleaded not guilty to the murder charge, and three weapons charges against him.
Over the last five months the prosecution and defense have laid out their cases, with the former's portraying Pistorius as an angry and jealous boyfriend with a violent past, and the latter offering a far less sinister and more coincidental account of a night that went wrong in so many ways.
Lead prosecutor Gerrie Nel has centered his case around accounts from Pistorius's neighbors on the night of the shooting (specifically when they claim to have heard screams and gunshots and in what order and from whom) and Pistorius's past transgressions that have involved firearms. Defense attorney Barry Roux has tried to parry Nel's case, relying largely on Pistorius's account of the night's events, and the testimony of a psychiatrist who said Pistorius had a heightened fear of intruders as well as an anxiety disorder
With the case reaching its final stages, below are five key points to consider before Judge Masipa announces her ruling.
Pistorius's Courtroom Behavior
Before he ever took the stand, Pistorius was sobbing, praying and vomiting in the courtroom. When a medical expert described Steenkamp's wounds and the damage caused by the gunshots, Pistorius couldn't seem to handle the horror of his actions. The defense claims Pistorius has been distraught since the shooting, and his emotions in the courtroom and during his testimony reflect remorsefulness. However, South African columnist Jani Allan claims Pistorius took acting classes prior to the trial.
Shots, Screams and Cricket Bat Sounds
Much of Nel's case rests on an alleged argument that took place between Pistorius and Steenkamp before she was killed. Five of Pistorius's neighbors testified that they heard what sounded like a woman screaming before they heard gun shots ring out. A sixth neighbor said they heard a man and woman arguing before four gun shots were fired.
Pistorius has maintained that once he learned he had shot Steenkamp, and not an intruder, he put on his prosthetics and then tried to kick down the door before using a cricket bat to smash through.
Whether or not Pistorius was wearing his prosthetics when he shot Steenkamp has been a key sticking point for both sides. The prosecution decided to charge Pistorius because they believe he took the time to put his legs on before firing at Steenkamp. But a forensic expert later testified that the trajectory of the shots suggest Pistorius was on his stumps during the shooting.
Evidence Tampering
Under cross-examination by the defense, former police Col. G.S. van Rensburg admitted that investigators mishandled evidence at the crime scene. Van Rensburg said he saw a ballistics expert handling Pistorius's gun without wearing gloves, and said he was "furious" when one of Pistorius's wristwatches went missing from the crime scene.
The defense also insisted the bathroom door was mishandled by police and contaminated. Van Rensburg said he ordered the door be removed and placed in a body bag and taken to his office. Van Rensburg, who had three decades of police experience, later resigned from the force in December because of his handling of the door.
Who is Judge Thokozile Masipa?
Though she has had two hand-picked legal assessors with her during the trial, Masipa alone will hand down the verdict. Addressed as "My Lady" in the courtroom by both sides of the case, Masipa, 66, was profiled by The New Yorker in May. Herself a journalist in the 1970s, the report spoke of Masipa's experiences demonstrating against South Africa's apartheid regime, specifically the white minority's harsh treatment of women. She was also a social worker who helped victims of domestic violence.
The profile also detailed a case back in 2009, when Masipa sent a man to prison for 250 years for raping three women during home burglaries, and giving a former police officer a life sentence for shooting and killing his wife during an argument over their divorce settlement.
Recklessness with a Gun and Temper
The prosecution also presented evidence that shows Pistorius has a questionable history with guns, as well as a temper.
Pistorius and his lawyers have said he loved Steenkamp and would never hurt her. However, WhatsApp messages between the couple showed several arguments, with Steenkamp accusing Pistorius of picking on her. She also said "I'm scared of you sometimes and how you snap at me." The defense countered by citing Steenkamp's Valentine's Day card to Pistorius which read: "Roses are red, violets are blue, I think today is a good day to tell you I love you."
Before the trial began a video was leaked, showing Pistorius firing at a gun range with the same weapon that killed Steenkamp. He was shooting a watermelon, and during the video says: "It's a lot softer than brain, but... it's like a zombie stopper."
During the trial a friend of Pistorius's, Kevin Lerena, testified that one month before the shooting Pistorius accidentally fired a gun at the floor of a Johannesburg restaurant. Pistorius also asked another friend seated at the table to take the blame. A former girlfriend, Samantha Taylor, also testified that Pistorius fired a gun through the roof of a car, and carried it with him when they were dating. Taylor also testified that Pistorius had once jumped out of his car near his home and pointed a gun at the window of a BMW that might have been following him.
© Copyright IBTimes 2023. All rights reserved.
FOLLOW MORE IBT NEWS ON THE BELOW CHANNELS