Oscar Pistorius Case: Murder Trial Update Of South African Runner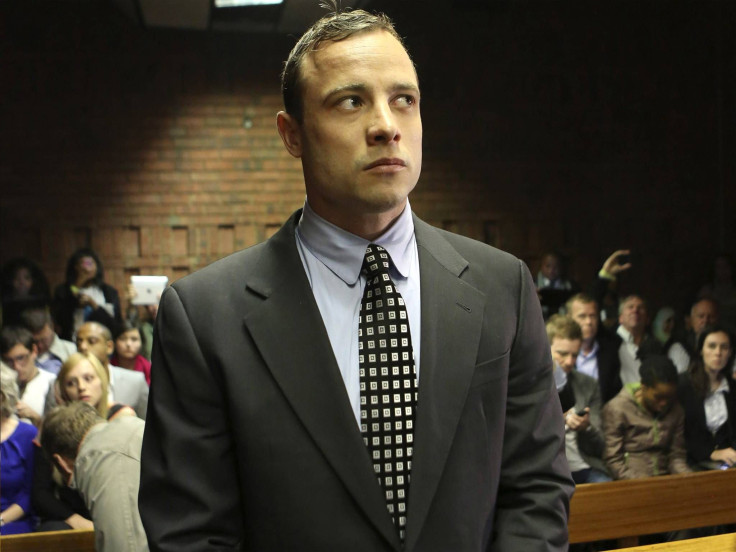 Day Two of the Oscar Pistorius trial was an emotional one for those involved. It centered on the testimony of Michelle Burger, a neighbor of the South African sprinter.
Pistorius has been accused of murdering girlfriend Reeva Steenkamp on Valentine's Day 2013. The South African Olympian hasn't denied shooting the model, but he contends he thought an intruder was behind his bathroom door when he pulled the trigger. Pistorius grabbed his head and began to cry in the courtroom, as details of Steenkamp's death were repeated.
However, Burger's testimony suggests that Pistorius intentionally shot and killed his girlfriend a little over a year ago. The witness shed tears of her own, describing what she heard on the night that Steenkamp died.
"I'm coping fine. It's been a year," an emotional Burger told prosecutor Gerrie Nel, via the Associated Press.
Through her tears, Pistorius's neighbor went on to explain how she heard screams coming from the sprinter's house, which is located 580 feet away from her home. According to Burger, she woke up to a woman's cries, and heard a man yelling for help three times.
Burger expressed her certainty that she heard two different people screaming, and not just Pistorius, as defense attorney Barry Roux suggested. She also confirmed that the loud noises she heard were gunshots, not the sound of a cricket bat that the sprinter used to break down the bathroom door. The exchange between Roux and Burger became heated, particularly when Pistorius's lawyer questioned why his client would call for help, before pulling the trigger.
The prosecution alleged that if Burger heard screams from Steenkamp, they would have had to come before the gunfire, since the shots to the deceased's head caused injuries that would not have allowed her to make any noises.
"Something terrible was happening at that house," Burger said in court. "Her shouts, her screams were petrifying."
In addition to the premeditated murder and firearms charge that Pistorius faces, he has also being charged with two separate gun indictments from 2012. He allegedly shot a handgun through his car's sunroof in one incident, and illegally fired a gun in an outdoor café in the other. The latter involved Pistorius's Glock 27 accidentally going off, according to the Olympian's friend, who spoke to CNN.
© Copyright IBTimes 2023. All rights reserved.