Ozzie Guillen Fidel Castro Comments: Pressure Big On Marlins Manager [PHOTOS]
COLUMN
Marlins manager Ozzie Guillen may permanently need to keep his notorious mouth zipper zipped-at least when it comes to talking about politics-permanently after his Time magazine comments about his love for former Cuban president Fidel Castro generated a fervor of protests from Cuban-Americans outside Marlins Park on Tuesday.
Guillen apologized at a 10:30 a.m. press conference in both English and Spanish in the stadium's interview room while protestors watched it all with emotion on televisions stationed outside. They called for the Venezuelan native's firing, but even before Guillen's conference, management suspended him for five games.
Fair?
It is highly debatable. Some will argue it is fair. However, some will argue for a longer suspension, while others will continue to adamantly argue for Guillen's resignation. Nevertheless, the manager's comments seem to have struck a huge chord that the heavily dense Cuban-American population in Miami might not want to reminisce.
And, to that point, that chord may be vibrating for a long time, particularly in a place where many from that Cuban-American population are immigrants that have fled political oppression in Cuba.
There are so many good people in the country. We could get anyone, said Elena Soutullo, 60, to the Miami Herald. We don't need a guy like that teaching our children that kind of behavior. I won't allow my children, grandchildren, to watch the games if he stays.
Soutullo also said that Guillen's five-game suspension isn't enough because the offense is too big.
But not everyone put a bounty on Guillen's head. The Herald reported that longtime Spanish-language Marlins announcer Felo Ramirez met with Guillen in Philadelphia and heard his apology. Afterwards, Ramirez said that he felt Guillen was doing the right thing by returning to Miami.
Obviously it's something that was going to affect people a lot and [Guillen] realizes that, Ramirez said. I think he will answer everything [in Miami].
The question is, though: did that press conference provide the answers needed?
A statement made by the Marlins Tuesday could have said it all.
The Marlins acknowledge the seriousness of the comments attributed to Guillen, said the statement. The pain and suffering caused by Fidel Castro cannot be minimized, especially in a community filled with victims of the dictatorship.
Keywords: cannot be minimized.
Guillen has only managed the Marlins for five games and already, he said, he has made the biggest mistake of his life.
I feel like I betrayed the Latin community, Guillen said. I am here to say I am sorry with my heart in my hands and I want to say I am sorry to all those people who are hurt directly or indirectly.
Now, with that mistake, the target on his back and the pressure engrossing him has probably never been bigger and tighter. If there are hundreds of protestors, there possibly will very well be thousands more questions that follow.
I'm sorry for what I said and for putting people in position they don't need to be in, Guillen continued. And for all the Cuban families, I'm sorry. I hope that when I get out of here, they will understand who Ozzie Guillen is. How I feel for them. And how I feel about the Fidel Castro dictatorship. I'm here to face you, person to person. It's going to be a very difficult time for me.
View the slideshow for photos of the protest.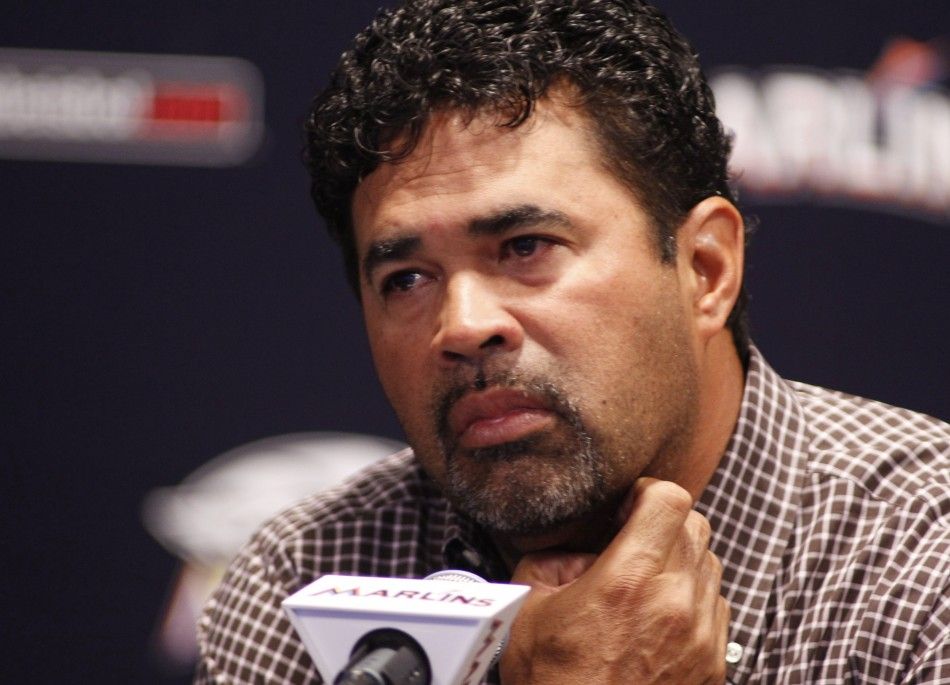 © Copyright IBTimes 2023. All rights reserved.