Paul Ryan 2014 Budget Proposal: Even More Of A Tax Burden On Middle Class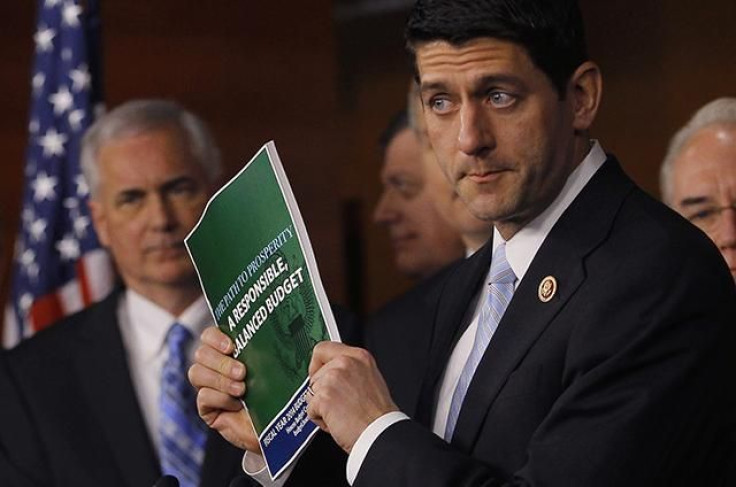 The latest version of House Budget Committee Chairman Paul Ryan's "Path to Prosperity" budget contains even more tax giveaways to the wealthiest Americans and corporations, according to at least one analysis, while still promoting massive spending cuts for social safety net programs.
Deep cuts, according to Ryan, R-Wis., are necessary to combat a deplorable "debt crisis" and "the lower standard of living" that will result if the federal government isn't cured of its purported addiction to spending. But critics have been quick to note the savings accrued by program cuts in the House GOP budget – especially its massive reductions to health care spending – seem to directly penalize non-rich Americans.
The Ryan plan lowers both the top marginal personal tax rate and corporate tax rate to 25 percent, creates a territorial taxation system – under which companies could bring foreign profits home with little or no income tax applied – and repeals the 3.8 percent levy on investment income established by the 2010 Affordable Care Act.
But while a Tax Policy Center Analysis found previous versions of the Ryan budget created about $3 trillion worth of tax breaks for the highest-earners, the Center for American Progress reports the 2014 budget would result in $7 trillion in revenue losses – a majority of which would go to the richest Americans.
According to Michael Linden, the center's director for tax and budget policy, Ryan's proposals wouldn't come close to generating revenue of 19.1 percent of GDP by 2023, as he lays out in the plan. That's because he still has not identified how he would pay for those cuts.
"If all of this sounds vaguely familiar, that's because this is the same play that Rep. Ryan and his running mate, former Massachusetts Gov. Mitt Romney, ran in the 2012 election: promising enormous tax cuts with no way to pay for them except by raising taxes on the middle class. The only difference this time is that this version of Rep. Ryan's budget has a bigger revenue hole than the Romney budget did, meaning his tax increases on the middle would have to be even bigger," Linden wrote Tuesday.
Last year, the TPC estimated the revenue generators in the House Republican budget would produce the equivalent of 15.8 percent of the GDP by 2022. That means Ryan is already missing about $840 billion of the revenue he would need to reach the 19.1 percent goal in 2023 alone (Ryan claim's his plan would balance the federal budget by 2023). That's adds up to about $7 trillion over the entire 10-year period outlined.
© Copyright IBTimes 2023. All rights reserved.