Peyton Manning Retiring? Denver Broncos Quarterback May Be Playing His Last Super Bowl And Football Game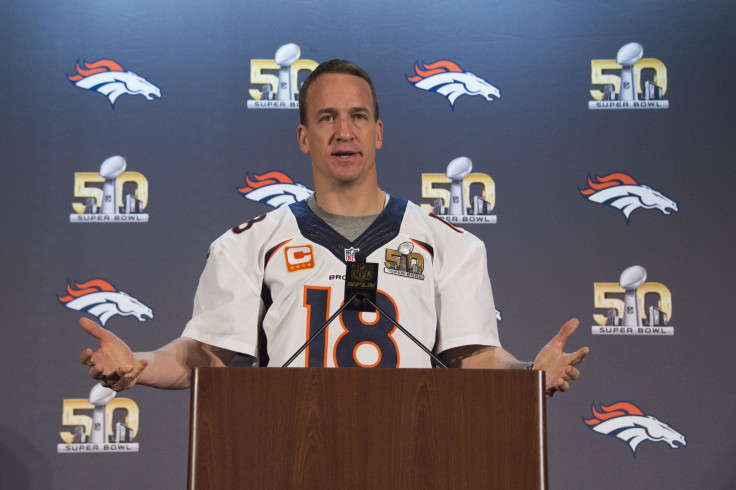 Super Bowl 50 may go down as the last game in the prestigious career of quarterback Peyton Manning.
The 39-year-old Denver Bronco will be the oldest quarterback ever to start a Super Bowl as he prepares to face the Carolina Panthers in a quest for his second NFL title.
And age might be just one of several reasons for Manning to reportedly be seriously considering stepping away from football. Manning has spent the last 18 years providing some of the most accurate passes the NFL has ever seen in his long run with the Indianapolis Colts and his last four years with the Broncos, but he started to show significant decline throughout the 2015 season.
Through the first nine games of the regular season, Manning neither had the same zip to his passes nor the accuracy to find tight windows between defensive backs or linebackers. He wound up with the dubious honor of finishing second in the NFL with 17 interceptions despite missing six starts. Poor play forced head coach Gary Kubiak to replace Manning with inexperienced reserve Brock Osweiler.
And after the benching, a first for Manning in his pro career, it was later learned injuries were a factor for Manning's poor play.
Manning was dealing with nagging rib and a torn plantar fascia in his foot, injuries hampering his ability to throw, drop back in the pocket, or even elude would-be pass rushers.
This year wasn't the first time he was weakened by injury. Last season it was reported a torn quadriceps muscle had ailed Manning for weeks, as Denver fell in the first round of the postseason.
The reason Manning even left Indianapolis was injury. He underwent four neck surgeries and missed the entire 2011 season while in recovery, and even back then his career seemed in jeopardy. Manning's absence only served to strengthen his case as an MVP when Indianapolis finished 2-14 and earned the No. 1 pick in the draft the next season. The Colts picked Andrew Luck, and Manning headed west to Denver.
Manning achieved resounding success and put up some of the best single-season marks of his career while in Denver, but that was all tainted after his and the Broncos poor performance in Super Bowl XLVIII against Seattle, a 43-8 loss that further put Manning's career in jeopardy.
Still, Manning persevered and has brought the Broncos back to the forefront of greatness, and the chance to go out on top, just like former Denver quarterback and Manning's current boss John Elway did back in 1999. That was the last time the Broncos won a Super Bowl, and Elway retired shortly after.
It's that chance to go out on top that might be too good an opportunity for Manning to pass up. Like Elway, he can end his career on the greatest of high notes. Though he's already secured the NFL records for most career passing yards and touchdowns, Manning would certainly hope to join an even rarer class of quarterback to win multiple Super Bowls. He currently sits at 1-2 all-time in the title game.
There have been more revealing signs that Manning's serious about retiring. Following Denver's upset of defending champion New England in the AFC title game, Manning reportedly told Patriots head coach Bill Belichick that this would be his "last rodeo."
The meaning behind the common phrase hasn't gone over anyone's head, but Manning has yet to publicly indicate that this will indeed be his final NFL game. There have been reports the freshly relocated Los Angeles Rams might be interested in Manning for next season, and even his father Archie has stressed in interviews that his son is unlikely to rejoin the Broncos for another year.
But the stoic Manning is beginning to crack.
As recently as Sunday morning, ESPN reported Manning, as well as Broncos defensive end DeMarcus Ware, were very emotional and "near tears" when each addressed the team in their meeting Saturday night.
"Peyton told a few jokes to lighten the mood," Broncos team president Joe Ellis said, "but then he got very emotional [when talking about what the game meant to him]. And so did DeMarcus. The room was silent. It was a very emotional gathering."
© Copyright IBTimes 2023. All rights reserved.