Pittsburgh Steelers vs. Indianapolis Colts 2016: Will Andrew Luck Play On Thanksgiving? Injury Shifts Betting Odds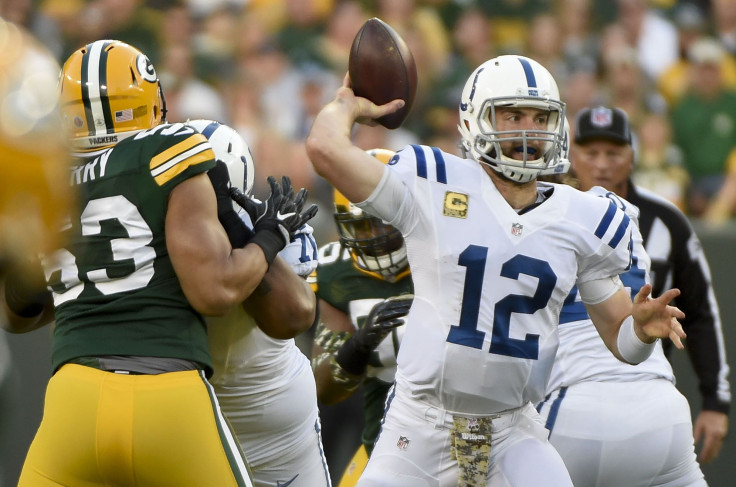 One day before Thanksgiving, it's looking like one of the NFL's top stars won't be able to play on the holiday. Indianapolis Colts quarterback Andrew Luck is questionable for the team's primetime matchup against the Pittsburgh Steelers.
Luck played the entirety of the Colts' win on Sunday over the Tennessee Titans, but he suffered a concussion during the contest. He remains in concussion protocol as of Wednesday morning, and it will be difficult for him to return to the field on such a short week.
The Colts are not hopeful that Luck will be cleared by game time, according to NFL Media's Ian Rapoport, and they are preparing for life without their starter. The team is ready to start backup quarterback Scott Tolzien, who hasn't attempted a pass in the 2016 season. Tolzien completed 55 of his 90 attempts in 2013, but he's thrown just one pass in the NFL since.
Indianapolis hasn't made an official announcement regarding Luck's status, but the quarterback's top wide receiver has indicated that Tolzien will be under center on Thursday night. Dale Lolley of the Observer-Reporter reports that T.Y. Hilton told him members of the Colts learned in a meeting that Luck won't suit up.
Once news of what Hilton said spread, oddsmakers quickly made the Colts nine-point underdogs at home, via OddsShark. Indianapolis would likely be a three-point underdog with Luck in the lineup. With a 5-5 record, Indianapolis trails the Houston Texans by one game in the AFC South.
Pittsburgh visits Indianapolis needing a win to keep pace with the Baltimore Ravens in the AFC North. They might catch a break and miss Luck on Thursday, but the team won't be caught off guard if the former No. 1 overall pick takes the field.
"There is no doubt in my mind that he is going to play," Steelers quarterback Ben Roethlisberger told reporters on Tuesday. "I will tell him, and this has nothing to do with football, but just to be smart. The brain is nothing to mess with. He is young and has a long career ahead of himself."
Roethlisberger, perhaps more than any NFL player, knows about coming back earlier than expected from an injury. Having done it in previous seasons, he did it again just a few weeks ago. After a torn meniscus was supposed to keep him out for four to six weeks, Roethlisberger was back on the field after missing just one game.
Luck didn't miss a game in the first three years of his career, but he was sidelined for more than half of the season in 2015. Indianapolis actually did better without Luck, going 6-3 when the quarterback didn't play, as opposed to 2-5 when he was in the lineup.
© Copyright IBTimes 2023. All rights reserved.