Pledge Of Allegiance In Arabic: High School Principal Apologizes For Student's Pledge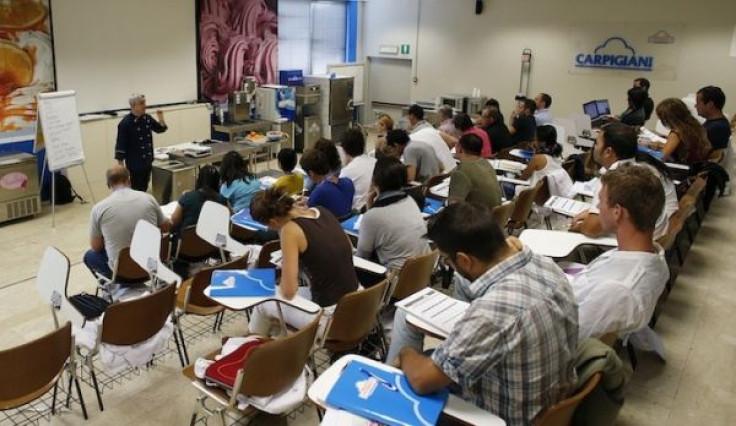 A school located in New York state apologized after receiving multiple complaints for allowing a student to recite the U.S. Pledge of Allegiance in Arabic during a weeklong diversity event organized by the school's foreign language department.
Pine Bush High School's superintendent, Joan Carbone, said she heard complaints from people who had lost family in Afghanistan. She also received criticism from Jewish parents, an official said.
New York state does not have an official language, but Carbone told the Times Herald-Record newspaper on Wednesday that the pledge had "divided the school in half."
The district apologized "to any students, staff or community members who found this activity disrespectful" and said the pledge reading was intended to "promote the fact that those who speak a language other than English still pledge to salute this great country."
The Arabic-speaking Pine Bush high school student read the pledge on Wednesday morning. A number of students allegedly protested during the pledge and then complained via social media sites like Twitter. Once the news went viral, a number of protesters joined in.
One student told Fox News he refused to stand up during the pledge and that his teacher told him he was "being disrespectful."
Carbone apologized that afternoon, explaining why the pledge was read in Arabic. She promised that the pledge would only be read in English in the future.
Andrew Zink, Pine Bush's student leader, said he knew the reading would be criticized, but that he believed it was "the right thing to do."
"What makes you American is not the language you speak, but the ideas you believe in," he said. Zink has accumulated a number of supporters, who rallied behind him on Twitter.
This isn't the first time the New York school or the Pine Bush school district has faced criticism and controversy. In 2013, Pine Bush was sued by Jewish parents in federal court over accusations that the school had allowed continuous anti-Semitic behavior. In court testimony, several children alleged that swastikas were drawn everywhere at the school, including on a seventh-grade girl's face as she was held down by two boys. Middle school students in the area allege they were called "Christ killer," "stupid Jew" and "disgusting Jew," and subjected to jokes about the Holocaust. Several students also alleged that they'd had coins thrown at them. According to the suit, some students were given detention or sent to counseling, and some weren't disciplined at all, the New York Times reported in Nov. 2013.
© Copyright IBTimes 2023. All rights reserved.