Plight Of Migrant Labor: Barolo, Italy's 'King Of Wines,' And Other Famous Brands Made With Workers Under Near-Slave Conditions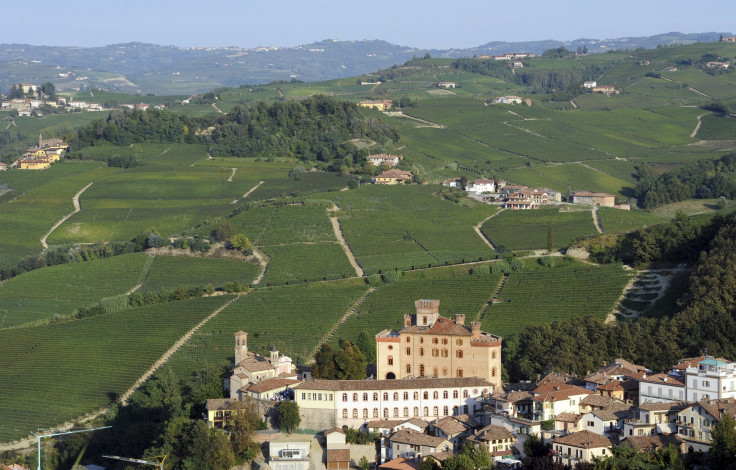 This story has been corrected; a previous version contained an incorrect exchange rate for the euro (7 euros is equivalent to roughly $10, not $5.)
ROME -- A glass of Barolo, one of Italy's priciest wines, can delight the senses. There's good reason that this red made from the Nebbiolo grape has long been known as Italy's greatest. But the "king of wines," as it is known here, has a bitter aftertaste for those who know how its grapes are harvested -- by migrant workers under often shockingly exploitive conditions that some describe as close to slave labor.
And as Barolo goes, so does most of Italy's wine and agricultural sector.
Italy is the world's largest wine exporter and is running neck-and-neck for the top producer spot with France. One in four bottles exported around the world is Italian, and much of it comes from the northwestern region of Piedmont, bordering France and Switzerland.
One of Piedmont's top winemaking spots is Canelli, a small town in the southern tip of the region that has become a hub for foreign workers looking for a job in area vineyards famous for Barolo, Dolcetto, Barbera and sparkling Spumante, an Italian version of Champagne.
Canelli's bucolic landscape evokes the old, picturesque celebration of vendemmia, the Italian word for the grape harvest, with its vineyard-shrouded hills, skies colored with countless shades of gray and blue, small villages nestled along narrow roads and castles scattered here and there.
But this landscape, worthy of an Italian tourism brochure, masks a harsh reality for those who toil in the vineyards, and Canelli's winemaking operations typify an increasingly exploitive business model that is transforming most of Italy's agriculture.
Local authorities and experts say a wave of seasonal workers has been flooding Canelli with cheap labor since Macedonia was allowed into the European free-circulation Schengen agreement in 2009. Due to its climate and position, Macedonia boasts a well-established winemaking tradition and therefore offers skilled manpower. When skilled grape-pickers from Eastern Europe's emerging economies became available in Canelli, wages began to fall and sparked the creation of employment "cooperatives" that make guest workers vulnerable to exploitation.
Under the cooperative system, small firms that are often owned by Macedonian workers who settled permanently in Canelli subcontract workers to larger companies that own the vineyards and which, in turn, produce the wine they sell to the international brands. Despite a gross hourly minimum wage of just more than seven euros (about $10 in U.S. currency), set by Italy's national agriculture contract, many cooperatives pay workers as little as two to three euros per hour.
"Only a few virtuous ones pay the whole, legal wage," says Alberto Mossino, an activist at the Project for the Integration of Immigrants, a local nonprofit group that focuses on the plight of migrant workers.
Only one out of two dozen cooperatives operating in Canelli was reported by local media as charging wine producers 12 euros last year, a price that covers the basic wage, overtime pay and reimbursement for housing and meals, as required by the Italian national contract.
Mossino says cooperatives are able to bypass Italian strict labor law by resorting to extra work paid off the books. They also take advantage of a special legal status that allows them to negotiate wages on a case-by-case basis, when workers are made partners. The partnership is often short-lived, as several cooperatives are dummy firms registered in a figurehead's name and created to provide wine producers with cheap labor for a season, only to be disbanded soon afterward.
Rather than hiring directly seasonal workers for the grape harvest, many firms find it more convenient to rely on third-party job brokers for harvest labor through a cooperative. Under Italian law, the practice is legal as long as the subcontractor -- in this case, the cooperative -- provides all means of production and actually controls the production process (supervising the work, including agreed hours and worker safety) rather than simply providing labor. Activists and unions say it is often impossible for a cooperative employing 100 or more day workers and catering to more than 30 customer firms scattered over a vast area to actually comply with the rules. "Sometimes they only provide one worker to each vineyard," says Julie Rouan, a researcher for French trade union Confédération Paysanne.
"There surely is an illegal form of job brokerage," Canelli's Mayor Marco Gabusi told International Business Times, referring to "caporalato," a practice strictly forbidden by Italian law, under which a day worker is picked from hundreds in a lowest bid auction by a middleman who procures cheap labor to firms and retains a slice of his salary.
The resulting downward spiral in wages is such that even young, unemployed locals avoid working in the vendemmia, as their ancestors did for centuries. In an effort to stem the loss of local laborers, Gabusi offered employers a 160 euro contribution for each local worker hired for at least 10 days. Last year, only 25 people participated.
There's more to the fallout of the "harvest of shame," as local media has dubbed the wine harvest in Canelli. Given low wages, many workers in Canelli can't afford a room during the harvest season in late summer or early fall. Many are reduced to living in tents shared with others or cars and trucks -- conditions that may be familiar to the mostly African tomato pickers in Southern Italy but have been largely unknown in high-margin, luxury industries like top-end winemaking.
Some 12 to 14 buses arrive in Canelli from Bulgaria, Macedonia and Romania every season, unloading 500 to 600 workers. Those with no local connections -- one out of 10, according to Gabusi -- are left without proper shelter. The lack of housing has led to the formation of a Canelli "shantytown," as local people and press have dubbed it, comprised of tents and makeshift barracks where homeless workers live during the harvest season. The city has provided a shower and two chemical toilets.
Homelessness was once rare in Canelli, with only a few workers sleeping in the square, in cars or on a bench. This year, Canelli had a shantytown hosting about 100 people, Mossino says, adding that providing vineyard hands with adequate facilities should be the responsibilities of the companies, not local authorities. "You have millionaires among producers here," he says. "They could join forces, creating housing facilities with just 20,000 or 30,000 euros. It would be a terrific public image investment that would turn a harvest of shame into a harvest of fairness."
Many of Piedmont's vineyards, often owned by family-run businesses, produce wine for international liquor and beverage conglomerates with dozens of labels. Top-selling brands include Riccadonna, a product of Gruppo Campari, makers of Wild Turkey whiskey, Skyy Vodka and Cinzano sparkling wines; Tosti, produced by Prestige Wine Group, a global spirits company based in the United States; and Gancia, bought in 2013 by Russian vodka maker Russian Standard.
Gancia, Campari and Prestige weren't available for comment. Italian winemakers' lobby Federvini, when asked about the situation in Canelli, pledged to "focus on safety and compliance with the rules," but offered no further comment.
Italy's largest unions, as well as nonprofit groups including Mossino's PIAM activist group, asked the Italian government to launch a national plan against migrant worker exploitation. Some migrant day laborers live like nomads, moving between Southern Italy for the summer vegetable harvest, then to Northern Italy for grape harvest, then again down South for the winter orange season. According to Italy's largest unions (Cgil, Cisl and Uil), more than a million people in Italy are employed off the books, and this shadow economy accounts for up to 17.6 percent of the country's GDP.
The Italian Agriculture Ministry launched an informational campaign for these irregular workers and intensified controls on illegal working conditions. Activists including Mossino and Rouan say it's difficult to implement controls at grape harvests, including checking working hours and compliance with contractual agreements with workers who often don't even speak Italian and are sometimes uncooperative.
Neither is the practice limited to the wine industry. Just 90 kilometers (50 miles) from Canelli lies Saluzzo, whose fruit orchards give work to some 800 African day laborers who live in tents, dormitories or containers. They are mostly refugees from war-torn Libya, where many of them also worked as fruit pickers.
Appalling conditions for day laborers have been known for decades in Southern Italy, where legions of migrants pick tomatoes or fruit. The issue came under international scrutiny after racially-motivated clashes between migrant workers and locals in Rosarno, Calabria, almost four years ago. More than 1,000 immigrants there live in shanty dormitories with no running water or electricity, and many more, mostly African, live in abandoned farmhouses scattered all over the region. Their net hourly pay can be as low as one euro, half the price of a small bottle of water sold in the fields.
The use of cheap migrant labor is also spreading to key segments of Italy's manufacturing industry, including fashion. Near-slavery labor conditions came under the spotlight earlier this month in Prato, an industrial town near Florence long known for its garment factories. A blaze in an improvised dormitory built inside a Chinese-owned clothing factory killed seven people, all Chinese migrants working for nearly next to nothing. In Prato, home to more than 4,000 Chinese-owned businesses, thousands of Chinese migrants are believed to be living illegally, working for a network of wholesalers and workshops turning out cheap clothing for the export market as well as well-known retail chains. Prato workers typically earn one euro per hour for days that often stretch to 18 hours, sometimes sleeping in the same illegally-built structure.
The issue of near-slavery in Italy has so far received little attention from the Italian public, and authorities have little incentive to tackle it. A special task force created in 2010 to tackle abuses in the shadow economy, where no one pays taxes and workers are treated appallingly, has made little headway. That may change after the Prato blaze, but the odds are against the ill-equipped investigators and in favor of the criminals.
"It's the Far West," Prato chief prosecutor Piero Tony told local media after the December fire, using a phrase that in Italy denotes the stereotypical lawlessness of the American frontier.
FOR FREE to continue reading
✔️ Unlock the full content of International Business Times UK for free
offer available for a limited time only
✔️ Easily manage your Newsletters subscriptions and save your favourite articles
✔️ No payment method required
Already have an account?
Log in
© Copyright IBTimes 2023. All rights reserved.