Pope Francis Warns South Korea Against 'Secularized And Materialistic' Society
Pope rides in Kia in first visit to Asia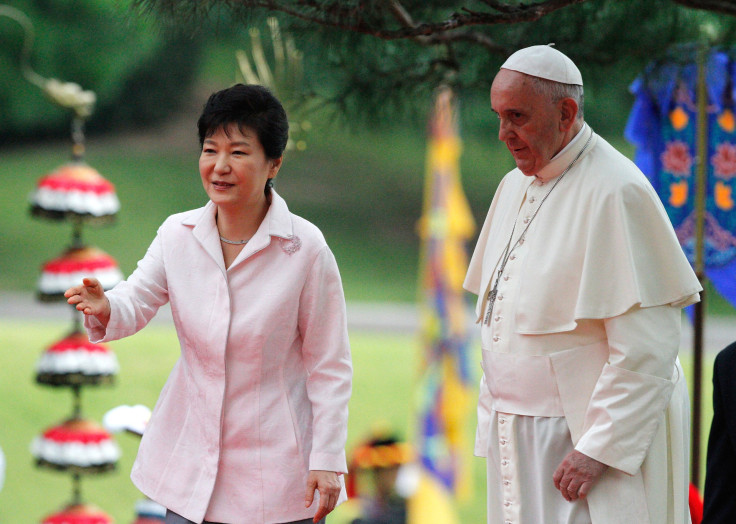 Pope Francis arrived in South Korea on Thursday in the first of a planned five-day visit, meeting with South Korean bishops in a nation where Catholicism is on the rise. His is the first papal visit to South Korea since Pope John Paul II came in 1989.
Pope Francis asked South Korean bishops to make sure the nation's "prosperous, yet increasingly secularized and materialistic society" did not distract the Catholic Church there from its mission of evangelization, according to the Catholic News Service. In stark contrast to the U.S. and Europe, Catholicism is growing in South Korea, currently standing at 10 percent of the population, according to the L.A. Times.
"In such circumstances, it is tempting for pastoral ministers to adopt not only effective models of management, planning and organization drawn from the business world, but also a lifestyle and mentality guided more by worldly criteria of success, and indeed power, than by the criteria which Jesus sets out in the Gospel," Pope Francis said, according to a CNS translation.
Pope Francis earlier called for reconciliation between North and South Korea, encouraging "reconciliation" instead of "displays of force." He met with President Park Geun-hye, who greeted him in the capital, Seoul. Pope Francis' plane touched down Thursday morning in an airport run by the military that is often reserved for visiting heads of state, according the New York Times.
Pope Francis also expressed consolation to the families of hundreds of South Korean students who in April died in the Sewol ferry disaster. His schedule also includes a beatification ceremony for 124 Koreans who died in the 18th and 19th centuries, an Asian Youth Day Festival and a mass for "peace and reconciliation with North Korea," according to the Washington Post.
North Korea declined an invitation to send a small group of Catholics to the ceremony, instead opting to test three short-range missiles less than an hour before Pope Francis arrived. After his plane touched down, the North fired two more projectiles. Known for eschewing traditional methods of Papal protection, Pope Francis chose to travel in a small Kia sedan instead of a bulletproof vehicle, according to the Post.
© Copyright IBTimes 2023. All rights reserved.