Preakness Stakes 2013: Early Betting Odds Have Orb, Departing And Goldencents As Favorites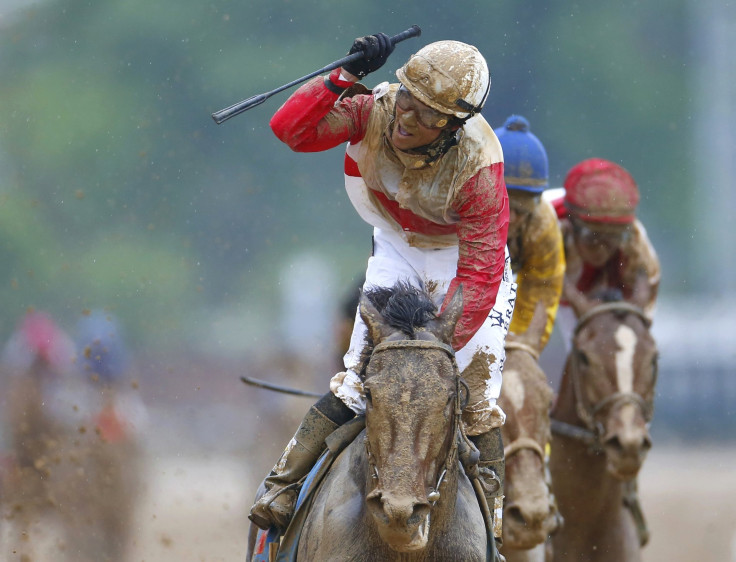 At the Kentucky Derby, Orb began his quest to make history with a win at Churchill Downs. On Saturday, the horse is expected to continue his winning streak.
Orb is the favorite to win the 2013 Preakness Stakes, according to the betting odds provided by Bovada.lv. The horse has been given even odds to win the second leg of the Triple Crown.
At 7/2, Orb was the frontrunner at the Kentucky Derby. Now, he's expected to finish first on May 18.
His win wasn't a surprise at Churchill Downs, but Orb faced stiff competition, defeating the likes of Verrazano and Revolutionary. In the upcoming race, though, the field will be significantly weaker.
Trainer Todd Pletcher won't run any of his five Kentucky Derby horses at the Preakness Stakes, making it likely that there won't be a full field of 14 competitors. Bovada has set the over-under for number of horses at 11.5.
With a shallow field heading into the event, a new challenger has emerged with the best chance of preventing Orb from winning his sixth race in a row. Departing is the second favorite with 9/2 odds.
Departing didn't participate in the Kentucky Derby, but won the Illinois Derby on April 20 in under one minute and 51 seconds. The horse is led by jockey Brian Hernandez Jr., who has never participated in a Triple Crown race.
Coming in with the third best betting odds is Goldencents at 7/1. The horse finished in 17th at the Kentucky Derby after being one of the favorites.
Both Itsmyluckyday and Mylute are tied with 9/1 odds. Other than Orb, Mylute had the best finish of any Preakness Stakes competitor that also ran in the first leg of the Triple Crown. Mylute came in fifth after starting from the sixth post position.
Titletown Five is the biggest longshot of the nine horses that are currently in the field. The three-year-old came in fourth in the Derby Trial at Churchill Downs in the horse's most recent race.
Below are early betting odds for the current field of the 2013 Preakness Stakes in Baltimore.
Orb 1/1
Departing 9/2
Goldencents 7/1
Itsmyluckyday 9/1
Mylute 9/1
Will Take Charge 12/1
Govenor Charlie 14/1
Oxbow 14/1
Titletown Five 25/1
© Copyright IBTimes 2023. All rights reserved.