Premier League Rumors: Barcelona Quietly Working On Getting New Striker
KEY POINTS
Barca plans to add another striker soon
Amor did not reveal the identity of candidates Barca is targeting
Barca could go the emergency loan route to add another frontliner
At some point moving forward, don't be surprised if a new face emerges over at the Barca side. Apparently, the ballclub has plans of adding another striker in the mix although the identity of that player remains under wraps.
In a report by Goal.com, Barcelona is reportedly in the market for another striker. Sports director Guillermo Amor admits that they have such plans but prefer to keep the names of possible targets secret for now. This is even though the winter transfer windows is closed although emergency loans is possible. The only catch there is that agreements must be made between domestic rivals.
The need for another striker has cropped up following the sidelining of several players. That includes Luis Suarez and Ousmane Dembele who are expected to be out of commission for some time. Barcelona boss Quique Setien is currently in the hunt for a striker but would still need authorization before he can add another attacker.
For now, all Barca can do is make do with the players they have. Against Betis, the likes of Frenkie de Jong, Sergio Busquets and Clement Lenglet gave the ballclub some inspiration when these players got their goals. Of course, their success were aided by Lionel Messi, a good sign from the team who has managed to stick together despite the struggles they are facing.
Alex Collado has been holding up for the team but has made just one La Liga appearance this term. He played just five minutes in Barca's loss to Valencia back in January. Another player in focus is Riqui Puig. Though his first-team chances may be limited this season, both he and Collado loom as bright prospects for the ballclub.
The Catalans face tall odds with injuries to key players. Despite a depleted lineup, they need to press on ahead in their quest of a league and European double, Forbes.com reported. Among the suggested targets include Angel Rodriguez and Lucas Perez although the list is expected to get longer depending on new developments.
Despite these adversities, Barcelona remains second in the Liga table behind Real Madrid. Given time, they could be a player away from getting that needed spark.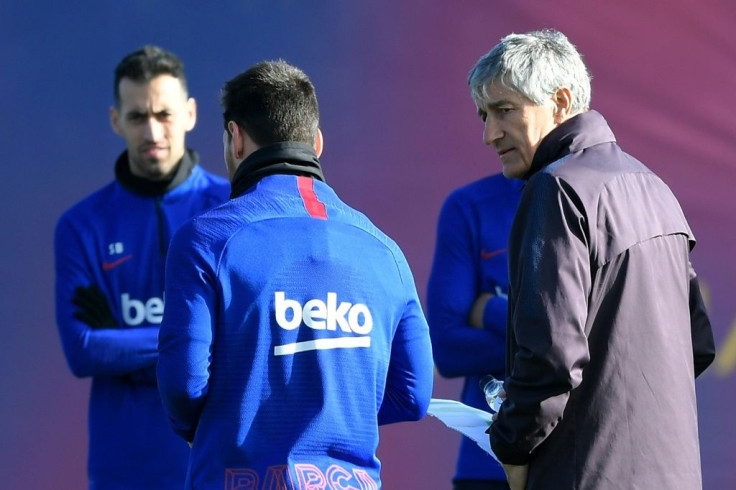 © Copyright IBTimes 2023. All rights reserved.