Mauna Kea, Hawaiians' Origin Story, And Why Thirty Meter Telescope Has Outraged Island Residents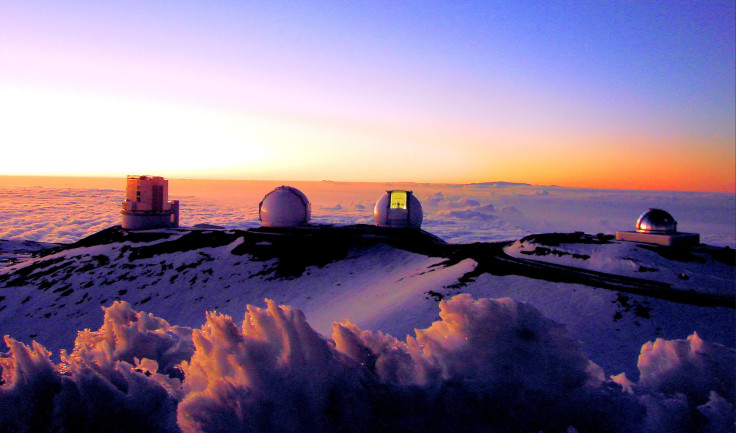 It's not great views and stargazing but centuries-old traditions and a feeling of connecting with their roots that draw native Hawaiians to the slopes of Mauna Kea on Hawaii's Big Island. The dormant volcano is the site of ancient burial grounds, the final resting place for some of the island natives' most revered ancestors, and represents an important chapter in Hawaii's heritage. That's why many native islanders don't want to see it developed with modern structures.
Hawaiians who consider the site sacred say that sanctity is threatened by the construction of a massive, 18-story telescope known as the Thirty Meter Telescope, a billion-dollar project that has been fraught with controversy since its inception. Protests and demonstrations have plagued construction crews since ground broke on the telescope in October 2014, including Wednesday when several protesters were arrested after they forced workers to turn away. Hundreds of demonstrators, many of whom waved Hawaiian flags and blew conch shells, gathered near the summit this week to block access to the mountaintop. In April, at least 31 protesters were arrested while blocking workers from reaching the construction site at the mountain's summit.
Mauna Kea is a dormant volcano and the highest peak in Hawaii. Its summit rises nearly 13,800 feet above sea level and is above the cloud layer, meaning there's hardly anything obstructing a clear view of the night sky. The volcano is already home to a large collection of telescopes, known collectively as the Mauna Kea Observatories. All of the telescopes were built on public land leased for a $1 a year to the University of Hawaii.
The Thirty Meter Telescope is estimated to cost about $1.4 billion to build and would be the largest of them all. Astronomers have long been interested in the site because it offers a nearly unobstructed view of the night sky. Scientists hope to use the telescope to peer into the distant regions of the universe. They said the powerful instrument would be able to see stars and galaxies that are some 13 billion years old. Its construction has been stalled for months because of protests.
The Hawaiian creation story maintains that the island chain was created by the earth mother Papahānaumoku and the sky father Wākea. Tradition says the volcano crater represents the islands' navel. "Mauna Kea is considered to be kupuna [meaning elder,] the first born, and is held in high esteem," according to Hawaiian scholar and author Pualani Kanaka'ole Kanahele. The volcanos is known as "Ka Mauna a Wākea" in native traditions, which is the name of the islands' traditional father and god.
Hawaiians' outrage over the telescope's construction stems from its encroaching on land with hundreds of sacred sites, including 34 ancient burial sites. The controversy has often pitted scientists against native groups and sparked debates about the balance between scientific research and tradition.
"As a ranger on Maunakea, I've enjoyed working with many astronomers, who are generally people of good will and from whom I have learned much about the stars," wrote James Kealii Pihana, a Mauna Kea park ranger. "But despite all of their scientific accomplishments, I do feel that much more needs to be done to bring awareness of and respect for Hawaiian culture on the mountain. Science does play an important role in people's lives, but it is not everything. A spiritual connection is just as important."
© Copyright IBTimes 2023. All rights reserved.
FOLLOW MORE IBT NEWS ON THE BELOW CHANNELS