Raikkonen's Fate Uncertain At Ferrari: Over 80,000 Sign Petition To Keep Finn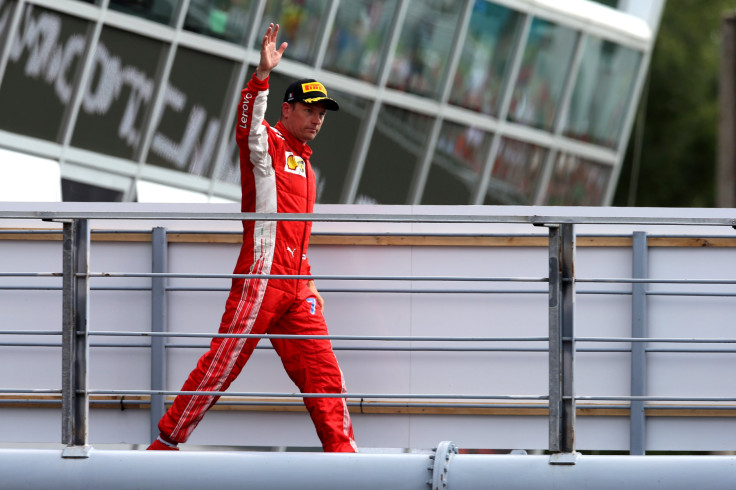 Kimi Raikkonen's future at Ferrari continues to be a constant topic of discussion as the 2018 Formula 1 season enters the final stretch with the Italian team yet to reveal if they will retain the veteran racer for one more season.
Raikkonen's fans are desperate to see him remain with Ferrari for at least another season and have started an online petition aimed toward team principal Maurizio Arrivabene. At the time of writing, the change.org petition had received over 87,500 signatures and the number continues to rise.
The reports regarding Raikkonen staying for one more season and being replaced by young Ferrari academy driver Charles Leclerc have been going back and forth since much earlier in the season and continues to do so with seven races remaining in this campaign.
The Finnish racer is keen to stay for one more season and has let his on-track performances do the talking. He has secured six podium finishes in the last seven races and is currently third in the Drivers' championship only behind title contenders Lewis Hamilton and Ferrari teammate Sebastian Vettel.
Leclerc, in the meantime, has impressed in his debut F1 season with the Sauber team, which is powered by Ferrari. He has finished in the points on five occasions and taken the team that was expected to bring up the rear to Q3 on more than one occasion this season.
The Monegasque driver is inexperienced and it is well known the tremendous pressure that comes from driving for the most successful team on the grid — Ferrari. The Italian team's former CEO Sergio Marchionne, who unexpectedly died in July, was a big fan of Leclerc and was keen to promote him to the works team in 2019.
Multiple reports suggested that a deal had been agreed between Leclerc and Ferrari for a drive next season, but the tide turned after Marchionne's death with suggestions that Raikkonen will be retained for one more season. And the Finn backed it up with impressive performances on the track.
Vettel is in favor of retaining his current teammate with whom he gets along well and also suggested that Leclerc is still too inexperienced to drive for the Italian works team. Ferrari team principal Arrivabene also reportedly wants to retain Raikkonen for at least one more season.
However, after the recent Italian Grand Prix, multiple reports have again suggested that Leclerc is in the frame to replace the 2007 F1 world champion, as the new management led by CEO Louis Camilleri are keen to withhold the agreement put in place by Marchionne with Leclerc.
But, according to GP Blog, there is a new scenario being mooted which sees the Monegasque driver spend another season at Sauber, but with the remuneration agreed in his deal with Ferrari, while the drive will only arrive in 2020.
Raikkonen, meanwhile, is expected to stay at Ferrari for one more season, and then swap seats with Leclerc for the 2020 season. That will see the Finn return to the team where he started his career, but it will not be in just a driver capacity. The report claims he will be given ownership shares with a view to him moving into the management once he hangs up his helmet.
Raikkonen's former teammate Mika Salo, who drove with the Finn at Sauber, believes the two will be a perfect match. But it remains to be seen if the former world champion will want to take a step back after continually insisting that he wants to end his career with Ferrari.
"Kimi has a good relationship with Sauber and they fit together perfectly," Salo told Finnish publication Ilta Sanomat, as quoted on GP Blog. "Firstly, he lives near their headquarters in Switzerland, and it was his first team in F1."
© Copyright IBTimes 2023. All rights reserved.