Rangers Expect Boost as World Series Shifts to Texas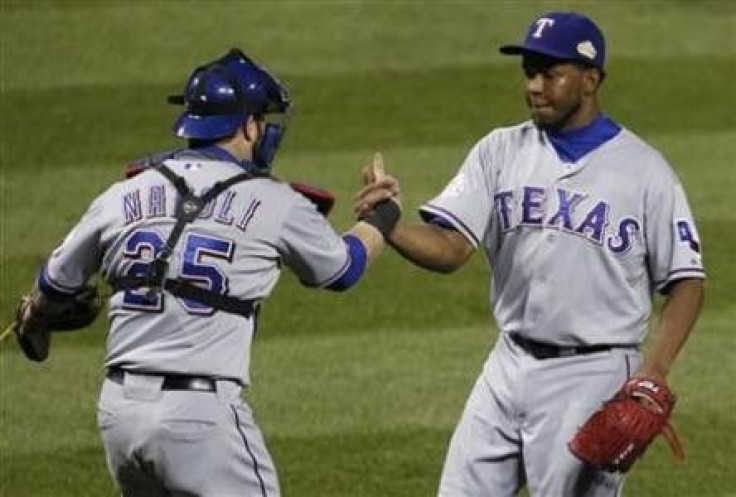 The World Series shifts to Rangers Ballpark for the next three games starting Saturday and Texas is confident home sweet home will be a difference maker against the St. Louis Cardinals.
The best-of-seven series is all square 1-1 after the teams split the opening two contests at Busch Stadium.
Last year Texas reached the World Series for the first time and lost the opening two games on the road to the San Francisco Giants before losing in five.
This time, they rallied in the ninth to win Thursday's Game Two to level the series, giving them a more positive vibe.
Yesterday's game gave us a lot of momentum, a chance to take a big breath with the next three games here and a chance to win it all, said shortstop Elvis Andrus, a key figure in the Game Two victory for Texas.
Closer Neftali Feliz was thinking along the same lines.
Last year we came back 0-2 so this is different. One-to-one is a big difference, Feliz told reporters through an interpreter before Friday's workout.
We know that we can give a try to win the games here and finish it off. And if not, we can win two and go back there to try and win one out of two.
Manager Ron Washington thought his team would get a lift.
When you have the fans that we have, it certainly gives you a boost, said Washington. You're always comfortable in your home ballpark. There's no doubt about it.
The Rangers posted a 52-29 record at home in the regular season, and are 4-1 in this postseason at Rangers Ballpark.
Washington is sending left-hander Matt Harrison to the mound against Kyle Lohse of the Cardinals for Game Three.
Harrison echoed his manager's view about the return home.
It does make a difference. You're more comfortable in an environment that you're used to playing in all year, he said. It seems like now it's just a five-game series, and we've got three at home.
We've got our fans behind us, which have been great all year.
Second baseman Ian Kinsler said the energy at home might light a fire in the Rangers' attack.
We know our crowd is going to bring excitement. Hopefully we'll get our offense going, he said after an opening 3-2 loss and Game Two's 2-1 comeback win. This is an unbelievable ballpark to play in as far as intensity and the noise level.
Cardinals manager Tony La Russa, whose team was 45-36 this year on the road, played down the homefield advantage.
It's a non-factor actually because the teams that have survived to play in the final eight have had to do enough on the road to get to October, he said.
There's no doubt the Rangers will think they have an edge tomorrow, and they should. They know their ballpark and their fans will be cheering.
But when a club like ours goes on the road, we have a real toughness, a level that we get to where we shut everything out.
Our bench will make as much noise as the 40,000 people will. It's going to be intense. We'll make our own noise.
© Copyright Thomson Reuters 2023. All rights reserved.