Ricciardo Using Hamilton Excuse To Avoid Signing Red Bull Deal, Marko Says
Red Bull Racing advisor and head of the team's young driver program Dr. Helmut Marko indicated that Daniel Ricciardo is using Lewis Hamilton's lack of a contract for 2019 as an excuse not to renew with the Austrian-owned team.
The Australian is out of contract at the end of the current Formula 1 campaign and revealed earlier this season he will take his time before deciding the next course of action in his F1 career.
Red Bull are keen to retain him beyond 2018, but he is seeking a car that will deliver him his first Drivers' championship title. At the moment, Red Bull are third best in the standings behind Mercedes and Ferrari, but have shown more promise in 2018 than previous seasons that they can challenge consistently for race wins.
Ricciardo needs to decide if he remains with Red Bull and hopes they can begin challenging for the title, which has not happened since 2013 with Mercedes dominating both the Constructors' and Drivers' titles for the last four years.
"I hope that finally gets signed. Because Ricciardo says that, as long as Hamilton is not yet contracted to Mercedes, he also does not want to sign," Marko said on the sidelines of an event that saw Moto GP champion Marc Marquez testing an F1 car at the Red Bull Ring on Tuesday. "It's a bit strange!"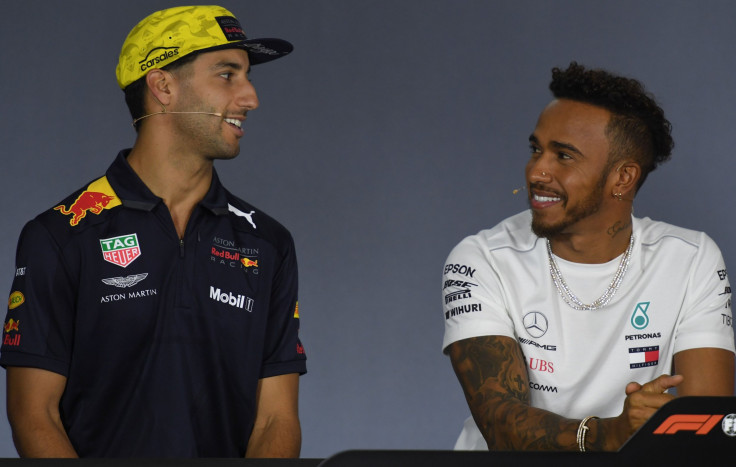 Similarly, Hamilton is also in the final seven months of his contract with Mercedes, but, has continually stated his commitment to the reigning champions. The team are also keen to retain him and Niki Lauda, Mercedes' non-executive vice chairman, is confident they will reach an agreement sooner rather than later.
Talks between the Silver Arrows team and the four-time world champion have been ongoing since the end of last season, but have been put on hold as Mercedes focused on getting their season back on track after a poor start. They are now leading both the championships and could focus on getting their driver lineup sorted.
"Lewis will sign. We only discuss details, not the money," Lauda said during the same event, as quoted on PlanetF1. "It's about promotion performances. Lewis stays safely with us, that will be solved."
Ricciardo holding on to see if Hamilton commits to Mercedes was labeled "strange" by Marko, but, Lauda confirmed they had not made the Australian an offer as yet. The former Ferrari driver also took a dig at the Red Bull racer by stating that even if he signs for the Brackley-based team he will not earn as much as Hamilton.
"Ricciardo blackmailed you with Hamilton, who has not yet signed. What Hamilton gets, he can not get anyway. So. We have not made him an offer," Lauda added.
Mercedes team principal Toto Wolff confirmed that Ricciardo will be looked at as an option when they consider Hamilton's teammate for next season, but, their first preference will be to either retain Vallteri Bottas, the Briton's current teammate, or look at the younger drivers, who are part of the team, namely Esteban Ocon and George Russell.
Red Bull advisor Marko seemed to suggest not everyone at Mercedes will be happy if they do manage to lure Ricciardo to the team for 2019.
"He [Ricciardo] should now sign with you." Marko said. "But there is someone at Mercedes, who may not like that!"
© Copyright IBTimes 2023. All rights reserved.