Rick Perry, Mitt Romney Wade Into Ohio Anti-Union Law Fight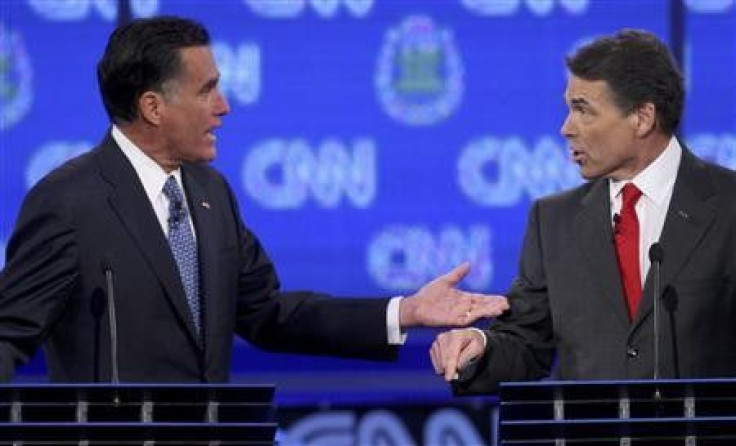 Texas Gov. Rick Perry said Tuesday that he supports Ohio's anti-union collective bargaining law, while his GOP presidential rival Mitt Romney would only offer general praise for Republicans' efforts to uphold the law in an upcoming ballot referendum.
A new poll was released Tuesday from Quinnipiac University shows that Ohio voters support repealing the collective bargaining law -- known as Senate Bill 5 -- 57 to 32 percent. The poll was released Tuesday in the final two-week stretch before Election Day, Nov. 8.
In a statement to CNN, Perry said that he stands with his fellow Republican governor, John Kasich of Ohio.
As a true conservative, I stand with Gov. Kasich in promoting SB5 for fiscal responsibility and job creation in Ohio, Perry said, referring to the collective bargaining law's common name. My record as a pro-jobs governor is clear and you don't have to wonder where I stand.
Perry Tweaks Romney in Ohio
Perry's obvious swipe at Romney followed the Massachusetts governor's visit to the Buckeye State, where he refused to say whether he supports the collective bargaining law.
Romney would only say that he supports efforts of the governor to reign in the scale of government. I am not terribly familiar with the ballot initiatives, according to CNN.
Politico, meanwhile, remembered when Romney was more emphatic in June when he wrote on his Facebook page that his friends in Ohio are fighting to defend crucial reforms that the state has put in place to limit the power of union bosses and keep taxes low.
A Romney spokeswoman told Slate's David Weigel that Romney believes that citizens of states should be able to make decisions about important matters of policy that affect their states on their own.
Conservatives did not take Romney's Tuesday comments well.
Red State founder Erick Erickson said that playing it too safe is finally biting Romney.
A spokesman for anti-tax activist Grover Norquist's Club for Growth told The Washington Post that Romney has taken both sides of nearly every issue important to conservatives, citing Romney's support for New Hampshire's right-to-work legislation.
© Copyright IBTimes 2023. All rights reserved.