Rick Santorum Back in Campaign after Daughter Bella's 'Miraculous' Recovery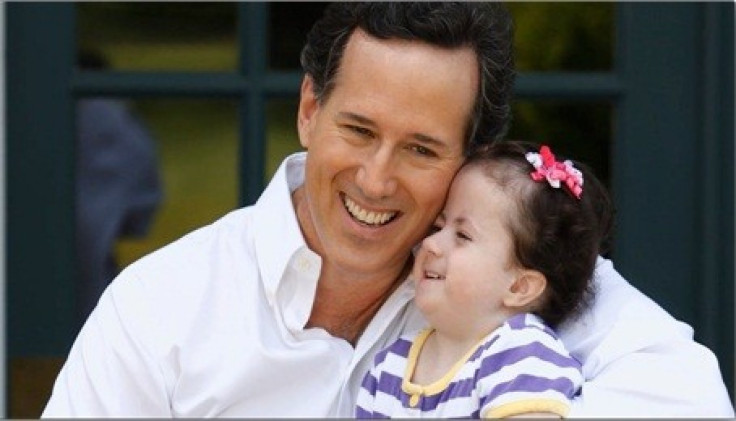 Speaking from a hospital room in Pennsylvania, Rick Santorum announced that he would be back on the campaign trail this week after his daughter Bella's miraculous turnaround this weekend.
Santorum's 3-year-old daughter, who has been diagnosed with Trisomy 18 (also known as Edward's Syndrome) was rushed to the ICU late last week after developing pneumonia in both lungs.
'A simple cold can kill her, and it almost did.'
She went through a very tough time the last 48 hours, Santorum told voters in Florida and Minnesota via two tele-town halls Sunday night. And this afternoon she made really a remarkable turn.
Isabella Bella Santorum has been a staple of the Santorum campaign's advocacy for pro-life politics, and has been mentioned frequently by the candidate while on the campaign trail.
A simple cold can kill her, and it almost did, Santorum told commentator Glenn Beck on his radio show on Monday.
Trisomy 18 disorder often kills babies within days of being born, and those few who make it to the teenage years often suffer from serious medical and developmental problems.
The GOP primary candidate had cleared his Sunday schedule in Florida to be with his daughter when she fell ill.
For now, Bella remains in the ICU, but Rick Santorum reports that she is expected to recover from her pneumonia.
Santorum Sets Sights On Caucus States
He will not be returning to the state before the Jan. 31 primary, but has plans to be back on the campaign trail tomorrow afternoon with stops in Missouri, Minnesota, Colorado and Nevada over the next few day.
All four of these stops are in caucus states, and Santorum plans to hold a primary night party in Las Vegas, Nev.
Based on these moves, it appears that the candidate has abandoned the Florida primary to target states which only allow registered Republicans to vote, as with caucus states.
I believe that a state should only allow Republicans to vote in a Republican primary, he says in one pre-taped message to Minnesota voters. Why? Because it's the Republican nomination, not the independent nomination or the Democratic nomination.
Santorum's decision to let go of Florida in the aftermath of his daughter's pneumonia appears to be a smart one. A recent NBC/Marist poll puts Santorum at a distant third in the state, and the Republican candidate's numbers were low even before he traveled home.
'She rallied.'
In the meantime, Rick Santorum continues to give thanks that his daughter has made what he called a miraculous turnaround, according to MSNBC.
We've still got a long way to go here, but she has without a doubt turned the corner, Santorum told Beck. We are very, very grateful.
She had a very tough go of it, Santorum continued. [But] she rallied, and she's on the mend.
We are feeling very, very blessed. I just want to thank everybody for their prayers.
© Copyright IBTimes 2023. All rights reserved.