Ron Paul Eats With Ben Bernanke: 'He's For The Gold Standard Now'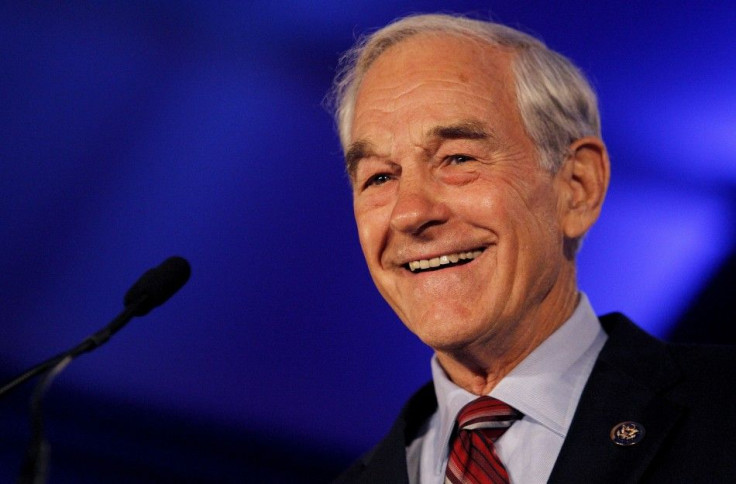 Ron Paul ate with Ben Bernanke, chairman of the Federal Reserve, on Wednesday, and after their meal Paul joked that he's for the gold standard now.
Ron Paul, the only remaining official opponent to Mitt Romney in the 2012 Republican presidential primary, and Bernanke ate together at the Federal Reserve's headquarters in Washington, D.C., on Wednesday, during which they had what Paul described as sort of an open discussion, according to the Wall Street Journal.
The meeting was certainly an odd one, as the two leaders are not exactly similarly-minded, as Ben Bernanke heads the Federal Reserve and the Texas Congressman led a hearing on Tuesday to consider proposals to end or overhaul the Fed .
The men made a mutual decision to speak with one another, according to Paul, who declined to comment on what exactly was said, as he told the Wall Street Journal that their discussion was off the record. The Fed is not commenting on the meeting.
Paul, a libertarian and medical doctor who has served in Congress for decades, told the Journal that he had visited the headquarters building in the past for a meal with Paul Volcker, a previous head of the Fed.
It's quite a sight, seeing these very different men agreeing to discuss monetary policy during a time when politics are essentially deadlocked in Washington due to hyper-partisanship.
But Paul is more of an independent thinker than many members of both the Democrat and Republican parties, which may have contributed to Bernanke's willingness to meet with him despite the fact that the Ron Paul 2012 campaign has been built on a platform that has called for abolishing the Federal Reserve and returning to the gold standard.
And Bernanke has also been outspokenly against such positions, even speaking extensively during a recent speech about the problems with returning to the gold standard.
But it seems that Dr. Paul is taking it all in stride, as he had a joke about the meeting which the Journal was sure to report on:
He's for the gold standard now, Paul said.
© Copyright IBTimes 2023. All rights reserved.