Ron Paul Endorsed by Rick Santorum's Nephew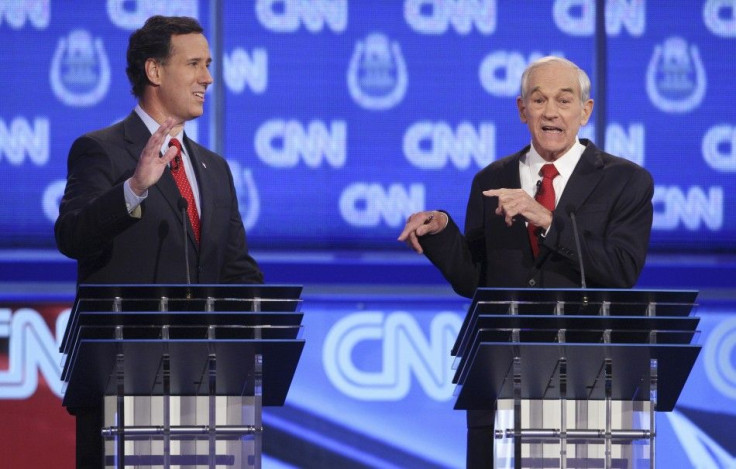 Republican presidential candidate Ron Paul has received a strong endorsement from an interesting and perhaps unlikely source – the nephew of Rick Santorum, one of the people Paul is running against.
John Garver, a 19-year-old student at the University of Pittsburgh, wrote an op-ed piece in The Daily Caller, a conservative news site, urging people to vote for the Texas congressman instead of his uncle, the former Pennsylvania senator.
In his essay, Garver appears to be enthusiastic about Paul's isolationist views on foreign policy and the protection of personal rights.
In the column, "The Trouble with my Uncle, Rick Santorum," Garver writes: "If you want another big-government politician who supports the status quo to run our country, you should vote for my uncle, Rick Santorum. America is based on a strong belief in individual liberty. My uncle's interventionist policies, both domestic and foreign, stem from his irrational fear of freedom not working."
Supporting Paul's philosophy, Garver added: "It is not the government's job to dictate to individuals how they must live. The Constitution was designed to protect individual liberty. My Uncle Rick cannot fathom a society in which people cooperate and work with each other freely. When Republicans were spending so much money under President Bush, my uncle was right there along with them as a senator. The reason we have so much debt is not only because of Democrats, but also because of big-spending Republicans like my Uncle Rick."
Garver also applauds Paul's foreign policy stance.
"He is the only candidate willing to bring our troops home, not only from the Middle East, but from around the world," Garver said.
"Ron Paul seems to be the only candidate trying to win the election for a reason other than simply winning the election. This year, I'll vote for an honest change in our government. I'll vote for real hope. I'll vote for a real leader. This year, I will vote for Ron Paul."
There has apparently been no response yet from Santorum about his wayward nephew.
© Copyright IBTimes 2023. All rights reserved.