Ronda Rousey Next Opponent: Who Is Next For The Superstar Fighter After UFC 190?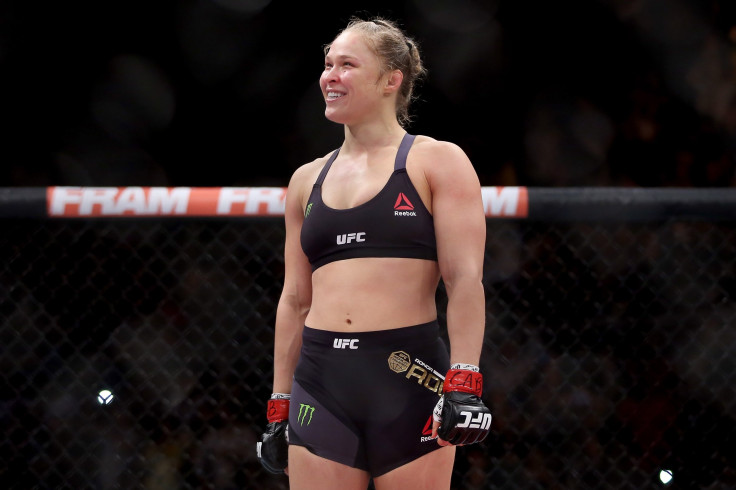 Is there anyone left? Are we not entertained? Following her sixth consecutive title defense, undefeated UFC women's bantamweight champion Ronda Rousey is seeking a new opponent and Dana White already has one in mind.
UFC's president said after Rousey (12-0) knocked out Brazil's Bethe Correia in 34 seconds on Saturday that Rousey could meet Meisha Tate for the third time on Dec. 5 at AT&T Stadium in Dallas, Texas. White appears to be holding out hope that Rousey can co-headline an event at the home of the Dallas Cowboys with men's featherweight champion Conor McGregor, according to Dallas Morning-News.
"They want us. We want to be there," White said in March 2014 about an event at the $2.3-billion venue.
Rousey has quickly become not only the face of UFC but a respected athlete across all sports. A main-event card of Rousey along with McGregor could be a dramatic step forward for UFC. McGregor, a high-profile figure in Ireland and Australia, would likely face Brazilian Jose Aldo for the featherweight crown. It was a matchup that previously was set to take place in June before Aldo suffered a rib injury three weeks prior.
If a fight comes to fruition, it would mark Rousey's third bout this year. She hasn't fought more than two times in one calendar year since 2011, but Rousey hasn't taken much punishment during her title reign.
The 28-year-old superstar is making quick work of opponents and is on an unprecedented hot streak. Rousey's last four opponents have lasted a total of 2:10, either falling prey to her patented armbar submission or her unmatched power, while no challenger's lasted more than 1:06 in her last five bouts.
Rousey last faced Tate at UFC 168 in Dec. 2013, and claimed her second straight title defense with an armbar at the 58-second mark. Their first matchup was in March 2012 when Rousey won the Strikeforce bantamweight belt.
There is one matchup UFC fans, Rousey, and White want to see, but it will require some work from Cristaine "Cyborg" Justino. A mega-fight between the Invicta FC featherweight champion and Rousey would be a dream matchup for all involved, but the 30-year-old Justino would need to move down from the 145-pound division to Rousey's 135.
Justino will also have to dispel any doubts about her training regimen, which was tainted by her positive test for an anabolic steroid back in Dec. 2011.
"I'm prepared to deal with anything, that's why I'm the champion," Rousey at the post-fight press conference. "I fight in the UFC, in the 135-pound division. She can fight at 145 pumped full of steroids or she can make the weight just like everybody else without them."
Justino, who according to ESPN has passed random drug tests in Nevada and California recently, responded to Rousey's comment on Instagram and called the champ "afraid."
"To be a champion, I think you have to see the big picture," Justino posted. "It's not about winning and losing; it's about hard work every day and about thriving on the challenge. It's about embracing the pain that you'll experience at the end of the race and not being afraid. I think people think too hard and get afraid of a certain challenge."
© Copyright IBTimes 2023. All rights reserved.