S.Africa's rand firms, bonds weak on rates outlook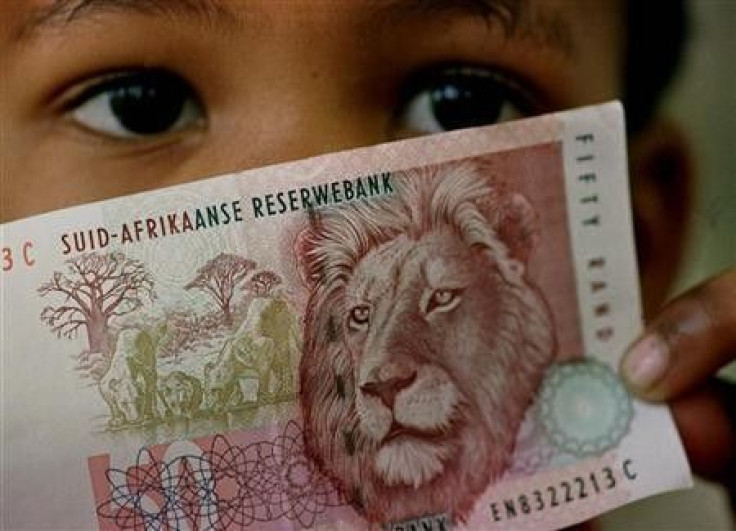 South Africa's government bonds were weaker on Friday as the market priced out the chance of a rate cut after a hawkish monetary policy statement while the rand jumped against the dollar as global sentiment turned pro-risk.
Reserve Bank Governor Gill Marcus announced the repo rate would stay unchanged at 5.5 percent on Thursday and said inflation would be above its 3-6 percent target for longer than previously forecast, decreasing the chances of another rate cut seen by some market players.
In response, the yield on the 2015 bond was up 6.5 basis points on the day at 6.595 percent late on Friday while that for the 2026 bond was seven basis points higher at 8.36 percent.
Our bonds re-geared themselves around that MPC (monetary policy committee) decision yesterday. The whole curve has re-priced about 25 basis points weaker purely on the back of the fact that there's obviously not going to be a cut this year, said Brigid Taylor, Head of Institutional Sales at Nedbank.
Marcus was a little bit more hawkish than what the market was expecting around inflation which had driven both the FRA (forward rate agreement) curve, and the swap curve as well as the bond curve slightly higher.
The rand however strengthened on Friday, gaining as much as 1.4 percent against the dollar to a two-day high as risk sentiment improved after a favourable austerity vote out of Italy.
The currency was at 7.8826 against the dollar by 1645 GMT after earlier hitting 7.8620, its strongest level since Wednesday.
Basically sentiment is just a little bit more positive because of the concerns around the euro zone specifically in Greece and Italy being driven a little bit better, Taylor said.
Traders said from a technical perspective, a firmer close for the rand on Friday could set it up for a push towards 7.83/dollar next week, with 7.72 and 7.5 next in sight if it does not meet any resistance.
© Copyright Thomson Reuters 2023. All rights reserved.