Santa Barbara Oil Spill: Ruptured Pipeline Was Badly Corroded At Break Site; Fisherman Sues Owner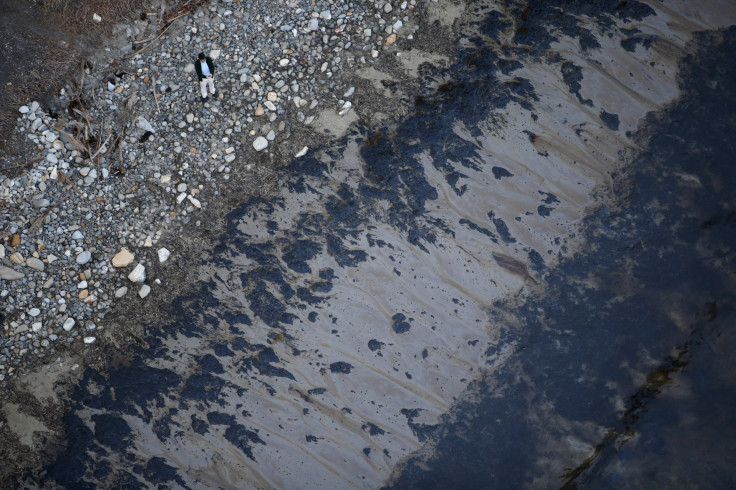 A ruptured pipeline in California that leaked over 100,000 gallons of crude oil along the Santa Barbara coast last month was badly corroded to a fraction of its original thickness, according to federal regulators. The preliminary findings were released Wednesday by the federal Pipeline and Hazardous Materials Safety Administration.
The agency reportedly said that investigators found that nearly half of the 10.6-mile pipeline's metal wall at the break site had corroded, bringing its thickness to about one-sixteenth of an inch. The report stated that the damaged section was close to the site of three repairs made to the pipeline after corrosion was found by an inspection in 2012, according to the Los Angeles Times.
The report also stated that government inspectors "noted general external corrosion of the pipe body during field examination of the failed pipe segment." Investigators believe that "this thinning of the pipe wall is greater than the 45 percent metal loss which was indicated" in recent inspections by Houston-based Plains All American Pipeline, which operates the pipeline.
The findings reportedly indicate that over 80 percent of the metal pipe wall had worn away because of corrosion, Richard Kuprewicz, president of Accufacts Inc, which probes pipeline incidents, reportedly said.
"There is pipe that can survive 80% wall loss. When you're over 80% there isn't room for error at that level," Kuprewicz said, adding that it was too early to determine what caused the incident, which killed at least 140 marine mammals and birds.
Meanwhile, Stace Cheverez, a commercial fisherman, filed a lawsuit against the owner of the pipeline on Monday claiming that Plains All American Pipeline has a poor safety record and lacks the proper equipment to prevent a spill, the Associated Press reported Wednesday. He is seeking class-action status for fishermen and other businesses who have lost money because of the spill.
"Tourists come to these beaches to enjoy the unspoiled sand and water," the lawsuit reportedly said. "People support themselves and their families by harvesting fish and shellfish from these waters. All that has been damaged by this spill, and that damage will likely last for decades."
The pipeline, which runs along the coast near Highway 101, has been shut off since the leak, which forced Gov. Jerry Brown to declare a state of emergency in Santa Barbara County as crews began cleaning up the spill -- the largest in coastal California in decades.
"Plains deeply regrets this release has occurred and is making every effort to limit its environmental impact," the company said, in a statement last month. "The culvert has been blocked so no additional oil is reaching the water. Plains is working with local officials and first responders on site to begin clean up and remediation efforts."
© Copyright IBTimes 2023. All rights reserved.