Seahawks Allegedly Plan Colin Kaepernick Workout, Postpone Over Anthem Kneeling
Colin Kaepernick, once considered one of the brightest upcoming stars in the NFL, has not taken a snap in the league since New Years Day in 2017. He threw for 215 yards and a touchdown against the Seattle Seahawks to close out a horrendous season for the San Francisco 49ers.
Fast forward more than a year and theories of the league blackballing Kaepernick due to his politics are intertwined with an ongoing collusion lawsuit against the NFL. There had been very little indication anyone wanted to sign Kaepernick until Thursday, when ESPN's Adam Schefter reported the Seahawks had arranged and then postponed a meeting with the free agent quarterback.
According to Schefter, the Seahawks backed away when Kaepernick would not promise to stop kneeling in protest during national anthem demonstrations before games next season.
NFL Network's Ian Rapoport countered the report, claiming the Seahawks' postponement was not over Kaepernick's steadfast refusal to stop protesting. According to his sources, Seattle "asked for his plan moving forward on how to handle everything and there was not a firm plan."
Kaepernick famously began sitting out national anthems in 2016, in protest over the United States government's treatment of people of color domestically and abroad. He then compromised and started kneeling later. There has been a perception in sports media that teams are hesitant to sign Kaepernick because of possible controversy over his political views, which comes up frequently whenever a supposedly inferior quarterback gets a job in the NFL.
Schefter's original report indicated the Seahawks only delayed, not outright canceled, the meeting with the former 49ers star. Russell Wilson is firmly entrenched as the team's starter, but they lack a backup behind him after the recent release of Trevone Boykin over his domestic violence accusations.
Seattle could look to add a veteran behind Wilson in order to potentially replicate what the Eagles got out of Nick Foles last year. Foles went from unwanted journeyman to Super Bowl MVP by finding the right situation in Philadelphia. Kaepernick, who almost won a Super Bowl in 2013, may not be the same player he once was, but he is more experienced than a drafted rookie would be.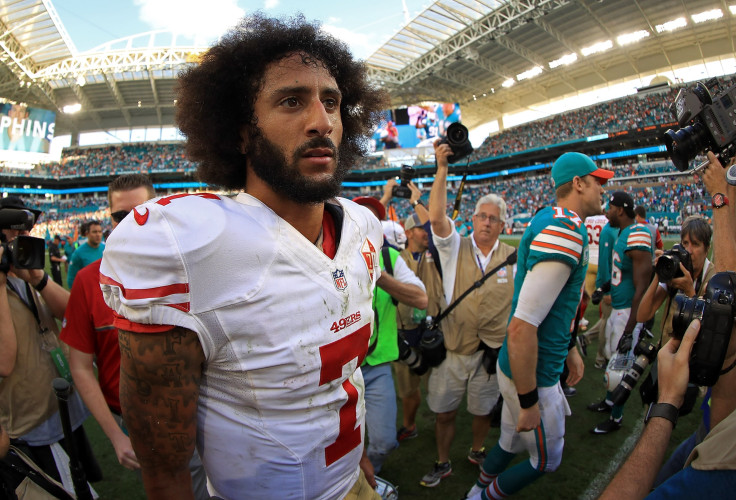 © Copyright IBTimes 2022. All rights reserved.
FOLLOW MORE IBT NEWS ON THE BELOW CHANNELS