Shanghai's Dead Pigs In The River: Mystery Solved
This past weekend, Shanghai residents turned their attention to a different kind of pollutant in the local Huangpu River: dead pigs.
More than 2,800 dead pigs were found floating in the river, which also happens to be a main drinking source for the city of 23 million people. But there was no indication of where they came from.
After Shanghai authorities spent the weekend extracting the carcasses from the river and testing the water for various dangerous contaminants, it was determined that the livestock had died from a common virus, called porcine circovirus, which is not harmful to humans. Authorities assured people that the water is still safe to drink.
The Shanghai Daily is now reporting that officials have determined that the pigs originated from Jiaxing, a city in the neighboring Zhejiang province. Shao Qiliang, the secretary general of the Shanghai Agricultural Commission, said that the pigs had drifted downstream into Shanghai from family farms. The story went on to say that officials are expecting to see still more carcasses in the Huangpu River.
Apparently, farmers were forced to dump the dead pigs in the river because a recent government crackdown against gangs illegally purchasing sick or dead pigs has left Jiaxing with too many pigs and not enough space. According to the report, local Zhejiang province officials have been investigating the selling and trading of pork meat from sick pigs. They've already detained 12 suspects and confiscated nearly 12 metric tons of tainted pork meat.
A local villager in the Jiaxing area blamed such crackdowns for the illegal pig dumping.
"Ever since the police stepped up efforts to crack down on the illicit market for sick pigs since last year, no one has come here to buy dead pigs, and the problem of pig dumping is worse than ever this year," the villager told a reporter from local newspaper Jiaxing Daily.
The Atlantic said that the improper disposal of the pigs, along with other animal waste, is a major problem.
"Under Chinese law, farmers are required to take carcasses to their village or town's community disposal site, or bury the animals with disinfectant, but many don't," the report said.
And the impact of improper disposal of animal waste has had a profound effect. As of 2010, agricultural pollution, which includes livestock and produce waste, surpassed industrial waste as China's top pollutant.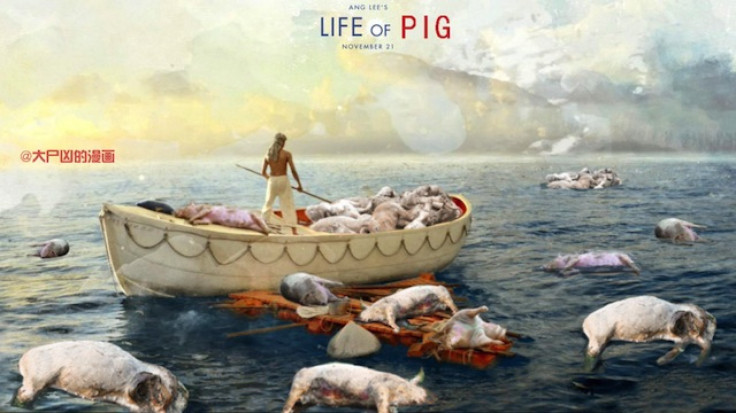 While netizens have reacted to the carcass-infested waters with horror, shock and anger, others have taken the opportunity to react with a sense of humor. The above image, by Chinese artist Du Shi Xiong, went viral on Weibo. It takes a stab at the pig-scandal by superimposing it onto a mock "Life of Pi" movie poster.
© Copyright IBTimes 2023. All rights reserved.
FOLLOW MORE IBT NEWS ON THE BELOW CHANNELS