Sleepless in Budapest: Hungary Again Criminalizes Homelessness; Activists Condemn New Laws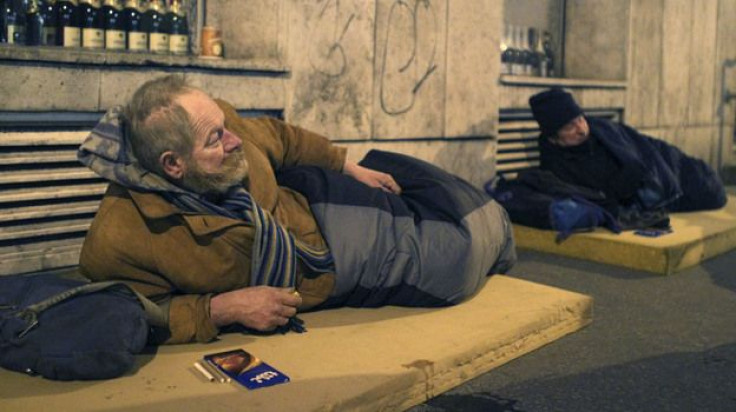 The Parliament of Hungary has passed a law that essentially criminalizes homelessness, placing the future of thousands of people on the streets of Budapest and other cities in grave jeopardy. Under the law, which will become effective next week, police will have free rein to clear out people sleeping outdoors in public places and other locales, particularly parts of cities popular with tourists, and forcibly move them to homeless shelters. The government said the law seeks to protect "public order, security, health and cultural value."
Advocates for the homeless assert that the law is designed to fine and/or imprison street people in the event they refuse to be moved to shelters. They cite that one provision of the law calls for the incarceration of people who construct unsanctioned structures, endangering the indigent who have managed to build ramshackle abodes in open spaces and in forests.
Tessa Udvarhelyi, an activist for the homeless who represents a civic group called The City Belongs to Everyone, estimates that some 10,000 people in and around Budapest (a city with a population of about 1.7 million) are homeless, according to the BBC. But she claims there is room for only about 6,000 people in Budapest shelters, leaving 4,000 at the mercy of the elements as winter approaches.
Protesters rallied against the law Monday evening outside the Parliament building in Budapest. "Homeless people have always been harassed by the authorities," said Udvarhelyi. "The difference is that this government … is codifying the fact that homeless people are stigmatized, harassed and criminalized." Magyar Távirati Iroda, the official Hungarian news agency, reported some of the protesters held up placards saying "Poverty is no crime" and "Our lives are not a plaything".
Udvarhelyi told Agence France-Presse: "This is a social issue, not a criminal one. Authorities should help vulnerable homeless people find dignified accommodation and work rather than punish them." She added: "It is a lie that there are enough hostel places for all, and what does exist is often not safe, clean, or dignified." A 50-year-old homeless person in Budapest named Betti Fetter told BBC: "I live in a tent in the outskirts. All I ask, from this or any government is the chance to live decently."
Government officials deny that there is not enough room in shelters for the homeless. "There are plenty of places for daytime and for nighttime shelter," said Ferenc Kumin, a spokesman for Prime Minister Viktor Orban. "We believe that [the homeless are] almost 100 percent covered." Orban's office even released a statement insisting that the law is "primarily in the interest of homeless people."
Orban, who came to power in 2010 under the banner of the right-wing Fidesz–Hungarian Civic Union party, has vowed to crack down on criminality and homelessness. Indeed, the new law is actually an amendment to a prior law enacted in 2012 which was later struck down by a constitutional court. In March of this year Parliament restored the original restrictions by amending the constitution.
MTI also reported that the opposition Socialists have called on the ombudsman of Parliament to rescind the new laws. Prior to the vote, Ildiko Lendvai, a Socialist member of Parliament's human rights committee, warned that the bill would mean that homeless people "could be hunted, chased from district to district." "The law does not fight homelessness or poverty, but the homeless and the poor," she said.
A number of activist groups and campaigners both in and out of Hungary, including the Venice Commission, an advisory body to the Council of Europe and Human Rights Watch, have long criticized Hungarian officials for the way they treat the homeless. In early September, HRW accused Orban of "undermining" EU laws and human rights.
The European Federation of National Organizations Working With The Homeless (FEANTSA) views the problem in Hungary as one of a lack of affordable housing. The Budapest Times reported that Samara Jones, a representative of FEANTSA, complained that forcing the homeless to reside in shelters is a bad idea. "Social workers prefer to work with people who are motivated to cooperate," Jones said. "It is difficult to cooperate with those who are forced into the shelter system against their wishes… If you move from shelter to shelter, then this makes it difficult."
The Times reported on a homeless person named Tizedes who refused to go to shelters – something that baffled both the police and others. "Whoever has this opinion should try to be homeless for a day and find out what it is like to get access to the shelter – what it is like to fight for a spot," he said. "Some cannot sleep in a shelter because of the shared environment, for example, either because people bother them or they think they will cause discomfort to others. Some people don't want to go to shelters, some people can't."
FOR FREE to continue reading
✔️ Unlock the full content of International Business Times UK for free
offer available for a limited time only
✔️ Easily manage your Newsletters subscriptions and save your favourite articles
✔️ No payment method required
Already have an account?
Log in
© Copyright IBTimes 2023. All rights reserved.