Sports TV Ratings: How Many People Watched Mayweather vs. Pacquiao, The Kentucky Derby And NFL Draft?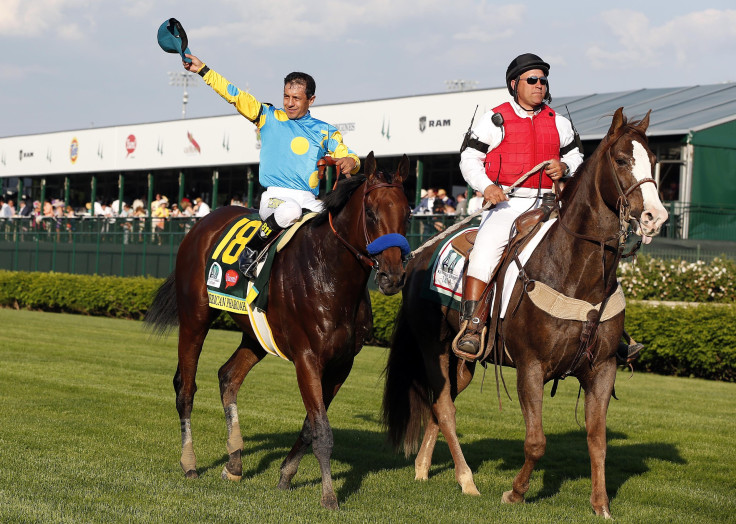 Dubbed "Sports Armageddon" because of the major sporting events that would take place on May 2, the end result matched the hype. With Floyd Mayweather vs. Manny Pacquiao, the Kentucky Derby, the NFL Draft and both the NBA and NHL playoffs on the schedule, sports dominated the week's television viewership.
The final pay-per-view numbers for Saturday's boxing match are still undetermined, but early reports indicate that Mayweather vs. Pacquiao was the most-watched PPV event of all time. According to Deadline, HBO and Showtime are reporting over 3 million PPV buys, which easily breaks the record set in 2007 when Mayweather vs. Oscar De La Hoya generated 2.5 million buys.
The fight also topped the Nielsen Twitter TV Ratings for the week with 5.8 million event-related tweets in the U.S., which were seen by 11.6 million people. It was the most profitable fight in history by a wide margin, as Mayweather and Pacquiao are expected to split a total purse of approximately $300 million.
Not only did a record number of people watch the Kentucky Derby in person, but the event garnered its best rating in 23 years, according to USA Today. The 10.8 TV rating was the best since 1992, when the Derby did a 10.9 rating. The Louisville TV market led the way with an average 35.0 rating, nearly doubling Fort Myers' rating of 19.7, which ranked second in the country.
Day 1 of the 2015 NFL Draft, which aired on Thursday, saw decreased viewership from a year ago, but it still had the most dominant social media presence of any TV show last week. It topped the Nielsen Twitter TV Ratings Weekly Top Ten Series and Specials list, garnering 2.7 million tweets that were seen by a U.S. audience of 10.3 million people. Saturday's draft coverage, which featured the final four rounds, didn't make the top 10.
The most compelling event on Saturday might have been Game 7 between the San Antonio Spurs and the Los Angeles Clippers. The contest started at 8 p.m. ET, and aired through the first 90 minutes of the boxing PPV, though the main event didn't start until 90 minutes after the game ended. With the game not being decided until the final second, only Mayweather vs. Pacquiao and the Kentucky Derby ranked higher on Nielsen's Twitter TV Ratings for Sporting events.
The top three sporting events of Saturday did well not to overlap. Just as the Clippers won an hour and a half before the two boxers finally met in the ring, American Pharoah won the Kentucky Derby 90 minutes before Game 7 tipped off.
© Copyright IBTimes 2023. All rights reserved.
FOLLOW MORE IBT NEWS ON THE BELOW CHANNELS