Steve Austin WrestleMania 32 Opponent: Brock Lesnar, John Cena Potential Challengers For Stone Cold At WWE PPV?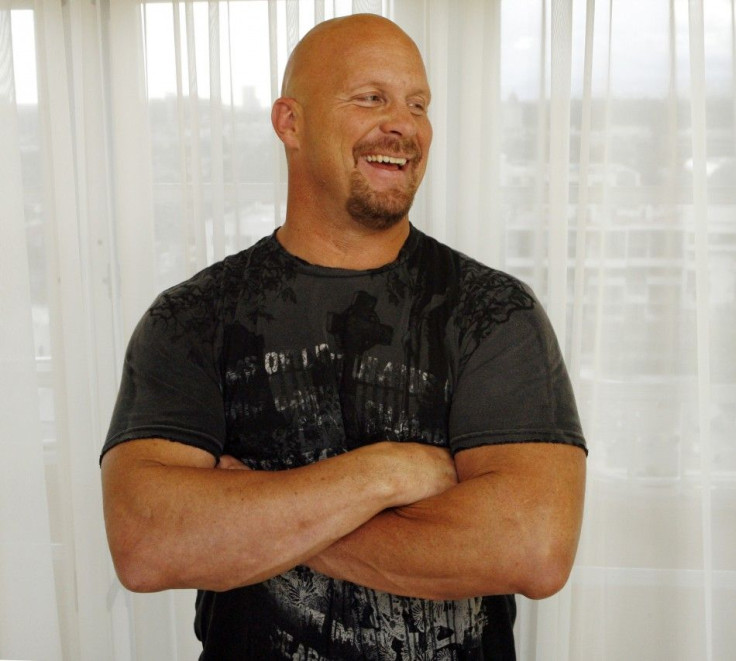 Stone Cold Steve Austin hasn't wrestled in over 12 years, but a return to a WWE ring has never seemed more likely. While the odds might be in favor of the "Texas Rattlesnake" staying retired, he recently planted the seeds for a potential match with Brock Lesnar at WrestleMania 32.
Paul Heyman appeared on Stone Cold's podcast Monday night as part of a special event on WWE Network. Towards the end of the interview, Heyman asked Austin about a potential match with Lesnar at WrestleMania 32, giving Austin the opportunity to cut a promo on the former WWE World Heavyweight Champion.
"If I was gonna fight Brock Lesnar, I'd beat his ass," Austin told Heyman. "And you know that as well as I do, Paul. You sit there with this little grin on your face. Now I'm not saying I'm going to, but I think you know how this is going to go down."
Austin made it clear that he hadn't agreed to wrestle at the biggest WWE event of 2016. There has been much speculation that WWE will try to get Austin back in the ring for WrestleMania 32, as the company tries to sell out AT&T stadium in Texas, which will seat over 100,000 fans.
WWE has no problem selling tickets to WrestleMania. Nearly 77,000 fans attended WrestleMania 31 at Levi's Stadium in March, but additional star power will be needed to get another 25,000 fans at WrestleMania 32.
There were rumors in the months leading up to WrestleMania 30 that WWE looked into making a match between Stone Cold and Triple H. While that match never materialized, Stone Cold has said in past interviews that he's healthy enough to get back in the ring.
Former WWE announcer Jim Ross, who's close friends with Austin, hypothesized in his latest blog post that the chances are "less than 50-50 and likely closer to 65-35" that Lesnar vs. Austin won't happen. It's difficult to tell how likely it might be that Austin would make a WWE return, but his rant about Lesnar seemed to be calculated. He proposed a Texas Death Match as a potential match with Heyman's client.
"I'd have to think about it, but the person who would really have to think about it is Brock Lesnar," Austin continued. "Because I don't think he'd want to take all the momentum and all the good stuff you guys have done to roll in to 105,000 people and get his ass smoked."
A match for Austin at WrestleMania 32 wouldn't necessarily have to be against Lesnar. There have been rumors that Lesnar could face The Rock at WrestleMania 32, and he still has to have his rematch for the WWE World Heavyweight Championship, which Seth Rollins took from him at WrestleMania 31.
The most likely WrestleMania 32 opponent for Stone Cold, other than Lesnar, would be John Cena. Cena has expressed interest in having a match with Austin, including to Stone Cold himself on his own podcast.
"I truly wish we had time in the box to dance, because I think it would be the world's greatest attraction," Cena said on an episode of "The Steve Austin Show" that aired on Feb. 18, 2014.
If Austin is going to have a match for the first time since WrestleMania 19, it's going to be against a top superstar. Cena has been the face of WWE for the last 10 years, and a match between Austin and him might make even more sense than Austin vs. Lesnar. Cena has even added a version of the Stone Cold Stunner into his moveset, which could be incorporated into their potential feud.
When CM Punk was WWE Champion, it appeared that WWE had been planting seeds for an eventual match between the two. Punk has publicly stated that he tried to get Austin back in the ring, but the match won't happen now that Punk has moved on to UFC.
<iframe width="560" height="315" src="https://www.youtube.com/embed/wMNJgFhXumI" frameborder="0" allowfullscreen></iframe>
© Copyright IBTimes 2023. All rights reserved.
FOLLOW MORE IBT NEWS ON THE BELOW CHANNELS