Stone Cold Steve Austin Day: What Is The WWE Wrestler Up To Ahead Of WrestleMania 31?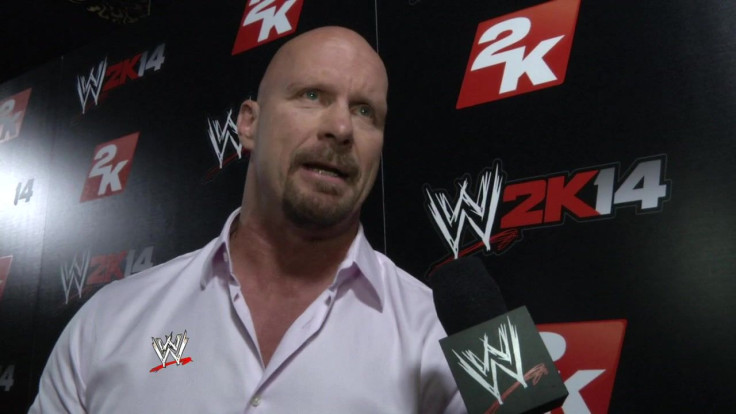 It's been more than 19 years since Stone Cold Steve Austin made his WWE debut, but fans continue to honor the wrestler that might be the most popular in the company's history. For another year, fans have celebrated Stone Cold Day on March 16, paying homage to the wrestler's famous catchphrase.
The catchphrase was born on June 23, 1996 at the King of the Ring pay-per-view. After beating Jake Roberts to win the King of the Ring Tournament, Austin cut a promo that some believe was the unofficial start of the Attitude Era, the most profitable time period in the history of wrestling.
"You sit there and you thump your Bible, and you say your prayers, and it didn't get you anywhere," Austin said to Roberts. "Talk about your psalms, talk about your John 3:16…Austin 3:16 says I just whooped your ass!"
Even as a heel, the promo helped make Austin one of the most popular wrestlers in WWE. His babyface turn came exactly nine months later at WrestleMania 13, and he remained atop the card until 2003 when he finally retired.
Stone Cold hasn't wrestled since he lost to The Rock at WrestleMania 19 on March 30, 2003, but he's remained a major part of WWE and pop culture. He last appeared in a WWE ring at WrestleMania 30, cutting promos with The Rock and Hulk Hogan in what was one of the most memorable moments in recent WWE history.
The six-time WWE World Champion has become one of the most popular podcasters in the country. He hosts two podcasts each week, which are consistently some of the most downloaded shows in the "Sports & Recreation" category. He's also the host of "Redneck Island" and "Steve Austin's Broken Skull Challenge," two reality-TV shows that air on Country Music Television.
Austin has made multiple live appearances on the WWE Network in the past few months, interviewing Vince McMahon and Triple H as part of his podcast. He isn't rumored to be a part of WrestleMania 31.
At 50 years old and 12 years removed from the ring, it's likely that Stone Cold has wrestled his last match in WWE. Before CM Punk left the company, it seemed like the two could have a match one day, and some believe WWE will try to entice Austin to return for WrestleMania 32 in Dallas. But there has been no indication that Stone Cold will wrestle anytime soon.
<iframe width="560" height="315" src="https://www.youtube.com/embed/phBOmvBGrhw" frameborder="0" allowfullscreen></iframe>
© Copyright IBTimes 2023. All rights reserved.
FOLLOW MORE IBT NEWS ON THE BELOW CHANNELS