Susan Boyle Asperger's: Why She's Happy About The Mild Autism Diagnosis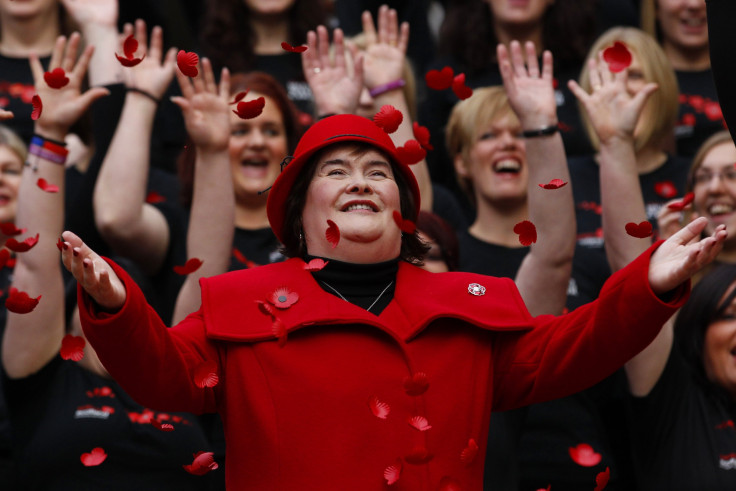 Susan Boyle, the singer who appeared on "Britain's Got Talent" in 2009 and shocked the world with her voice, revealed she was diagnosed with Asperger's in a recent interview with the Observer via USA Today. The 52-year-old is happy to have the diagnosis, in that she feels the proper label has been given to her.
Asperger's is a mild form of Autism, and the singer revealed a specialist gave her the diagnosis a year ago. The expert also discovered she had an above-average IQ.
Boyle said she had a tough time in school, having to battle learning difficulties and being bullied by other children. The singer was told the hardships she faced was a result of being oxygen depraved during childbirth. Now what Boyle says she found out about having Asperger's she feels more at ease about herself.
"I have always known that I have had an unfair label put upon me," Boyle said in the Sunday interview. "Now I have a clearer understanding of what's wrong and I feel relieved and a bit more relaxed about myself."
The Scottish songstress rose to stardom when she sang "I Dreamed A Dream" from "Les Miserables" for Simon Cowell during her audition for the reality singing show. Cowell scoffed when she said she wanted to be like Ellen Page, but it wasn't long before a disheveled yet feisty Boyle warmed the hearts of millions. She has since sold 14 millions albums around the world and just released a new one for the holidays: "Home for Christmas." She's even going to make her big-screen debut in "The Christmas Candle."
Now that she know she has Asperger's, the singer said she is happy she and others have a better understand about the struggles she faces.
"I would say I have relationship difficulties, communicative difficulties, which lead to a lot of frustration. If people were a bit more patient, that would help," she told the newspaper.
"Asperger's doesn't define me. It's a condition that I have to live with and work through, but I feel more relaxed about myself. People will have a much greater understanding of who I am and why I do the things I do."
Follow me on Twitter @mariamzzarella
© Copyright IBTimes 2023. All rights reserved.
FOLLOW MORE IBT NEWS ON THE BELOW CHANNELS