Suu Kyi May Settle For Foreign Minister Post To Break Impasse Over Myanmar Presidency, Reports Say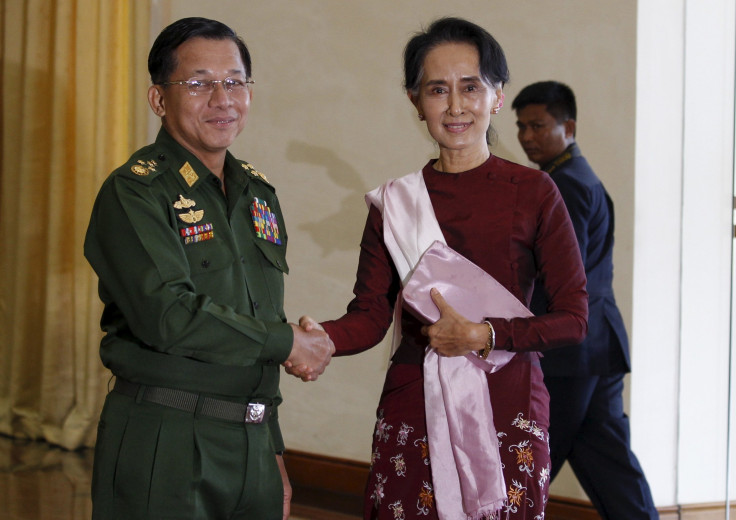 Myanmar democracy icon Aung San Suu Kyi has agreed to be foreign minister to break an impasse with the ruling junta that is standing by a constitutional provision that bars her from the top job, the Straits Times reported Tuesday, citing sources.
The parliament, now dominated by Suu Kyi's National League for Democracy (NLD) after elections last November, would also speed up the date of the presidential election by a week to March 10, in a last-minute change following talks with the junta, Asian Correspondent reported.
"The NLD will not choose a dangerous path that could lead to instability. That's why Daw Aung San Suu Kyi said she will lead the country behind the scenes," Asian Correspondent quoted an unidentified official as saying.
Being foreign minister would also allow Suu Kyi to attend meetings of the military-controlled National Defense and Security Council, a powerful organ of government that has authority to declare a state of emergency.
And even as foreign minister, the source said Suu Kyi intends to continue negotiations with the military establishment with the aim of amending the constitution at a later date to allow her to assume the presidency.
In the historic November elections, the NLD secured some 80 percent of elected seats in parliament, which chooses the president. But the constitution currently prohibits anyone whose immediate family members are foreign nationals from being the country's president. Suu Kyi's two sons are British citizens, as was her late husband.
The original date, set only two weeks before the term of the new government was to begin on April 1, gave Suu Kyi plenty of time to negotiate the terms of the transition.
But analysts said Suu Kyi decided to speed up the vote to give the new government more time to prepare.
"They want the presidential nomination to happen earlier so that they can take more time in handling cabinet formation," political analyst Yan Myo Thein, was quoted by Reuters as saying.
Suu Kyi is now forced to share power with the junta, which retains control over a large chunk of the country's administration through three security ministries. The junta also has a constitutional veto and is guaranteed a quarter of the seats in parliament.
"We took time in the hope that we could negotiate with the military," an NLD party official told Myanmar Times Monday, as reported by the Asian Correspondent. "But now we accept that this can't happen so we have given up on this plan. We're reverting to our previous plan, which was to nominate a proxy president instead of Daw Aung San Suu Kyi," the official said.
Currently, there appear to be two front-runners for presidency — U Htin Kyaw, a 69-year-old Oxford graduate with a degree in economics, and U Myo Aung, a 65-year-old ex-army doctor, reports said.
© Copyright IBTimes 2023. All rights reserved.