Tampa Bay Lightning Stanley Cup 2015: How Florida Hockey Fans Became Some Of The NHL's Most Fervent Followers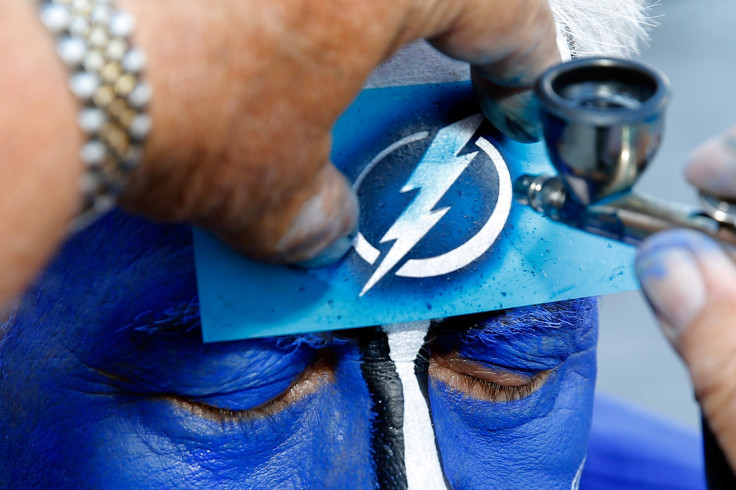 The Tampa Bay area is known for its tropical weather and beautiful beaches. It's also home to some of the nation's most rabid hockey fans.
How this waterfront community in the land of endless summer became an enthusiastic NHL stronghold is a decades-long tale involving Canadian snowbirds, a hedge fund guru and late New York Yankees owner George Steinbrenner. The growing fan base has seen the Tampa Bay Lightning become one of the NHL's elite teams, with the ninth-highest attendance in the league, ahead of the New York Rangers, Boston Bruins, Buffalo Sabres and many other famous hockey towns. That means when the Tampa Bay Lightning take on the Chicago Blackhawks Wednesday night in the first game of the Stanley Cup Final, hundreds of thousands of Tampa, Florida, residents will likely be watching the ice in their blue, silver and black fan gear from sunny Florida in 90-degree weather.
"[It's] kind of like, yeah, we have palm trees and beaches," said Tyler Moore, a 29-year-old pastor at Our Savior Lutheran Church and School in Tampa known for his pro-Tampa Bay Lightning sermons. "We have a great hockey team, too, and a great following."
A Packed Arena
Part of the Lightning's success is the team's otherworldly appeal in a region devoted to kayaking, beach volleyball and Jimmy Buffett tribute bands. Tampa, located off the Gulf of Mexico in central Florida, has temperatures that can touch the 70s in the wintertime, a far cry from the snowy streets of Montreal, where hockey first took a foothold in Canada. Nearly 19,000 people pile into Amalie Arena on average for each Lightning game, with hundreds more fans compared with the number of New York Rangers supporters to be found at games played at Madison Square Garden in New York or the number of Sabre fans who show up for games at First Niagara Center in Buffalo, New York.
That's a significant feat, considering Tampa's other professional franchises often struggle to attract fans. The NFL's Buccaneers ranked 29th out of 32 teams in attendance last season. The MLB's Tampa Bay Rays are currently dead last in attendance, filling just 43 percent of the team's total stadium capacity. The Lightning, in contrast, filled 98 percent of its arena throughout this season.
Sure, a successful season this year has helped pack the arena. But over the past five years, the Lightning haven't fallen below 18th in attendance -- considerably better than its professional sports counterparts in Tampa. Meanwhile, the Rays saw just a minor uptick in attendance after making the World Series in 2008. The Buccaneers saw a temporary boost in attendance after its 2003 Super Bowl win but couldn't sustain that success.
It's not a matter of pricing, either. The hockey team is smack dab in the middle, costwise. A Rays ticket costs a fan an average of $22, Buccaneers' tickets go for $64, and a Lightning game costs about $44.
Michael Tully, president of Lightning fan club Sticks of Fire, said Tampa can be a town full of "fair weather" fans, but not so much when it comes to the Lightning. Tully said his club, modeled after soccer fan groups, is growing so fast that running it is like a full-time job -- complete with placing T-shirt orders, organizing marches and making radio appearances. The 28-year-old Tampa native, who grew up watching the local sport teams, said he eventually fell under the spell of the Lightning's "mystique" as he got older.
A team in Tampa's warm climate "doesn't make sense, but it makes perfect sense in a way," Tully said. He didn't see snow until he was 24, so walking into an ice rink felt like an entirely different world. The interesting players and high-stakes games kept Tully coming back.
"The Lightning have always kind of been the darling of Tampa," he said. "Even when we had bad owners, there were these fans that would stick by the Lightning."
A Rough Start
Top-level hockey came to Tampa Bay in a 1992 expansion draft that added the Lightning and Ottawa Senators to the NHL. Hockey legend Phil Esposito started the campaign to launch an expansion franchise in Florida after he was let go as the Rangers' general manager in 1989.
Things weren't exactly smooth from the start. Japanese owner Takashi Okubo was largely absent from the team's dealings and dumped more than $90 million into the franchise through April 1998, according to a New York Times report at the time that called the team a "soap opera on ice."
Late New York Yankees' owner George Steinbrenner was originally a minority partner in the team ownership, but amid the team's dysfunction he begged to leave before finally being bought out. The team won the Stanley Cup against the odds in 2004 but was soon in financial trouble again.
Finally, Jeff Vinik, a former investment guru for Fidelity, dropped $93 million to buy the hockey team and operating rights to its arena in 2010. The Lightning's value grew to $229 million this year, in part because of a new Canadian media deal brokered under Vinik.
Bill Sutton, director of the University of Southern Florida's graduate business program in sport and entertainment management program in Tampa, said Vinik's investment in the team is one of the major reasons the Lightning have seen a recent surge in national prominence. The buzz around the team is "probably at a record high right now," he said.
Vinik plans to build a $1 billion complex in the city's downtown area and gives away $50,000 at every home game to charitable causes. The Lightning also recently gave a nod to hometown fans by closing off the Eastern Conference Finals games against the Rangers to non-Florida residents. Such gestures have won over Floridians and made the franchise easy to root for, Sutton said.
"You want people to enjoy winning but also become lifelong fans," Sutton said. "[Vinik] doesn't want a one-shot wonder."
Out-of-town visitors enjoying the clear skies and northern "snowbirds" from Canada who spend the cold months in the area have also helped buoy attendance figures. But that's sometimes been a point of contention for local diehards.
The tourists and snowbirds support the Lightning most of the time, but they back the competition when their home team is in town, causing Tampa fans to push back. They have a creative chant that often rings through Amalie Arena if a visiting team earns a cheer from someone with a Tampa tan.
"You live here half the year, you live here half the year, support your local hockey team, you live here half the year," the jeer goes, according to Moore.
'Jesus Saves, Stamkos Scores'
At Moore's Tampa church, everyone knows the pastor is a Lightning fan. That's because when Moore isn't watching Lightning games, he is dreaming up lines for his church sign that combine a pro-Tampa Bay Lightning sentiment with biblical references -- for instance, comparing Jesus to star Tampa center Steven Stamkos. That's right, Moore actually posted a sign outside his church at one point that read: "Jesus saves. Stamkos scores."
"There is a really, really good core group of die-hard [Lightning] fans," Moore, a Tampa-area native, said. "They're as strong as any group out there."
His congregation loves it. During the first round of the playoffs, the school attached to Moore's church decided to have a Tampa Bay Lightning day. The students could break dress code -- if and only if they wore Lightning gear. "I said, 'Yes, let's do it,' " Moore admitted.
Local stores scrambled to keep youth Lightning jerseys in stock, Moore said. Kids showed up in jerseys donning patches from the Lightning's inaugural season in 1992-93. Everybody seemed to be a fan. The school had nearly 100 percent participation.
© Copyright IBTimes 2023. All rights reserved.