'Ted 2' Spoilers: Top 7 Pop Culture References In The New Seth MacFarlane Movie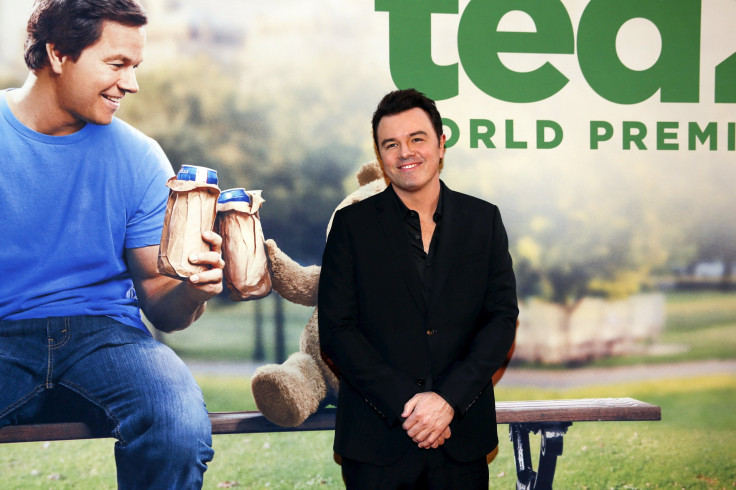 Seth MacFarlane, the one-time Oscar host and "Family Guy" creator, likes to err on the side of non-politically correct humor with a mix of Ziegfeld Follies style of dance numbers and the frequent cutaway for one-off joke. But in addition to a cohesive style, MacFarlane is more than happy to dive into the shallow end of the pop culture pool for jokes about the Kardashians or the History Channel at their expense. He makes no exception for this practice in "Ted 2."
Instead, the movie is just as packed with puns and punchlines about "The Great Gatsby" and "Sister Sister." Seth MacFarlane will even work in a song or two just to fit in a "Tiny Dancer" joke and show off his singing chops as the voice of the sentient bear, Ted.
So without spoiling too many of the surprises, here's a list of the top seven pop culture references in Seth MacFarlane's "Ted 2."
1. The Return Of Flash Gordon
A holdover from the original "Ted," special guest Sam J. Jones presides over the stuffed bear's wedding. Later, he's the first person Ted approaches to father his child, but the actor declines due to his previous drug history.
2. "Fifty Shades Of Bear"
Points for timeliness and linking to another Universal Pictures movie. How else would Ted celebrate his honeymoon but by starting it with a terrible pun?
3. "Law & Order" Intro Song
When Ted joins John (Mark Wahlberg) for some hang out time, the pair smoke pot and tune in to "Law & Order." Ted even prepared an original song for the occasion.
4. Liam Neeson Cameo
Spoofing his intense "Taken" persona, Neeson engages Ted in a long line of questions about whether or not he would be followed if he purchased Trix. Neeson is convinced the cereal is "just for kids."
5. Breakfast Club Dance Scene
While researching for Ted's court case, the bear, John and budding lawyer Samantha L. Jackson (Amanda Seyfried) spend a little too much time in the library and recreate "The Breakfast Club" dance number from the iconic John Hughes film.
6. "Frozen"
Apparently, Seth MacFarlane is no fan of Disney's biggest Princess hit. As a slight to Samantha's age, Ted jokes that he doesn't what her to break out into a "Frozen" song during the opening statement of his case. Spoiler: he should let it go.
7. "Lord of the Rings" References
There's actually more than one LOTR reference in the film, both of which are at Samantha's expense. The first of which comes from Ted saying she has Gollum-like eyes for a (wedding) ring. When the trio are in the middle of a chaotic battle at New York Comic Con, Samantha comes face-to-face with a Gollum mask.
"Ted 2" hits theaters Friday, June 26.
© Copyright IBTimes 2023. All rights reserved.
FOLLOW MORE IBT NEWS ON THE BELOW CHANNELS