Terrell Owens, Carson Palmer Together Again with Raiders? No, Says QB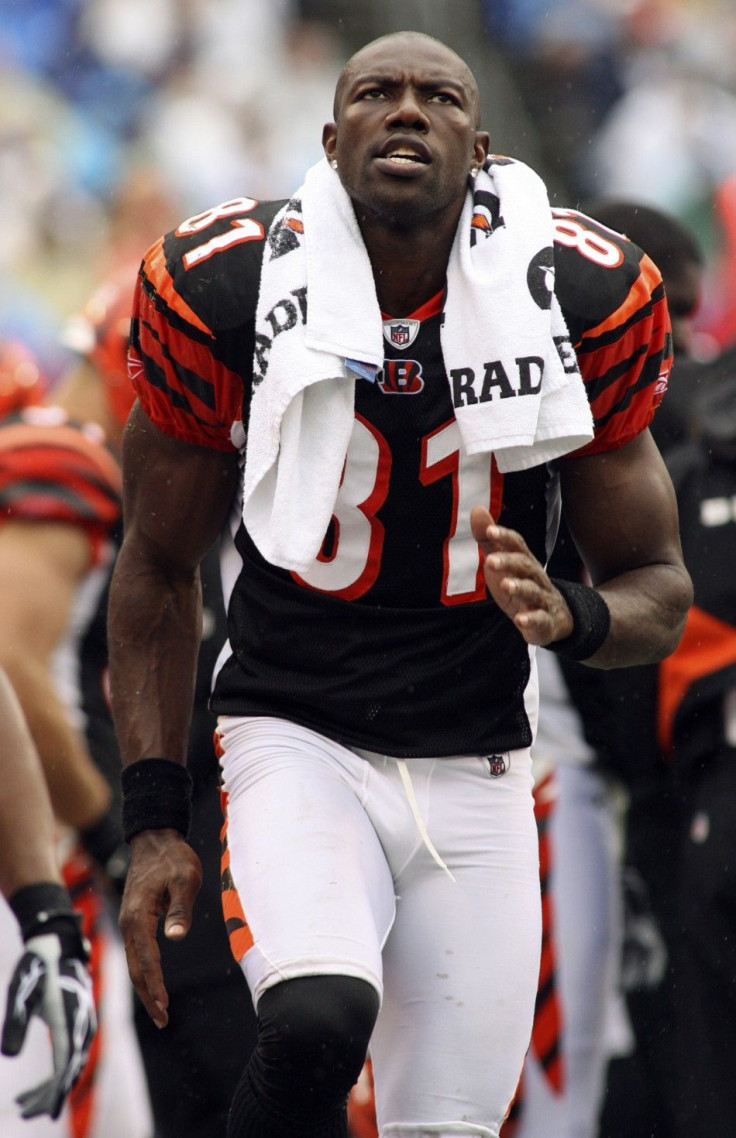 Could Carson Palmer and Terrell Owens be reunited in Oakland with the Raiders?
Not according to the new Raiders starting quarterback. And the problem is not those typically associated with TO and his celebrity, but rather the abundance of young wide receivers on the Raiders.
We have a stable of young horses that can run and guys that can just move, Palmer said Wednesday in an interview with radio station 95.7 FM in the Bay Area.
Very young, very inexperienced, but tons of potential. And it's tough to give up a young guy with a lot of potential for a guy that's got a lot of history in the league that's in his late 30s. So I can't see him coming here, but I had a good time playing with him and he's an explosive player himself.
Palmer and Owens thrived together last year in Cincinnati with the Bengals. Owens had his most productive season in three years, catching 72 balls for 983 yards and nine touchdowns.
Still, with his past and tendency to attract controversy, the 37-year-old Owens could not find a landing spot for the 2011 NFL season. Still a free agent, he held a workout Tuesday in Calabasas, Calif., hoping to show teams that he was still capable of playing despite ACL surgery in April.
No one showed up. ESPN and the NFL Network televised the workout, because there's not much else to televise during the middle of the day, and sideline reporter Lindsay Soto was asked how many teams were there.
Well, there are no confirmed NFL teams here, Soto said. Unless somebody has snuck in and isn't wearing any team gear.
Owens' agent, Drew Rosenhaus, said in an interview on the Mike and Mike in the Morning show Wednesday that the workout was only planned to create a buzz. He thinks Owens accomplished that.
I think that teams see that Terrell is healthy, that he is ready to play football, Rosenhaus said on the radio show.
Right, but no one actually saw that, because no one was there to see it.
I only need one team, Owens told the NFL Network on Tuesday. I only need one chance.
But it looks like that team won't be Oakland. The Raiders already have two emerging, speedy young wideouts who could thrive under Palmer - 24-year-old Darrius Heyward-Bey and 22-year-old rookie Denarius Moore. The Raiders also have tight end Kevin Boss.
TO and I had a great working relationship, Palmer said. He had one of his most successful years over the past five or six years, a lot of production, and he was a great teammate in Cincinnati. The problem is that for him to get here there's not anybody that we could let go.
Also Read: Arrest Warrant Issued for Terrell Owens Regarding Child Support: Report
© Copyright IBTimes 2023. All rights reserved.