Texas Floods 2015: Along Colorado River, Wharton Residents Wait For Flooding Amid Evacuation Orders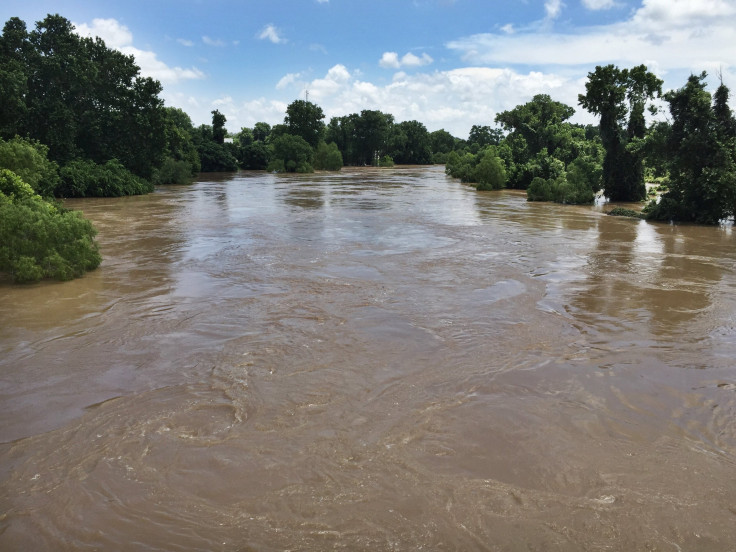 WHARTON, Texas -- Andrew Haynes is no stranger to severe weather. He survived the flood of 2004, when the Colorado River reached 48.26 feet and turned roads and fields into wading pools in his small hometown city of Wharton in southeast Texas. So when city officials warned of more historic flooding this week, he knew what to do.
Haynes, 48, grabbed his daughter's baby pictures, bought a case of water from Walmart and turned off all the power in his house. He then drove about an hour away to Houston.
But on Saturday, Haynes stood on the corner of Milam and Outlar streets in downtown Wharton, wiping his forehead with a wet towel. Despite the forecast, it was 80 degrees and sunny. Haynes could see his house from the corner, but was blocked from entering it amid evacuation precautions. Police officers had barricaded his street.
"I'm ready to go home," Haynes said.
For days, this rural community 40 miles off the Gulf Coast prepared for devastation as regional and national officials warned the Colorado River would swell by 4 feet and sweep through the city, filling vehicles and homes and possibly claiming lives. The threat came as homeowners across Texas and Oklahoma battled heavy rains that killed 30 people and displaced thousands of others. In Wharton, Mayor Domingo Montalvo requested some 900 residents evacuate to higher ground. Meteorologists warned of more rain during the weekend, with the river expected to crest at 42.8 feet.
And then -- nothing seemed to happen. Saturday in Wharton was humid, but not rainy. The river was high, but not overly flooding. People found themselves waiting, inspired by the week's horror stories to prepare but cautiously optimistic the weather would hold.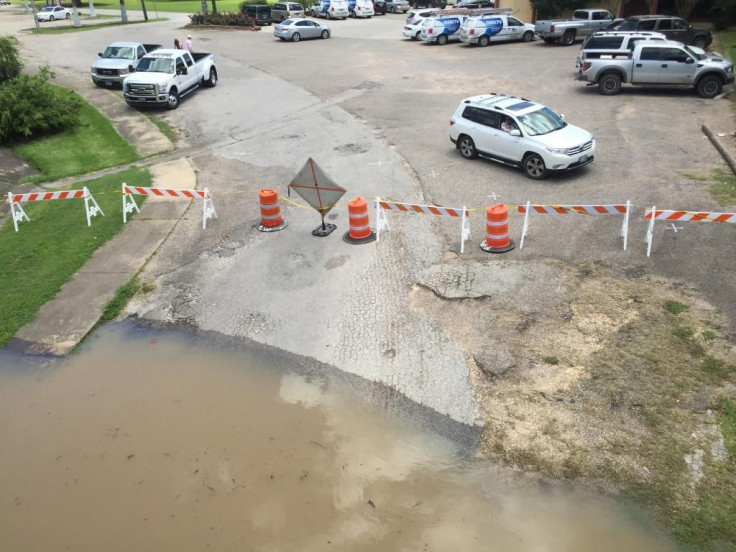 At Wharton Riverfront Park, drivers pulled over to watch as waves of muddy, brown water surged along the Colorado River, whisking trees and trash downstream. Some parked on the street and took iPhone pictures, uploading them to Facebook as they swatted wasps from their faces. Others picnicked, drinking grape soda at benches near the yellow caution tape blocking off the riverbank. A few people stood still, silently gaping at the rushing water.
"I guess that's the biggest thing that's happened here in Wharton in a long time," said Robert Sosa, 62, a general contractor who has lived here for two decades. He said he wouldn't prepare for flooding at his home until the river spilled over into Wharton Riverfront Park.
Residents said Wharton, a city with fewer than 10,000 residents named after two leaders in the struggle for Texas independence, was quiet even when its population wasn't fleeing storms. The main drag consists of a McDonald's, a Dairy Queen and a few palm-tree-lined roads. The city is 53 percent white, 27 percent black and 30 percent Hispanic, with a median household income of $26,944, according to Census data. Many people work for the county government. A quarter of the population lives below the poverty line.
A railroad track divides Wharton into two neighborhoods -- the east side, where the land is higher and the people are richer, and the west side, where low-income families were most at risk if the river overflowed.
Hector Velasquez, 17, found out Wednesday his street was slated for voluntary evacuation, so he packed what he could, including grease for his boots, handwritten letters from his mother and a belt, "because people tend to tell me I'm sagging," he said.
"I was sitting, just like this, on the edge of my bed thinking what was going to happen, just asking God nobody gets hurt," Velasquez said Saturday at he sat on a green cot at the Red Cross shelter at Wharton Junior High School. "I was a little upset because a lot of people weren't taking it serious. They were all laughing, because they all live on the good side of town, you know?"
Velasquez had claimed two cots in the corner of the gymnasium, throwing his blankets on one and his McDonald's uniform on the other. Next to the beds was a blue mesh Jansport backpack holding everything he had saved from the house.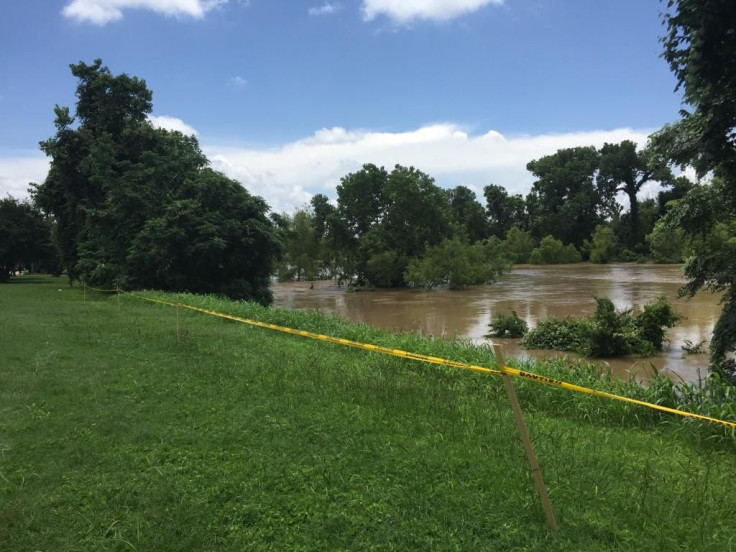 Red Cross volunteers at the shelter expected more than 100 people. They had gathered enough food to feed an army, with piles of doughnuts, Cheez-Its and Juicy Juice boxes stacked on a table. Community members visited the evacuation center in droves to drop off donations, leaving their names and phone numbers on a four-page list "just in case." Volunteers set out coloring books, a Monopoly board game and a TV playing "The Pursuit of Happyness" starring Will Smith.
But as the skies remained clear, fewer than 15 people showed up. By Saturday morning, there were more volunteers than residents at the shelter. Stray dogs dominated the campus. Velasquez complained there weren't any girls to talk to.
Shelter supervisor Bruce Meyer, 59, of Wichita, Kansas, said the facility would stay open as long as it was needed. He said he didn't mind that so few Wharton residents had shown up because it meant the weather was holding.
A few hours later, the Colorado River was steady at about 42.7 feet, city secretary Paula Favors said. Once it receded, the mayor was expected to lift the mandatory evacuation and 8:30 p.m. curfew.
"I think that people went ahead and heeded the warning on the voluntary evacuation," she said. But, she added, "several people have lived here their entire lives … and know what to expect. Some of those people did not leave that area or leave their homes. They may still be there."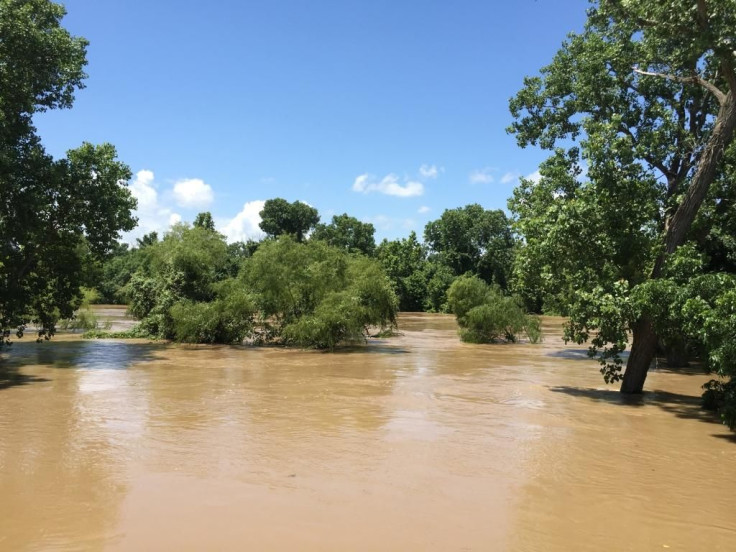 Later in the day, as the sky turned dark and it began to drizzle, unfazed drivers remained on the road.
On Bailey Street, Halona Holland, 36, a surgical tech student, waded through knee-deep water in her backyard wearing zebra-print galoshes. She'd evacuated with her children earlier in the week but came back to check on the house. She'd taken the only important things -- her dogs, the PlayStation, the Xbox and Wii.
As her kids chattered in the backseat of her tan Dodge Durango, Holland explained she didn't care if flooding or rains ruined anything in her home. "It's replaceable," she said. "The only things I was worried about was my safety and my kids' safety. The material stuff, that's replaceable."
© Copyright IBTimes 2022. All rights reserved.
FOLLOW MORE IBT NEWS ON THE BELOW CHANNELS