Texas Shooting: Two Men Killed After Opening Fire Outside Muhammad Art Exhibit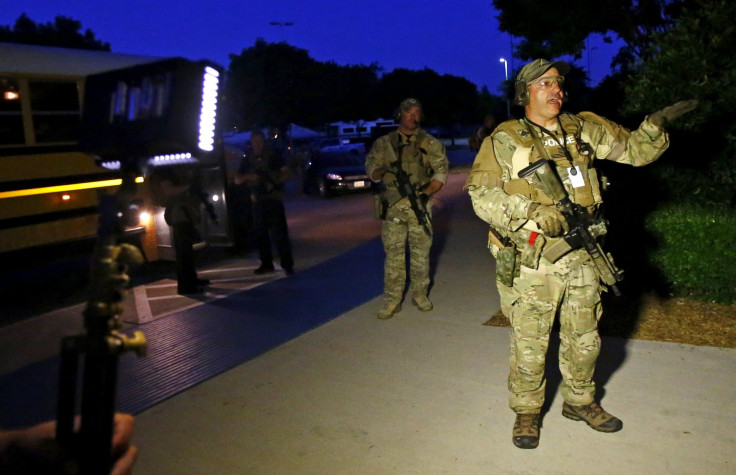 This story has been updated
UPDATE 10:50 p.m. EDT: The injured security officer who was shot by the gunmen was identified as Bruce Joiner. He was released from the hospital Sunday night after his wounds were treated, the Dallas Morning News reported.
The American Freedom Defense Initiative, the organization that hosted the Muhammad art exhibit, had paid $10,000 upfront to staff the event with 40 officers for security.
Original post:
Two gunmen were fatally shot outside an award presentation and exhibit of cartoon art depicting the Prophet Muhammad Sunday in the Dallas suburb of Garland, Texas, after the suspects allegedly opened fire in the parking lot. A security guard was shot. His injuries were described as nonlife-threatening, WFAA, Dallas, reported, and the man was transported to a hospital. The scene is still active, the Los Angeles Times reported Garland police spokesperson Joe Harn saying through a live stream.
SWAT officers were already in attendance at the event. Indeed, it was expected that protesters would arrive due to the controversial nature of the art.
About 75 attendees were escorted out of the exhibit room and taken to a nearby auditorium, the Associated Press reports. WFAA Channel 8 reporter Jobin Panicker provided insight from inside the auditorium via his Twitter account.
SWAT officers told attendees arrangements were being made to move them from the event at the Curtis Culwell Center in Garland to the local high school.
A suspect, armed with a hand grenade, was also reported in a nearby Walmart, and the store was shut down and evacuated in response. SWAT teams searched the area for explosives.
It is unclear if the shooting was connected to the art exhibit. A physical depiction of the Prophet Muhammad is seen as offensive and potentially blasphemous by some followers of Islam. The office of the satirical paper Charlie Hebdo in Paris, which had published cartoons of Muhammad, was attacked in January by gunmen. Twelve people were killed.
The art exhibit was hosted by the American Freedom Defense Initiative, a New York-based human rights organization that is also referred to as Stop Islamization of America. Organization President Pamela Geller responded to the attack via Twitter:
© Copyright IBTimes 2023. All rights reserved.