Thailand Agrees To First Ever Peace Talks With Muslim Rebels In South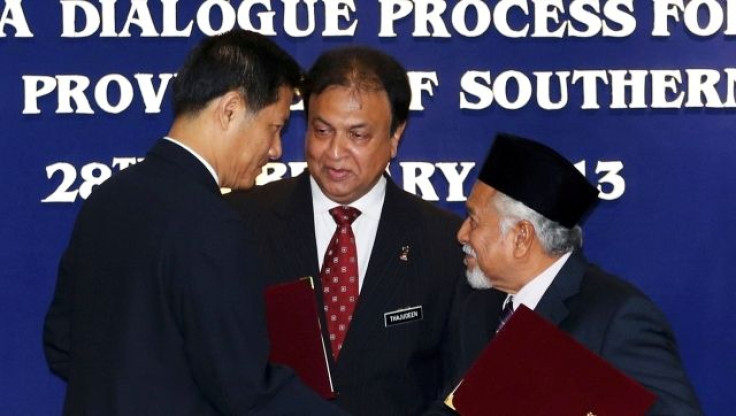 Thailand's government agreed to initiate peace talks with Muslim insurgents on Thursday to end years of conflict in the country's south.
An agreement to hold talks was signed in the Malaysian capital of Kuala Lumpur by senior Thai security officials and members of the National Revolution Front, also known as the Barisan Revolusi Nasional (BRN) group, one of several rebel groups operating in southern Thailand.
Malaysian Prime Minister Najib Razak and his Thai counterpart,Yingluck Shinawatra, will meet in Kuala Lumpur later Thursday to discuss the insurgency in Thailand and cross-border trading, the Bangkok Post reported.
Malaysia, which has been brokering the negotiations between the Thai government and the Muslim rebels, is likely to host the proposed peace talks, according to the BBC.
In October, Kuala Lumpur had acted as a facilitator for negotiations between the Philippines government and Muslim rebels.
Thailand's three Muslim-majority, southernmost provinces -- Yala, Narathiwat and Pattani -- have been beseiged by separatist unrest in recent years.
The three provinces were annexed by what was formerly known as Siam more than a century ago. The residents of these provinces -- most of them Muslims, unlike the rest of the Buddhist-dominated Thailand -- have long complained of discrimination by the central government.
Though the insurgency is seen largely as a movement for autonomy, the militants have remained silent about their goals.
More than 5,000 people have been killed since the violence erupted in 2004 after decades of hostility against the government.
The Thai government has deployed tens of thousands of troops and police to the region, but it has not been able to contain the violence.
Thai authorities blame the BRN Coordinate, an offshoot of the Patani Malay National Revolutionary Front that was established in the 1960s, for the violence in the south, Reuters reported.
The secretary-general of Thailand's National Security Council, Paradorn Pattanatabutr, who signed the deal, said it was "another attempt by the government to tackle the unrest" and did not signal an immediate end to the conflict, the Bangkok Post reported.
Hassan Taib, who signed the document for the BRN, told reporters: "Thank Allah, we will do our best to solve the problem. We will tell our people to work together to solve the problems."
The announcement regarding the peace deal talks came as tensions have increased in recent weeks, including a Feb. 13 militant-launched assault on a military base in Narathiwat province, located near the border with Malaysia. The attack was one of the biggest in recent years, and the subsequent shootout claimed the lives of 19 rebels. On Feb. 10, militants killed five soldiers in two ambushes in Yala province.
© Copyright IBTimes 2023. All rights reserved.