Thousands Of Hong Kong Students Skip Classes As Anti-Government Protests Widen
In Hong Kong, another group has joined the protesters as school students used the first day of the new school term to skip classes and add their voices to the months-long protest against the government and a controversial extradition bill.
Schools that were affected include the alma mater of Chief Executive Carrie Lam and the Chief of the Hong Kong Police Force who are stuck in the middle between the protesters and the mainland Chinese government. Thousands of the students headed to the city center for a rally against the bill that has been shelved but not totally withdrawn.
The school boycott comes just two days after an illegal march on Hong Kong island that ended up with police using water cannons and tear gas. Several protesters were arrested. The next day, protesters rampaged outside the Hong Kong airport and trashed the Tung Chung MTR train station, resulting in more arrests. The localist pro-democratic group known as Demosisto is believed to have helped organize Monday's boycott that has affected an estimated 200 schools and 10,000 students.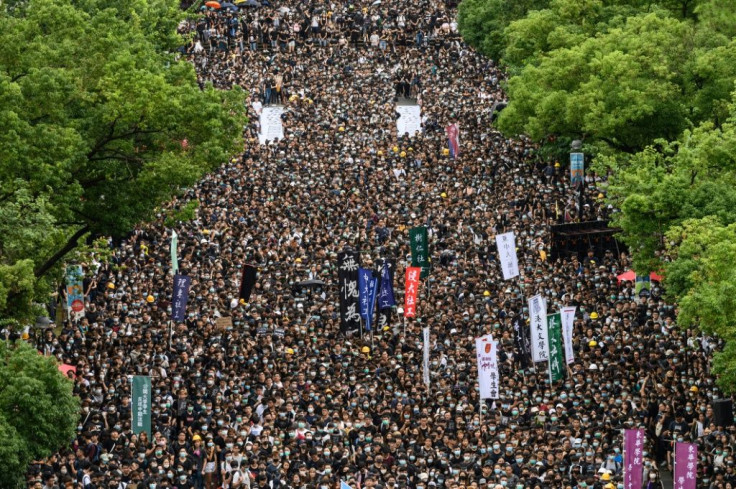 Many other reports of protests involving schools have emerged:
Pupils and alumni from three nearby secondary schools – from Shau Kei Wan Government School, Shau Kei Wan East Government School, and Salesian English School – formed a human chain estimated at 500 people.
At St Francis' Canossian College, the Wan Chai alma mater of Carrie Lam, six students donning yellow helmets, goggles and masks knelt in front of the entrance and held placards bearing anti-government messages.
50 students at Ying Wa College in Sham Shui Po, the oldest secondary school in Hong Kong, staged a rally outside the school gates displaying posters with anti-government messages.
A student from Po Leung Kuk Ho Yuk Ching College in Tseung Kwan O stood outside Hang Hau MTR station holding up a paper that reads: "Teacher, I may not be well qualified for being a student, but I'm definitely well qualified for being a Hong Konger. After all that has happened, can you still believe in cops?"
Riot police were seen at La Salle College, where the police force's commissioner Stephen Lo Wai-Chung went to school. About 50 students arrived earlier than usual to take part in a peaceful sit-in in the school's chapel, while a group of alumni in black tops and masks distributed leaflets at the entrance.
School administrators, principals and vice-principals were hesitant to comment perhaps in fear that they and their schools could face penalties. Education minister Kevin Yeung Yun-hung stressed that school authorities were opposed to any class boycott and would closely monitor the situation. Eddy Tang Chun-keung, chairman of the Hong Kong Association of the Heads of Secondary Schools, said most schools would follow government guidelines.
© Copyright IBTimes 2023. All rights reserved.