Toronto NBA All-Star Game 2016: Canada's 'Golden Era' Of Basketball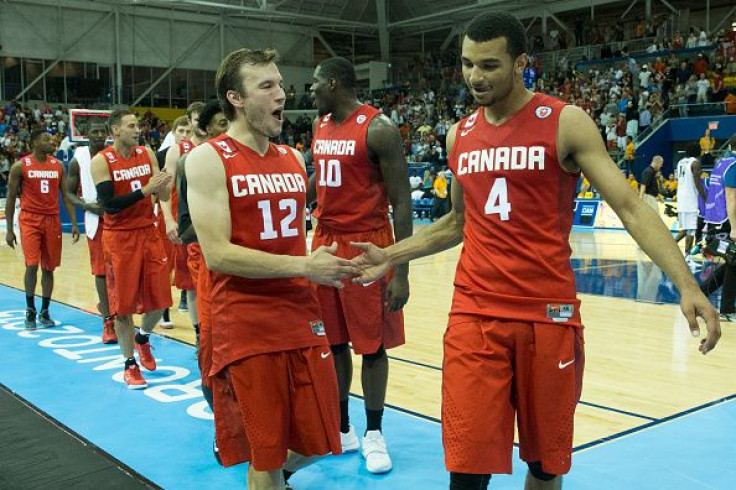 Sixteen years ago, Vince Carter reinvigorated the NBA All-Star Weekend's slam-dunk contest, which had become passé and tired. Carter did things people could only imagine or, rather, things people had not bothered to imagine were possible: He jumped, dunked and stuck his arm elbow-deep into the hole, rising so high it left the announcers stunned, unsure of what had happened.
"Wait a moment. Have you ever seen that?" they asked during the broadcast.
The contest was decided by the time Carter finished his second dunk, an incredible bouncing-alley-oop-through-the-legs number that he followed by famously miming, "It's over," waving his hands, telling everybody else to call it a night.
Walking away from the hoop, Carter was clad in an aggressively purple jersey spelling out "T-o-r-o-n-t-o" in thin, arching script. And while the 2000 slam-dunk contest was a landmark moment for the NBA, it was also the first major touchstone for Canadian basketball, with hoop fans and young athletes across the land cheering for the Toronto Raptors' best player as he took over the international stage.
The showstopping performance by Carter, who is not Canadian but came to prominence while playing on the country's only remaining NBA team, helped usher in an unlikely emergence of basketball in a nation best known for hockey. And when the NBA All-Star Game tips off in Toronto Sunday, it will be both the first time the game is played outside the U.S. and the latest landmark moment for hoops in Canada, which — thanks to a crop of talented stars, increased youth participation and the success of the Raptors — is in the midst of a booming "golden era," say people involved with the game in Canada.
The roots of Canadian basketball run deep, in fact, almost as deep as they possibly could. Dr. James Naismith invented the game at a Massachusetts YMCA branch in 1891, and many remember him as the coach at the University of Kansas. But Naismith was from Almonte, Ontario, and he served as the first athletic director at Québec's prestigious McGill University.
Despite Canada's connection with its inventor, basketball was a bit of an afterthought there for many years. But it has grown, especially during the past two decades. After the Raptors' and Vancouver Grizzlies' humble beginnings in the mid-1990s (the Grizzlies would later leave for Memphis), the Carter performance in the slam-dunk contest served as an early major point of pride while capturing a lot of attention. Then came Steve Nash, who went from growing up in British Columbia to winning back-to-back MVP titles in the NBA in 2005 and 2006.
The generation of players that followed Nash encompassed unprecedented talent. It used to be that one or two Canadians were on NBA rosters at any given time, but now there's a dozen, more than any country outside the U.S. Dan MacKenzie, vice president and general manager at NBA Canada, said these players can trace their basketball lineage back to seminal moments for Canadian hoops.
"If you polled the 12 Canadian [NBA players] and said, 'Tell me about [your] most memorable experiences as a fan,' they would tell you about Vince Carter winning the dunk contest ... they'd point to Steve Nash winning back-to-back MVPs," MacKenzie said.
Having stars begets more stars. If there are local players to cheer for, more Canadian kids are going to want to play the sport. And the country's current crop of young players is enviable. Leading the pack is Andrew Wiggins, drafted first overall in the NBA by the Cleveland Cavaliers in 2014, who won Rookie of the Year recognition and has shown signs of becoming a future superstar. Before Wiggins was drafted first overall, Anthony Bennett was selected first by the Cavaliers in 2013, making Canada the only nation outside the U.S. to have back-to-back No. 1 selections. Other Canadian first-round draft picks in the NBA include their teammate Tristan Thompson, the Boston Celtics' Kelly Olynyk, the Philadelphia 76ers' Nik Stauskas, the Utah Jazz's Trey Lyles and the San Antonio Spurs' Cory Joseph.
Wiggins, Lyles and fellow Canadian Dwight Powell of the Dallas Mavericks were even selected to represent the so-called world team in the NBA All-Star Weekend BBVA Rising Stars Challenge in Toronto Friday. While Nash, the man most closely associated with Canadian basketball, has retired and moved on to become general manager of Canada Basketball, there's hardly been a more promising time for hoops in Canada.
"This completely is a golden era for basketball in Canada," MacKenzie said.
Ahead of the NBA All-Star Game, data show that basketball has grown in the country. MacKenzie said NBA Canada's following on Twitter has grown five times larger over the past year. Across the country, more people — young people especially — have adopted basketball as their own.
Basketball ranked as the No. 3 team sport among youths in Canada, behind hockey and soccer, according to the most recent Canadian Youth Sports Report. And while it has not reached hockey levels of popularity yet, basketball has been growing at a fast rate, outpacing other team sports. The same report also noted that basketball is the top sport among newcomers in a country where immigration accounts for 80 percent of its population growth. In other words, more and more people who love basketball are coming to Canada.
"We will be repeating our youth sports research later this year and expect a further bump [in basketball's popularity]," said Kaan Yigit, a researcher at Solutions Research Group Consultants Inc., which put out the Canadian Youth Sports Report in 2014. NBA Canada's MacKenzie specifically referenced an influx of people from China and the Philippines as a big part of the game's growth.
"On a fairly big-picture basis, I have to think one day we will look back and think of the last 10 and the next 10 years as the golden years for basketball in Canada," Yigit wrote in an email to International Business Times.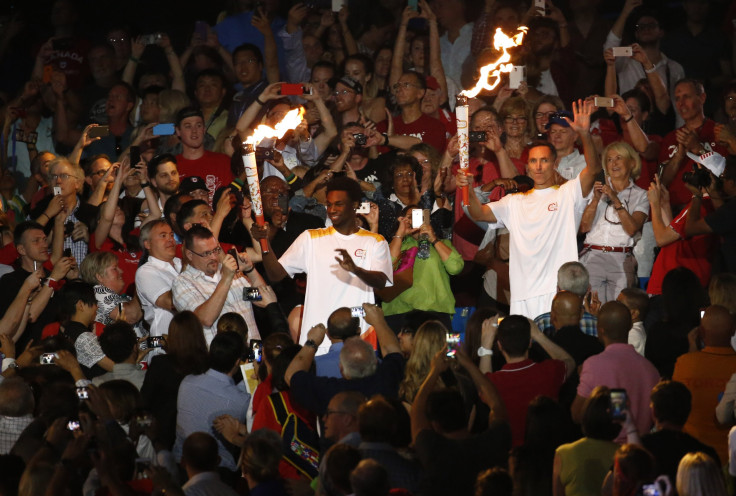 Almost a decade ago, Tony McIntyre partnered his basketball program with another top team, aiming to get Canada's best young players college scholarships. It worked. And as the game continues to boom in Canada, there's a good chance the best young players will go through McIntyre's CIA Bounce Basketball program. Both Bennett and Wiggins both played for CIA Bounce, as did Milwaukee Bucks guard Tyler Ennis, McIntyre's son.
As American players on the AAU circuit do in the U.S., the top Canadian players have begun to commit to the sport at an early age, playing year-round. Programs such as CIA Bounce have shaped what Canada basketball looks like at the youth level, which has, in turn, shaped the end product.
The cream of the Canadian crop of recruits went from being bench-warmers in college to national sensations like Wiggins. And a future crop of stars could be watching the NBA All-Star Weekend, with Wiggins an attraction at the NBA's party-focused weekend in Toronto.
"It gets people talking about the success that's been had over the past five years," McIntyre said. "This is kind of like that shining light on Canada, on Toronto ... I think people here are taking it very seriously, saying this is our All-Star Game."
That's a reflection on basketball's surge in popularity in Canada, but especially in Toronto. The Raptors are in fourth place in the Eastern Conference and fresh off a 2015 in which the fan base rallied around the motto, "We The North." There's talent on the team, with both DeMar DeRozan and Kyle Lowry named Eastern Conference all-stars. And with hip-hop superstar Drake, who is set to receive the key to the city this weekend, stepping in as the team's global ambassador, it's now also cool to be a Raptors fan.
Looking forward, Jamal Murray, averaging 18.5 points per game at the University of Kentucky, looks like the next big Canadian thing. And the women's national team has already qualified for the Rio 2016 Summer Olympics, while the men's team will be looking to do the same. The pieces are in place.
"The average age of a national team is 28 or 29, and the average of our team is 22," said Canada Basketball CEO Michele O'Keefe. But before the Olympics, there's this weekend in Toronto and the chance to create that next landmark moment. Canada Basketball will be running around all weekend putting on events for locals in Toronto to give them a taste of the game in an attempt to parlay the big event into new fans.
"Hockey's still Number One in the hearts and minds of Canadians — not that we want to push hockey out of the way — but we'd like to do better," O'Keefe said.
McIntyre took that sentiment one step further: "Fifteen years from now, we could look back and say, 'The All-Star Game changed everything.'"
© Copyright IBTimes 2023. All rights reserved.