Toto Wolff Backs Lewis Hamilton After Briton Criticizes Ex-F1 Drivers
Mercedes-AMG Petronas Motorsport team principal Toto Wolff backed Lewis Hamilton after the driver aimed criticism toward former Formula 1 drivers for their comments on television after the German Grand Prix on Sunday.
The four-time world champion took a famous victory at Hockenheim on Sunday after storming through the field from 14th to take the win after main F1 Drivers' title rival Sebastian Vettel had crashed out with 15 laps remaining in the race.
Hamilton was lauded for his gutsy drive in tricky conditions and he admitted after that it was one of his best wins ever. He also took the lead in the championship and is now favorite to win his fifth Drivers' title.
In the aftermath of the race, Hamilton aimed criticism toward ex-F1 drivers, after revealing that they did not have "one good word" to say about him after the race. He posted his comments on his official Instagram account, but it was removed soon after.
"I never get to watch the races but just got home and watching Sky," Hamilton wrote on Instagram. "I find it amazing listening to the ex-drivers commentating [and] not a single one of them could find a good word to say."
"Whatever the reason is, it's OK, and I forgive you. Positivity and love wins always and no matter what words you use to try and undermine me, I started 14th today and finished 1st. God is good all the time," he said.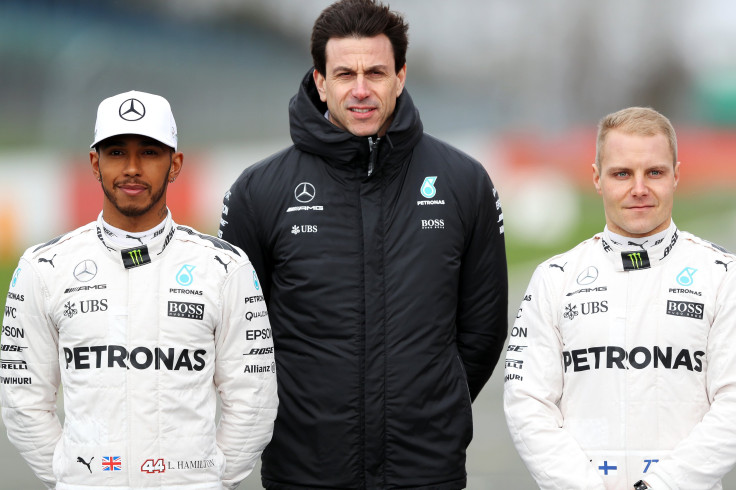 The Mercedes team principal came to his driver's defense and encouraged him to leave the post online rather than deleting it after admitting that it is good to see controversies and polarizing stances. Wolff admitted he was happy to see his driver show such emotion after what was an exhausting race packed with uncertainty until the end.
The drivers and teams are under constant scrutiny during and after a race weekend and Wolff admits that sometimes the negative comments do have an effect on the person it is directed at.
"I had a conversation with Lewis about it on Sunday night," Wolff said, as quoted on the Daily Mail. "I actually encouraged him to leave all that stuff online."
"Sometimes you let your guard down, and sometimes when you're at home, you're exuberant, and you put on the TV to hear a commentator saying negative stuff, and that can get to you," he said.
"Lewis says things like he means it," the Mercedes chief added. "It is great that he wears his heart on his sleeve. We are humans, we have emotions, and we are influenced by what others say."
"I take things personally when perhaps I shouldn't care about an opinion that is not relevant to me. I should respect that an opinion is different to mine, but that is very hard to do after an exhausting rollercoaster ride of a weekend. We need controversies. We need polarising stances. We don't want to streamline everything," he said.
© Copyright IBTimes 2023. All rights reserved.